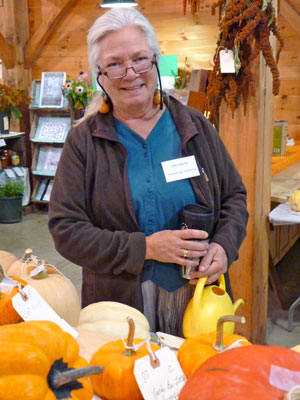 Amy LeBlanc in the Exhibition Hall at the Common Ground Country Fair. English photo.

By Hannah Kreitzer
Amy LeBlanc knows a thing or two about roots. She describes her parents as Common Ground Country Fairgoers "pretty much from the get-go," and has herself become an integral part of the Fairgoing experience. LeBlanc has worked as a co-coordinator in the Fair Exhibition Hall for about 15 years, the last seven of which have found her in a leading role.
It was in that very Exhibition Hall that LeBlanc's abiding fascination with what she calls the "tremendous iceberg" of tomato variety took hold. A quest to investigate a particular tomato from the local health food store led her to Hall veteran Martha Gottlieb, who introduced LeBlanc to the Seed Savers Exchange and the "entire universe" of tomato diversity.
What began as LeBlanc's home cultivation project soon blossomed to a seedling pre-order business called Tomato Lovers Paradise. Throughout almost 20 years of business, LeBlanc has "probably grown 1,000 varieties," including heritage rarities such as the 'Gaccetta Paste', which was brought to Maine by an Italian family in 1913, and old favorites such as the 'Hogheart' – the very tomato that sparked LeBlanc's plunge into seedling cultivation (and still a best seller).
In addtion to her seedling business, LeBlanc produces a wide range of value-added products, including jams, jellies, herb blends, dressings, spice rubs and condiments, at Whitehill Farm in East Wilton. She sells these goods at the Sandy River Farmer's Market, the Farmington Indoor Farmers' Market, and online at the Western Maine Market (https://harvesttomarket.com/farmers-market/Western-Maine-Market). Her Whitehill farm is certified organic by MOFGA Certification Services LLC.
LeBlanc calls MOFGA "a national landmark," and speaks passionately about the value of supporting its work. "My personal concerns are food and food security," she explains. "I have international involvement with organic as well as just here in our own backyard, and MOFGA is respected worldwide."
In addition to her businesses and volunteer work, LeBlanc is an accomplished cellist and music teacher. How does she balance life as a musician, small business owner and international food security advocate?
"Once in a while I have to grease up my magic carpet," LeBlanc admits, but is quick to add that all in all, "it balances out."