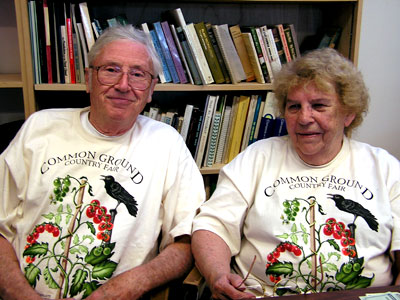 Howard and Sue Schivera

By Marada Cook
The phrase 'working vacation' may seem to be a contradiction, but for Howard and Sue Schivera, their annual trip to Maine is an obvious opportunity to both visit their daughter and volunteer at the Fair.
"Diane was the one who volunteered us," Sue said. Their daughter, Diane Schivera, has worked as MOFGA's Assistant Director of Technical Services for the past seven years, and is a familiar face around the Fairgrounds.
"It's our chance to spend time with her," said Howard, "and we do get out to see the Fair." Although Howard and Sue spend most of their time helping Janice Clark in the MOFGA office, they take breaks to walk around and see their favorite areas of the Fairgrounds: the animals and the crafts.
"I do a little shopping every year," Sue said, "some for friends and family, but mostly for myself."
"I like the sheep-dog demos," said Howard, "and this year they had some beautiful horses, raised by the kids."
"Those two are just wonderful people," Clark said of the couple. "They work from 11-7 each of the three days and take just a few breaks. They really support MOFGA and their daughter."
Sue and Howard's appreciation for Maine's rural way of life comes from the changes they've seen over the 40 years they've lived on Long Island. "When we moved here, they had just begun to build the Long Island Expressway," said Howard, putting things in perspective. "Now it's got eight highway lanes and four auxiliary lanes."
"Things used to be pretty quiet around here," said Sue, "but the farmland is disappearing, and now there are too many houses, too many people." Sue and Howard, 77 and 79, remember when Long Island was mostly potato farms, and mention that of the four or five farm stands where they used to get fresh vegetables, only one is still in operation.
"You can't really blame the farmers," said Sue. "They get paid more for their land than their produce, so it's no wonder they sell the land."
Although they don't see a clear answer to the big picture, Howard and Sue do what they can on a small scale to make a difference. They keep an organic garden (the same one they've kept for the past four decades) and they come to Maine every year to volunteer at the Fair and help their daughter on her homestead in Appleton.
"It's not often your family gets to be a part of your daily life anymore," said Diane, "so I put them to work." Howard is responsible for digging the potatoes every fall; Sue helps with cooking and canning.
"She has us doing all sorts of projects," Sue said, "shelling soybeans, pickling zucchinis. Howard helped Gary (Diane's husband) build the new shed." Howard's experience with woodwork has come in handy: He's built cabinets, creates wooden children's toys as a hobby, and he is responsible for making the big, wooden MOFGA "trees" that hang on the barns at the Common Ground Education Center.
"We like to keep busy," said Howard, pausing for a minute, "We need to do things that make life worthwhile, and you've got to do something that leaves this place a little better than you found it."