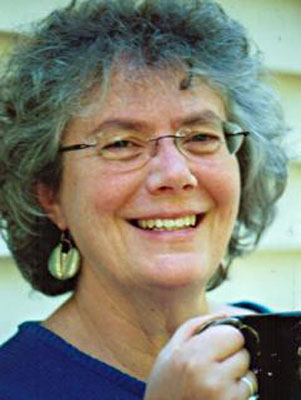 Peggy Smith
Peggy Smith's Nonviolent Communication Workshops Benefit MOFGA
By Holli Cederholm
Peggy Smith of Lincolnville, Maine, is a Nonviolent Communication (NVC) Trainer who strives to help individuals, businesses and communities in Maine via the services of her business, Open Communication. Smith offers workshops, presentations, coaching and consulting and finds that her work leaves her with little time to donate to organizations she appreciates.
"I don't have time to contribute to organizations that I admire," said Smith. Instead she offers indirect participation and support through hosting NVC-training fundraisers for groups she would want to volunteer for – such as MOFGA and its El Salvador Sistering Project. "I deeply admire the tenacity, the energy of this group of people to promote organic agriculture."
Smith has hosted two day-long NVC trainings in the name of the MOFGA-El Salvador Sistering project, which she first learned about by neighboring the committee's booth in the Social and Political Action Area at the Common Ground Country Fair. Other recent NVC trainings benefited WERU Community Radio and the Damariscotta Mills Fish Ladder Restoration project, and she has done a training for the larger MOFGA organization. Through her efforts Smith is not only raising money for organizations she admires, she is also contributing to the greater community in another sense. "NVC brings a process focused on sustainable communication to the community at large," she said. "NVC is authentic and honest communication … it is an avenue for connection."
NVC theory is grounded upon a continuum of communication, with rage, violence and destruction at one end, and peace, harmony and cooperation at the other. Smith likens the latter end of the spectrum to organic agriculture, where farmers strive to work in harmony with nature, while using awareness to respond in beneficial ways. As a certified NVC trainer and co-founder of the Maine Nonviolent Communication Network, Smith works with individuals, couples, families and groups to orient people toward compassion and empathy.
In a day-long training workshop, such as the one she uses as fundraisers, Smith first teaches participants the framework of NVC: an understanding that communication problems are a deeply acculturated process and that a return to innate human nature requires the development of new neural pathways. Nonviolent Communication, says Smith, is interactive, with games and activities to explore other ways of communicating. "I find humor and play, which are both human needs, as effective learning strategies."
For more information about Nonviolent Communication and Smith's services, see www.opencommunication.org.