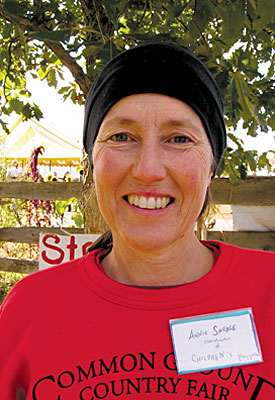 Annie Sheble. English photo.
By Holli Cederholm
Annie Sheble, of Unity, Maine, traces her involvement with MOFGA to the early 1970s when she apprenticed on Jim Luthy's organic farm in Poland Springs, Maine. Luthy was one of MOFGA's first presidents and helped start the association's organic certification program.
Sheble's commitment to organics had actually started in her own backyard. Sheble credits her father's compost pile at her childhood home in Pennsylvania as the impetus for her first garden – consisting of lettuce, tomatoes, and sunflowers much taller than herself. "My dad had a leaf pile that could have been 70 years old … it was at least as old as the house," she says.
Sheble left Maine after her apprenticeship but later returned and attended the Common Ground Country Fair – then held in Litchfield – for the first time. "I was desperate for organic food and to connect with like-minded people," says Sheble.
She found both at the Fair. Over the years Sheble's volunteer involvement with MOFGA (and other organizations) grew as her three children also grew. In 1998, she started volunteering with her children at the Fair. She joined the MOFGA-El Salvador Sistering Committee in 2005; then, in 2007, became one of three coordinators (along with Rachel Spatz and Mary Ann Portman) for the Children's Area and Garden Parade at the Fair.
The coordinators work nearly year-round to organize the whirlwind of activities and events, both educational and entertaining, which attract children of all ages – by the thousands – each day at the Fair. The Children's Area is shaped by three tents: quiet time, visual arts and the Sunflower Stage. The latter showcases paid and volunteer entertainment, including music and puppetry.
"I love when we can draw on people who are already at the Fair," says Sheble. In the past, 4-H members did a show-and-tell with their goats, and this year the Fair's Compost and Recycling Team will conduct an informational overview.
The best-attended activities, says Sheble, are the hay jump, nail banging and the art tent. Though she no longer participates, Sheble's favorite remains the hay jump – basically a high jump into a fluffed-up hay bale. "Just watching it," says Sheble, "it's just glee, capital G L E E, on the children's faces.
"We are steadfast in not importing a lot of things," Sheble notes, but instead promoting contact with people and using real, basic resources, such as the wooden cross-pieces and old clothes contributing to the interactive scarecrow assembly, to generate a good time. The take-home message that Sheble hopes the area will impart is simple: "how much fun they – kids and families – can have with next to nothing for toys."
Sheble relishes the sense of community that abounds at the Fair. "It's so magical that everyone is there to help. If that was present everywhere, we wouldn't even recognize our country."
Outside of volunteering with MOFGA, Sheble is "trying to be less busy." She does organize a weekly fiber arts group in Unity; and she and her partner are putting "permaculture in place" by planting an orchard and other small fruits on their land in Unity.