35-Sam-Brown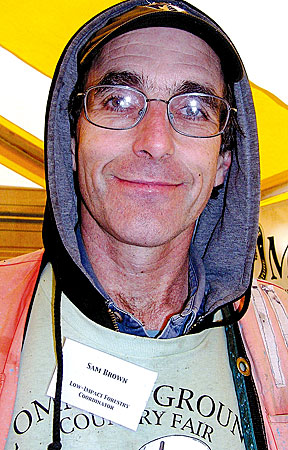 Sam Brown, low impact forestry volunteer. English photo.
By Holli Cederholm
Sam Brown, of Parkman, Maine, has been volunteering with MOFGA since 1995 – around the same time that the Low Impact Forestry area was added to the Common Ground Country Fair's schedule of events. Brown was one of the few people involved in coordinating the forestry component of the Fair and has been donating his time to it ever since.
Through his involvement from the start, Brown has seen the growth and improvement of MOFGA's Low Impact Forestry initiatives. "In the beginning it was basically a little tent that had a few organizations pertaining to forestry," said Brown. Each year coordinators worked to add new groups and information at the Fair, attracting what Brown calls "quite a vibrant group."
Moving the Fair to Unity made a huge and important difference to the program – the fairgrounds now included a woodlot. "It was a quantum shift," said Brown. "Now we can be in the woods rather than just talk about the woods."
The move also made Brown's favorite MOFGA event of the year possible – the annual Low Impact Forestry and Chainsaw Safety Workshop. Designed for both beginners and those more experienced, this three-day hands-on workshop focuses on sustainable woodlot management and safe logging practices with animals and low-impact machinery. Here Brown utilizes his background as a forester and logger – he runs a forestry consulting business – in teaching "forestry 101," which delves into the theory of forest management.
As a sort of side shoot of the workshop, an unofficial group has started meeting in the MOFGA woodlot in January to put the theory of sustainable management into practice. Brown describes the scene of 10 to 12 people working with horses and chainsaws as "reflective of logging activity 50 or 60 years ago." This is inspiring to him.
Before volunteering with MOFGA, Brown belonged to a group in northern and central Maine that was working to rearrange the forestry system so that loggers didn't have to destroy the woods to make a living. Though Brown still feels that a new economy – one that recognizes natural systems – might be more crucial to that end, he acknowledges that the work that he and others involved with the Low Impact Forestry initiatives are committed to is making headway.
Though the economics driving poor management practices haven't changed much in Brown's eyes, the rhetoric of low impact forestry has. He looks to the small group gathering in MOFGA's woodlot as proof. He hopes they can provide a model for organizing similar small groups working together in small lots owned by community members.
"There's such a pool of rural knowledge and skills," Brown said in reference to the network that MOFGA has created. He is constantly impressed at what people know, and especially what they share at the Fair, and laments his only regret in working at the Fair is not getting to see enough of it. When it's time to retire, Brown will gladly hand over the torch and go to the Fair himself.