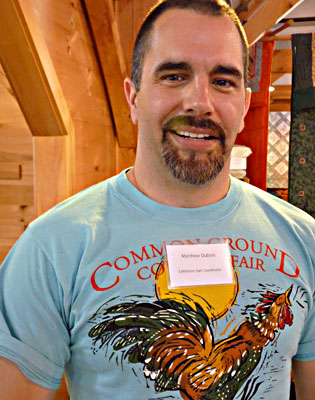 Matthew Dubois volunteers in the Exhibition Hall at the Common Ground Country Fair. English photo.
Matthew Dubois
By Holli Cederholm
Each year thousands of people crowd into the Exhibition Hall at the Common Ground Country Fair to behold hundreds of varieties of vegetables and fruits, as well as other products and crafts, displayed in true agricultural fair fashion. Matt Dubois, of Portland, Maine, is one of five coordinators responsible for orchestrating the set-up and entry registration, as well as product display and judging of this traditional post-harvest forum.
Dubois' involvement as a volunteer with MOFGA stems from his own interest in vegetables and his fascination with the myriad varieties that exist. Dubois started attending the Fair as a vendor for his mail-order seed company. When the company folded after a few years, Dubois switched to volunteering with the Exhibition Hall. He has been an active coordinator for the past eight years. "All the coordinators put in an extraordinary amount of time. It's a cooperative effort… That's why I keep doing it," said Dubois. "We work to produce something beautiful."
In his role as coordinator, Dubois works during the Fair and donates a few days beforehand to set up infrastructure – including long tables to present Maine-grown produce buffet-style and vertical racks to display, among other things, eye-catching quilts and photographs by amateur craftspeople and artists.
Dubois is also involved throughout the year. "We keep the cadre of judges in the loop," said Dubois, who maintains a database of 95 judges and alternates.
The coordinators organize the judging but do not determine the ribbon winners. "We network around to find people who have expertise in a given area," said Dubois. "For example, Fedco has a lot of pepper experts." Other judges include individuals from Cooperative Extension and local seed companies, as well as master gardeners and expert quilters, bakers and more, who determine how each Exhibition Hall entry measures up to the standard. The coordinators also make sure all the judges – 35 to 40 annually – show up.
Each year the Exhibition Hall also highlight a particular vegetable, such as dry beans or winter squash.
Dubois points out that the weather dictates how well things will to grow each year, so entries are always changing. "You would be amazed … it is an inspiring place to volunteer," said Dubois, who often scouts the hall for inspiration for his own garden. "The year after we focused on winter squash, I trialed so many varieties, I couldn't eat them all."
Outside of MOFGA, Dubois practices elder and family planning law with his Portland firm Vogel & Dubois. He also donates considerable volunteer time to Equality Maine, where he sits on the board.