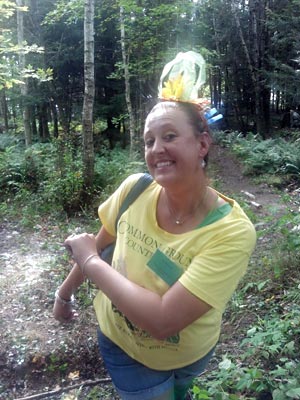 Bri Beecher
By Betsy Garrold
Dressed in an outfit specifically color coordinated with that year's Common Ground Country Fair volunteer staff Fair T-shirts, Bri Beecher is a super salesperson at the Rose Gate during the Fair. As coordinator for the membership table at that gate, she speaks about MOFGA enthusiastically. She walks the line of fairgoers queued up to purchase tickets and encourages them to make a deeper commitment to the organization by becoming members. And, of course, she tells them they get free admission to the Fair, and other benefits, as members. She also renews lapsed memberships.
Beecher grew up in Monroe, next to the famous Stovepipe Alley collective, and has been going to the Fair for many years. She remembers when her back-to-the-land parents took her as a child to the Fair at the Windsor Fairgrounds, and later attending while she was a student at Belfast Area High School. Her friendship with former MOFGA staffer Abby Sadauckas led her into her first volunteer role at the Rose gate membership booth. She continued working at the membership booth as well as other background jobs until she took on the role of Rose Gate membership coordinator, putting her out front as a goodwill ambassador for MOFGA.
Now living in Derry, N.H., where she recently bought a house, she makes the 4-hour drive to Monroe and stays with her father during Fair weekend. She has tried overnighting at the Fair, but with the cold weather that arrives most years, she opts now for indoor accommodations.
When not at the Fair, Beecher works as a nurse on a cardiac telemetry unit at a Massachusetts hospital. She is an outdoor enthusiast with an active 100-pound dog and a yen to spend summers swimming, canoeing and camping. In winter she works indoors on crafts and now on house projects.
Beecher rhapsodizes about the Fair. "It is a destination there to be enjoyed. Have fun, eat the good food, listen to the programs, watch the sheep dogs and buy artisanal crafts. It's worth the wait … whether it be all year or that line of traffic that never ceases to amaze. It is definitely one of my favorite weekends of the fall."
And Anna Libby, MOFGA's volunteer coordinator, rhapsodizes about Beecher. "Bri IS great. It brightens my day – and Fair! – to see her. She is filled with energy, a good problem solver, and always stylish, too. She makes the Rose membership booth a fun place to be."
Beecher takes her volunteer role seriously. She tells of offering a ride to two women overburdened with Fair purchases who had a long walk to their car. "It's just what you do," she says. "The spirit of the Fair moves people to be more friendly and communal."