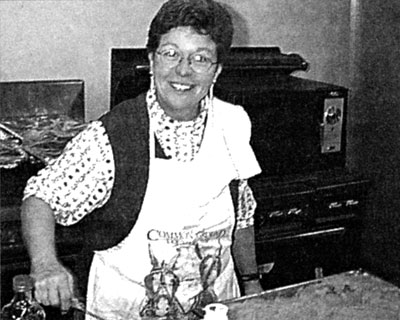 Melissa Bastien
"Well, the tent boys have got to have their meat and potatoes, and those wild women who fold T-shirts for days on end like hearty casseroles. The electrical guys need non-stop sugar and caffeine, and then of course there's always a vegan or two thrown in the line. It's not your typical Common Ground granola crowd."
That's how Melissa Bastien described eating habits of the behind-the-scenes volunteers and workers who set up and dismantle the Common Ground Fair each year. Bastien's job is to feed this group of stoic workers, as well as to clean and organize the Common Kitchen after the Fair time excitement ends. "I'm a bit of a control freak," said Bastien. "I like things to be organized, and clean, and above all safe!" As a professional caterer, Bastien knows how to accomplish all three goals. "I whined and whined about needing a safety procedure for the kitchen, keeping the sinks bleached and scoured, the food labeled and dated, the knives sharp, and the dishwater hot. It's all about teaching the sanitary process to others."
Bastien's involvement with MOFGA goes beyond surface scrubbing in the Common Kitchen; she caters for some MOFGA events, works in Jack Kertesz's demonstration garden, and boards MOFGA presenters at The Copper Heron, her Bed and Breakfast in Unity.
Fate brought Bastien to MOFGA's neck of the woods. Living in Louisiana, the 48-year-old Skowhegan native experienced what she termed 'an epiphany.' "I had this slow burning feeling, compelling me to return to Maine. I'm not sure, but there's something about driving across the Portsmouth-Kittery Bridge, smelling the pine trees, and mud season! You just know that you're home."
In 1981, with plans to build a house 'somewhere on a lake in Maine,' a persistent realtor led Bastien and her mother off the beaten path and up to Unity Pond. In the summer of 1997, Bastien and her partner, Jean Burke, left New Orleans and returned to the Pine Tree State. A four bedroom house in Unity built in 1842 captured Bastien's imagination, and the process of restoring it and converting it to a B&B began.
In 1998, Susan Pierce, former special events director for MOFGA, knocked on The Copper Heron's front door. "Susan wanted to know if I would display a poster for the first Fair in its Unity home," said Bastien. "It was the poster of the honeybee – that's what my name [Melissa] means in Greek. It had to be a sign!"
"Melissa is amazing," says Pierce. "She is endlessly creative, always smiling, and happily tackles even the least appealing jobs. Last year she scrubbed the Common Kitchen from top to bottom – even the floor mats were spotless."
One of the challenges of cooking post-Fair time is using up the leftovers. Bastien thrives on the possibilities. "Susan is the perpetual roaster. She likes to roast everything, from potatoes and squash to beets and turnips. Let me tell you, we have concocted some fabulous leftover creations!"
MOFGA always needs volunteers to break down the Fair, and 2001 had an especially small crew of help. "We could have used lots more volunteers," says assistant technical director Diane Schivera, "Take down seemed to take forever this year." Asked how we could help get more people interested in helping with set-up and take down, Schivera said, "Tell them that the food is great!"
– Marada Cook