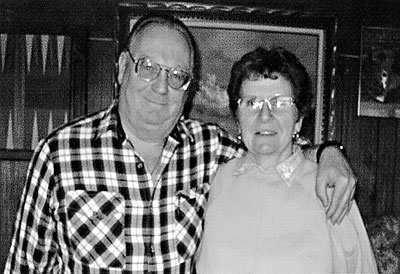 Nancy and Bob Sullivan are as busy in "retirement" as they were when they worked – maybe even more so. English photo.
Bob and Nancy Sullivan in Vibrant Retirement
by Marada Cook
"They're retired," says Janice Clark, "but they don't really know the meaning of the word."
"We just run errands and help count the money," says Nancy modestly. "There are so many people who do so much more."
Janice Clark, the office manager for MOFGA, has been working with the Sullivans for the past four years. "They are wonderful, honest, dependable people. I can't think of anyone I'd rather have working with me."
Bob and Nancy Sullivan help in the MOFGA office during the Common Ground Fair. Clark says the two work tirelessly all three days. "Bob and Nancy keep us laughing. They'll do anything, and we can call on them during any time of the year, not just during the Fair."
Call them anytime, but call in advance. Although the Sullivans have been retired for the last seven years, they have been far from idle. "I volunteer for the Hospice Volunteers of Waterville, working with the Tender Care Team, and I work part time for Pieceworks in Liberty." Bob is active in his local bowling and horseshoe leagues, and has a part-time job.
These ex-city folks have embraced the Maine way with enthusiasm. "We've been coming up here for the past 20 years," says Nancy, "What is now our home on Sheepscot Lake in Palermo used to be just our summer camp. We survived the ice storm in 1998, and this year our pipes froze up and stayed that way for three months! You certainly learn to appreciate your water source!"
Bob and Nancy lived 8 miles from the heart of Boston, in Malden, Mass., before hitting the road to Maine. Their children didn't believe they would move so quickly after retiring. "We retired in January and blew a smoke trail to Maine," says Nancy. "In March we told our kids we were leaving, and by June 29 we were fully moved." They haven't looked back since.
"We said that the first year we retired, we wanted to be able to volunteer at the Common Ground Fair," says Nancy, "The first year, back in Windsor, we worked for recycling. Since then we've worked in the office."
The two embrace an attitude toward their retirement that is as wholesome as the food they grow in their organic garden. "The thing I miss the least about the city," says Nancy, "is the rushing around. Everyone is always rushing to go nowhere. I love waking up in the morning and being able to do exactly what I want with my day. Here in Maine, you get to enjoy life a little more." When Nancy drives into Palermo, with perhaps one car ahead of her and two behind, she breathes a little sigh of relief, "That's Maine rush hour."