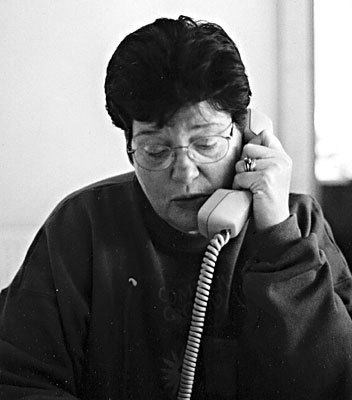 Debbie Kipp
By Ann Cox Halkett
For a week each year before, during and after the Common Ground Fair, Debbie Kipp volunteers in the Fair office and does "anything that the office needs done." That usually includes answering the phone, handing out passes, and running errands. "I just do anything … talk to vendors, take complaints, take compliments," and, because of an omission in planning for the new building, "cleaned toilets last year – that was a good one!" But even grubby toilets could not dampen her enthusiasm for her work. "I like everyone that works there – it's just wonderful."
Besides, being idle does not seem to be part of Debbie's nature. She moved to Brunswick 24 years ago with her husband, Rick, who was stationed there with the Navy, and their three children. She has been a pharmacy technician at the Parkview Hospital, a Seventh Day Adventist hospital, for 22 years. While not an Adventist herself, she credits its vegetarian approach with changing her eating habits; growing up in Wisconsin with German roots, "we ate meat three times a day. Now we don't eat it as much." Now that the children have left home (but not necessarily Maine), she also works some evenings at the Maine Medical Center and uses slow times at work to knit. Vacations? "I take a vacation so I can go to the Fair!"
Both Debbie and Rick, who retired from the military years ago, come from Wisconsin, but "when we moved to Maine, my kids thought this was home." They stayed in Brunswick through three three-year stints of sea and shore duty. When Rick was finally transferred elsewhere, the children did not want to move and "we had to buy a house."
The Fair has helped make Maine home. Rick first became involved with it back in the seventies. Having grown up with gardens and animals, he felt he was "getting back to all that" when he was there. He is now in charge of setting up and taking down the Fair each year and is also the handyman two days a week for the new education center.
Still, Debbie says she is ready to move – in Maine, but "up north, further away." Twenty-four years ago Brunswick was "really quiet and seemed small," but it has changed.
Its new charms are lost on her: "I don't like shopping. "If Rick's job at the education center grows, they will probably move to Unity. After attending the kite-flying day and helping at the education center in July she said Unity "just seemed so quiet, so peaceful and different.
"Moving presents some difficulties, of course, like leaving her job after 22 years. "My boss is real good, plus he doesn't want to give me up." So she is considering working two 12-hour shifts a week. "I'd have the rest of my time off," she says, "and it's about time." But even Debbie does not quite seem to believe she will be taking it easy. Laughing, she says, "I would probably end up volunteering for way more than the Fair."