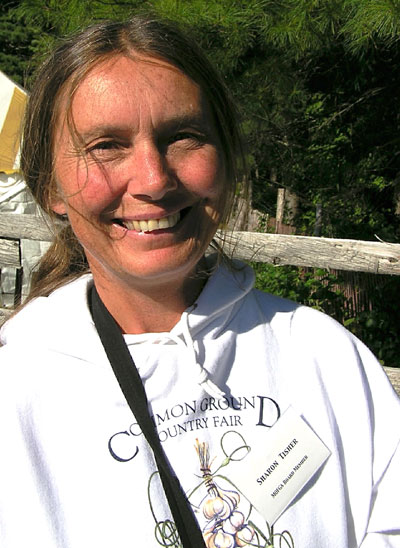 Sharon Tisher has stepped down from MOFGA's board of directors but remains involved in the organization's public policy committee. She is also president of the board of the Natural Resources Council of Maine. English photo.
After a dozen years on the MOFGA board of directors, Sharon Tisher has stepped down. She'll remain involved in our organization, but we thought this would be a good time to review some of MOFGA's achievements and goals with this brilliant dynamo.
When and how did you come to Maine?
I was born in Maine – the child of artists who met at the Ogunquit (Woodbury) art school in the summer of 1946 and built a cabin there in the woods. My life spending winters in Connecticut and Massachusetts was punctuated by escapes to Maine whenever possible. After 15 years of trial practice in Connecticut and Boston, my husband and I mutually agreed that it was time for a radical mid-career shift, and moved to Orono in 1993. Paul became for the first time the principal wage earner, and my major ambition at that point, after years of reading Mort Mather's column in the York County Coast Star, was to have my own organic garden.
How did you get involved with MOFGA?

I happened to meet up with Mort, a fellow veteran from an environmental citizens group in Ogunquit, at a birthday party for a mutual friend the very day we were moving to Orono. Mort recommended me to Nancy Ross for the MOFGA board, and Nancy soon invited me to chair the Public Policy Committee as well. My garden took off wonderfully; after the second year I was able to report back to my law firm that I had canned 40 quarts of tomato sauce! My work for MOFGA dovetailed well with the other unexpected development in my life – teaching environmental law and Honors courses at the University of Maine.
Over the 12 years that you served on the board, what has MOFGA accomplished?
MOFGA's accomplishment has been huge. Most obvious and material has been the acquisition of the permanent home and fairgrounds in Unity. The MOFGA board spent eight years (under the stewardship of Ellis Percy and many others) investigating alternatives for this site. I've been involved in many nonprofit organizations, but never have I seen such a transformative process as the acquisition and development of the site. When I started with MOFGA, I was not much of a "Fair" person, and must admit a mild disappointment at my first Fair (at the Windsor fairgrounds). Now, and more and more with each year, I appreciate what the Fair means to the thousands of loyal visitors and volunteers: a chance to celebrate not just the past but the future of agriculture in Maine; to connect with old friends; to see people, young and old, enjoying simple things – the earth, good food, music, plants and animals.
The growth in the number of certified farms has also been huge – from 80 when I joined the board, to 300 now. Organic foods are so much sought by, and more available to, the average Mainer now, and I expect that to continue to grow. For me, it's an indicator of the keener awareness of the connections between health and toxic compounds in our environment generally.
This newspaper, of course, continues to be the most readable, important and comfortable publication to curl up by the fire with on a winter's eve, dreaming about gardens to come. There's nothing I treasure more in my mailbox except perhaps The New Yorker. You're a fabulous editor, writer and scientist.
On the public policy side, we've had a number of significant victories: achieving the first state declaration of policy to reduce pesticide use in Maine; proposing a survey of pesticide use in Maine schools, which led to a major new regulation requiring parental notification and use of IPM in schools; Maine's becoming the only state not to permit cultivation of genetically engineered Bt crops; a report of the Maine Commission to Study Biotechnology and Genetic Engineering calling for federal labeling and a number of other reforms in the regulation of biotechnology; and the first state to require specific instructions to reduce genetic contamination of wild and conventional crops by GE crops.
What would you like to see MOFGA accomplish during the next five, 10 and/or 50 years?
In 50 years, I expect most of Maine agriculture to be organic or close to organic. In the next five years, by 2010, I'd like to see the farm "paid for" by paying off the mortgage on the Fairgrounds, and a cash reserve sufficient to enable us to be less dependent for income on three consecutive sunny days during hurricane season. We've been very lucky weather-wise in recent years, but I'm not a big believer in divine intervention.
How will you remain involved with MOFGA?
I'll stay a member of the Public Policy Committee, under the leadership of our new chair, Alice Torbert Percy. And Nancy Ross and I will continue to volunteer a lot of our time as the MOFGA representatives on the Steering Committee of the Alliance for a Clean and Healthy Maine. This is a very exciting coalition of environment, labor and health groups dedicated to reforming chemicals policy to reduce toxics exposure in Maine and nationally.
What will you be doing with all your time, now that you're not on the MOFGA board?
I'm also excited to be assuming the Presidency of the Natural Resources Council of Maine, working on a number of environmental issues, including removal of dams on the Penobscot River watershed, fighting exposure to mercury, lead and other toxic compounds, and opposing the Plum Creek "super sprawl" development of the North Woods. And gardening. I'm into Indian tomato sauces now.