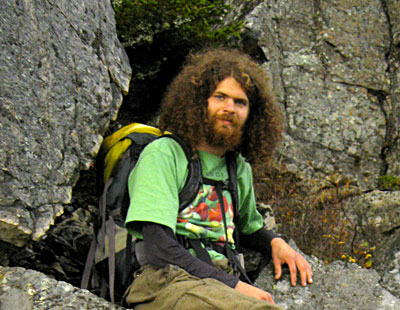 Tristan Plumb
Tristan Plumb
By Holli Cederholm
Tristan Plumb forgets when he started volunteering with MOFGA – perhaps because he has attended the Fair every year of his life, making the 2010 Fair his 22nd. "I have been around during the Fair forever," says Plumb, whose father, Steve Plumb, has long helped with utilities work for MOFGA. "At some point, I was doing more working than walking around," says Plumb.
Abby Sadauckas, MOFGA's event logistics and volunteer coordinator, likens Plumb to a superhero and describes him as "ever present, ever helping. No matter where he is in the country, we always call on him," she says.
Plumb sets up the communication networks used during the Fair, including phone lines, credit card machines, and a Web camera that adds candid snapshots from the fairgrounds' common to MOFGA's website every 30 seconds. This may not seem heroic, but Sadauckas attests, "in his day, he has run several miles of fiber optic cable around the fairground."
One of the first major projects that Plumb donated his time to was installing low-level lights to illuminate the wooded path connecting the fairgrounds to the South Parking Lot. Since then he has worked on general electronics, computers and phones.
"Phones are my big project at this point," he says. A week or so before the Fair, Plumb begins setting up such physical infrastructure as lighting and phone systems. At first the Fair needed only two additional phones in the main office for public use. The system then expanded to include six phones – four for public use, and one in each gatehouse. Another six lines are required for the ATM and credit card machines. During the Fair, Plumb monitors computers and troubleshoots – which often involves a lot of running back and forth.
Plumb uses his technical skills to help other organizations, including computer work for a couple of libraries and running cable and setting up infrastructure for a handful of contra dance festivals in New England and New York. When not volunteering, he is an independent consultant and is building a small house based on non-invasive building practices.