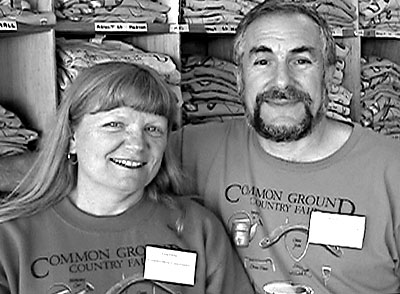 Lisa and Roy Miller. English photo.
Roy and Lisa Miller –
Country Store Coordinators
by Marada Cook
"Roy and Lisa Miller are the two necessary halves of a good coordinator," says Hannah Frankle. "Roy is a mass of energy, and Lisa is a big ball of patience!
"I've been volunteering at the store for three or four years now," says 15-year-old Frankle, "and it's always been a lot of fun working for the Millers. They never seem to get in each other's way, or on each other's nerves!" Considering the pace of sales at the Common Ground Country Fair's Country Store on sunny days, Hannah's observations are all the more outstanding. Peak times often require 12 volunteers selling Fair T-shirts, aprons, note cards and posters as fast as they can. "We're constantly calling out, 'Next person!'" says Frankle.
The Millers are veterans of Country Store coordinating. They've attended every one of the 27 Common Ground Country Fairs and have coordinated the Country Store for the past ten. "It's a whole lot of fun," says Lisa, "We have a great working team, both with our co-coordinators, Nancy and Dennis Merrill, and with our dozens of volunteers."
The Country Store tent is never understaffed, mostly because it's an exciting place to be. Jesse Guest, a 16-year-old from Jefferson, has worked with the Millers for two years in a row. "I like helping the customers, and the whole atmosphere of the Fair."
Coordinating all the volunteers is only one segment of the Millers' responsibilities. "There are two parts to coordinating the Country Store," says Roy. One is setting up and serving the crowd during the Fair, the other is behind-the-scenes work to stock the Country Store. "We (the four coordinators) work with Liberty Graphics to decide how much of each style, size, color and design to buy.
"We have an ongoing debate," continues Roy. "One argument is that we should order a large amount so that if the weather is good and the crowd is large, we'll sell a lot. The other is that we should order conservatively so that we'll run out on Sunday at five o'clock. The store runners like to be conservative."
They may order conservatively, but when it comes to store inventory, they use their creativity. "Dennis keeps flow charts on his computer of each of our items," says Roy, "so we have a good idea of what will sell." They've noticed that fashion trends apply even to the Country Store. "In the early '90s, folks were wearing baggier clothing, so we ordered more large sizes. Now it's headed the other way!" With these trends in mind, Roy mentions that the Store is looking for a new type of volunteer – the Common Ground Country Fair fashion consultant. "We're hoping a young person will help us find what appeals to teenagers, and folks in their twenties."
While they may not be fashion designers themselves, the Millers have certainly earned the respect of the entire Common Ground crowd. Thanks to their hard work, the Common Ground County Fair T-shirt plays a central role in the farming fashion scene. It may not make it down the catwalk, but it sure holds its own in the pigpen, on the school bus, at the co-op, in the kitchen, and of course, in our gardens.