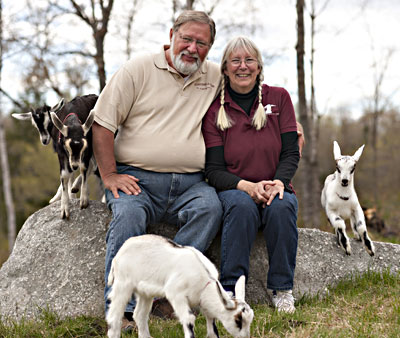 Janice and Ken Spaulding with some of their baby goats. Photo courtesy of the Spauldings.
Janice and Ken Spaulding: Educating about Goats in Person and on Paper
By Holli Cederholm
Goats, with their big eyes, hearts and humor, are great at making people fall in love with them, attests Janice Spaulding in the opening chapter of Goat School: A Master Class in Caprine Care and Cooking (Down East Books, 2011). And Janice and her husband Ken are great at making sure goat owners, from the considering to the already committed, know how to provide excellent care for these "amazing creatures."
The Spauldings currently tend 20 goats at their Stony Knolls Farm in Saint Albans, Maine. Their goat raising days started with Angora for mohair, transitioned to Boer for meat and later shifted to Alpines and Sables for milk. Now their herd includes primarily high-volume milk producers, such as Alpines and Sables, along with a handful of Nubians, Oberhaslis and crossbreeds.
Their considerable goat background was gained through experience – they started raising goats before many educational resources were available on the subject. As a result of learning through trial and error, the Spauldings are passionate about sharing their knowledge. "I love talking to people and answering questions," says Janice.
In 2004, the Spauldings brought several goats to the Common Ground Country Fair and began teaching what have become annual workshops on successful goat raising and choosing the right goat breed. That same fall, Ken and Janice founded Goat School: a weekend workshop covering the basics of goat care, from feeding and fencing to hoof-trimming and kidding. An optional third day introduces soap and cheese making. "It is our way of helping people to properly take care of goats," says Janice. "It also teaches people whether they really want goats or not."
The inaugural Goat School had only 12 attendees, but class sizes, both at Fair workshops and at their school, have grown steadily. "We talk to hundreds and hundreds and hundreds of people," says Janice. Following a feature in Hobby Farms, their spring 2010 Goat School drew 112 participants from 22 states. The Spauldings have since decided to take their programming on the road, from Florida in the past to California this coming winter.
Each successive year their Goat School manual has also grown. "The very first goat school we ever did, I typed up all the information … and put it in a folder and gave it to each person," says Janice. Each year she added pages, detailing topics that couldn't be covered fully in class or telling personal anecdotes. Soon the manual wouldn't fit into a folder, and the Spauldings started getting the packets bound at a copy center. "We were essentially self-publishing," says Janice.
This manual forms the backbone (or part one) of Janice's new book, Goat School. Part one distills the basics of goat husbandry through the lens of enthusiastic experience.  Part two, a compendium of caprine cooking, also stems from the Spauldings' weekend workshops. Most of the recipes, from homemade cheese to salads and stroganoffs incorporating goat milk products and chevron (goat meat), are served annually at Goat School. Janice also shares her farmers' market recipes for pickles and relishes, which she connects back to her herd. "Our goats produce a multitude of poundage of poop. My compost is amazing. My gardens are amazing," she says.
Janice will have copies of Goat School: A Master Class in Caprine Care and Cooking available for purchase and for signing at the Sheep and Goat Barn during the Common Ground Country Fair. Goat School includes some practices that are not approved in organic production, so readers who want to raise goats organically will have to check USDA's National Organic Standards (or MOFGA Certification Services' Organic Certification Practices Manual) for approved and prohibited materials. Still, Goat School covers caprine care well and, along with the Spauldings' workshops at the Fair, is a valuable guide for beginners.