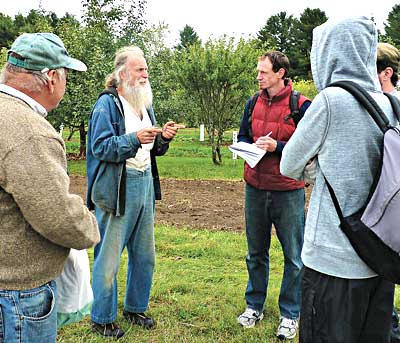 Will Bonsall has been sharing his homesteading and seed saving wisdom with fairgoers since the second Common Ground Country Fair. English photo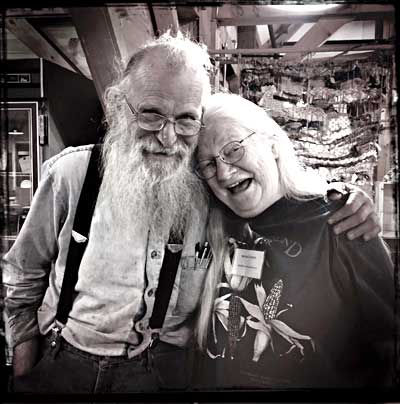 Common Ground favorites Will Bonsall with Martha Gottlieb, co-coordinator of the Exhibition Hall. Nancy Bowker photo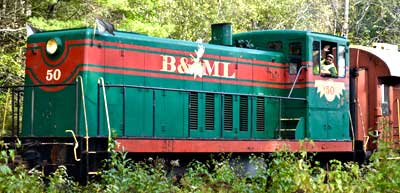 Common Ground and the Belfast & Moosehead Lake Railroad – a wonderful symbiosis. English photo
By Will Bonsall
Maine's state motto, "Dirigo" ("I lead"), may seem a little over the top in some respects, but in terms of progressive movements, it's spot on. In my lifetime Maine has led the nation in choosing scenery over billboards, enacting a bottle redemption bill, requiring GMO labeling (although it hasn't kicked in yet) and insisting on adopting ranked choice voting. Surely among our greatest achievements is having a highly active organic organization – MOFGA; and surely one of MOFGA's signal achievements has been the Common Ground Country Fair. That's why I've spent nearly every Fair doing presentations in the Agricultural Demonstrations Area, which some have described as "the beating heart of the Fair."
I had nothing to do with the Fair in its first year at Litchfield; we got to attend only as tourists with our elderly Yankee neighbor who had a car – we didn't – and was curious to see what all the hippies were up to. We were immediately impressed by the activist-educational aspect as well as lack of carnival atmosphere. We thought, "Gee, we could be part of this!" and so we spent the second Fair demonstrating food dehydrating techniques while making lots of lasting contacts with like-minded folks we otherwise might never have known.
When the Fair moved to Windsor, we were placed in the Country Kitchen area, since our presentations then still included food dehydrating, although we were expanding into composting and seed saving. It was nice to have our own covered space, which was the fast-food concession booth of some service club during the Windsor Fair. However, the fly-encrusted vats of old fry-fat were less than appealing, so we were pleased to be reassigned later to a new place near the main gate. It struck us as curious that our very radical-fringe booth, focused on vegan diet and livestock-free soil building, should be placed so conspicuously, right across from MOFGA's own membership booth, although I can't deny that our new expanded pavilion with displays on all four sides was a real attention-getter.
We realized that this event, of which we were a tiny part, was something wicked special, but that was really brought home to me the year Kent Whealy of the Seed Savers Exchange was our keynote speaker. We hosted him, and during one break, as he and I wandered around enjoying the Fair, he exclaimed, "My goodness, we could never do anything like this back in Iowa!" Shocked at first, I thought about it: No, probably not in Kansas, California or Florida either, or any of the big agricultural states; even those with enormous organic production. After all, industrial-scale organic industries (talk about oxymorons!) don't tend to foster truly alternative grassroots organizations. Here, again, Maine leads the nation.
One of the problems of being a nonstop Fair presenter is that I rarely get to see much of the Fair myself (except after hours, when all is quiet). Nevertheless I find rare free moments to check out the electric car, timber-framed house, sheepherding demo, Native crafts, and the many-hued pheasants. And of course I always pause in mid-lecture to savor the keening wail of bagpipes across the fairgrounds.
While I have difficulty taking in the Fair during regular hours, there's a whole après-fair scene that only staff and volunteers get to enjoy. In odd corners of the fairgrounds and in the volunteer camping area, folks break out their guitars, fiddles, banjos and bones for impromptu jams and hootenannies. Spontaneous dances spring up on many a grassy patch. At the staff dining area, friends reunite over bountiful suppers. It used to be hard for a vegan to get satisfied; now I almost feel sorry for the meat-eaters. (Not really; they get to chow on our stuff, not the other way around.) Although we volunteers greatly appreciate the ticket-buying fairgoers, we know that we're the ones making it happen, and the after-hours camaraderie is palpable. For some like myself, the Fair is home for three-and-a-half solid days. I never need a ticket nor stand in line because I arrive Thursday night and never leave the grounds, stowing my sleeping bag, guitar and other gear in the back corner of the tent that is my "performance space." Some nights others join me; sometimes I'm alone. I'm told that security likes people sleeping in their own areas, as it makes their job easier.
Aside from the Fair's nightlife, there's something special about the early morning rise-up. Usually a bit chilled from the night's dew, I wend my way to the washroom, passing and greeting the septic crews pumping out the porta-potties in anticipation of the day's new batch of fairgoers (15,000 to 20,000 per day is common). It's too early for breakfast, so as I wash up I leisurely read yesterday's graffiti. MOFGA is fiendishly clever in putting up designated sheets of paper to accommodate "public authors," and wouldn't you know it? Even MOFGA's graffiti is classy! More political than scatological, more profound than banal. It deserves preservation.
Some years we early risers have been greeted by a flock of low-flying Canada geese, just taking wing from the fog-shrouded pond in a nearby sandpit. Fortunately the development of MOFGA's Maine Heritage Orchard (which see!) has been implemented in a way that enhances that waterfowl habitat, raising hopes for future overflights.
My only regret in not arriving at the gate like everyone else is that I never get to ride on the "Spirit of Unity." That restored steam train is one of the best things to happen to the Fair and, from what I hear, the other way around. From its first year in Unity, the Fair has been a great community event and fundraiser for MOFGA, but it has not been without its problems, and perhaps the biggest challenge, for MOFGA and fairgoers alike, has been parking and waiting lines. Too much of a good thing? Perhaps, but the crush has been greatly reduced by encouraging attendees to park either at Unity or Brooks and ride the train to Common Ground. No doubt many of those folks have had their fill of commuter trains back home, but that cannot compare with the short chugging excursion through a scenic farmscape with like-mooded fairgoers. I also gather that those three days of tourist riders are the bread-and-butter for the railroad, a win-win situation.
Crowds and waiting lines haven't always been a given. Although the Fair weekend has usually been blessed with delightful fall weather, one year saw three days of nonstop heavy rains that quenched ticket sales, leaving MOFGA and the many vendors in a desperate cash-flow situation. The Fair is such a big marketing event for many of the vendors that the forecast for that weekend may determine their fiscal health for the entire year.
One mustn't underestimate the importance of the Fair to the area economy. Many of those tourist hordes buy gas, stay in local motels, eat in restaurants and make other expenditures unrelated to the Fair, but because they are here for the Fair.
Maine has several other fairs – state, county and local – and they're seen as iconic features of the rural scene. Many of these feature carnivals with rides and junk food. Common Ground stands at the opposite end of that spectrum, placing numerous and exacting requirements on what is sold and offered. Organic? Maine-sourced? The long-running controversy over coffee is an example: Wherever you stand on the issue, whatever answers are found, the significance is rather that such questions are even asked. Despite whatever conflicts arise (and as a vegan I have many), the fact that they, like the Fair, are values-driven sets Common Ground apart from all the others.
Take kids, for example, and you definitely should take the kids, unless they take you. I can't imagine a more kid-friendly setting, from the vegetable parade to the bicycle parade to the Youth Enterprise Zone. When our own kids were very young, we gave them considerable freedom to run about, knowing that dozens of self-appointed aunts were eyeing them every minute. The most untoward thing that ever happened to either was when one of them used his day's allowance to buy a small bottle of honey and immediately glugged over half of it. He spent the next hour vibrating. Among the fondest memories my boys have of the Fair are those early mornings when they could race around the fairgrounds on their bikes with no adults complaining.
A welcome feature of Common Ground is the role of security. The Waldo County deputies always seem to enjoy working the Fair, and I've found them ever-ready to help with anything, however un-law-related. Likewise the EMT's: One year I caught my pinkie in the gears of a rice-huller and tore off a wide strip of skin right to the muscle. They jumped into action, patched me up and followed up with me during the day.
The Litchfield and Windsor fairgrounds were great incubator sites for Common Ground, but the Fair soon needed to hatch into its own space to accommodate the rapidly growing organization. In 1997 in Unity, a worn-out potato field and the resources to build on it became available, thanks to the wonderful generosity of Bert and Coral Clifford, former postmasters and entrepreneurs who contributed so much to the community. Due in large part to their involvement, the sleepy farm town where I spent many summer visits is now a destination for many, especially progressives. Common Ground – as well as Unity College, the restored railroad and many other community institutions – is indebted to the Cliffords and to many other generous donors for their existence. The very pasture where we kids used to drive cattle up to the milking room now holds a college campus. The increasing number of cars have to share the road with bicycles and Amish buggies.
The Unity site gave MOFGA many options not available with leased space. Aside from the Fair, it holds MOFGA's offices and various projects and other events. The Maine Heritage Orchard makes splendid use of a formerly barren sand pit, now transformed into a beauty spot and wildlife habitat. On the fairgrounds proper are permanent projects demonstrating permacrops, hugelkultur and a host of little-known and neglected crop species, as well as cutting-edge techniques.
Most country fairs are great places to hear authentic rural dialects, and Common Ground is no exception, yet there is nothing yokel-ish about this eclectic event. Fairgoers come from many other states and provinces, some specifically for the Fair. Almost every ethnicity can be seen there. I dabble in foreign languages, and I can detect (and sometimes chat with) a number of exotic speakers. Even though I don't get around the Fair much, I've encountered speakers of French, Spanish, Portuguese, Russian, Polish, German, Dutch, Swedish, Danish, Estonian, Hungarian, Chinese, Japanese, Korean, Hindi and various other tongues that I didn't recognize. Who knows how many I miss, sequestered away in my ag demo space? But of course why wouldn't they all come to a place of Unity and Common Ground?
The Fair is so wonderful that some just can't seem to get enough of it. In the last few years a tradition has arisen: Just as the Fair is winding down and the loudspeaker is bidding everyone farewell, a growing group of diehards gather at the Ag Demo Area and sing rounds, remembering old ones and teaching new ones, sharing teary hugs with each other before packing it all in till next year. Hope you can join us.
About the author: Will Bonsall lives in Industry, Maine, where he directs Scatterseed Project, a seed-saving enterprise. He is the author of "Will Bonsall's Essential Guide to Radical Self-Reliant Gardening" (Chelsea Green, 2015). You can contact him at [email protected]. Check the Fair schedule for his many presentations there.