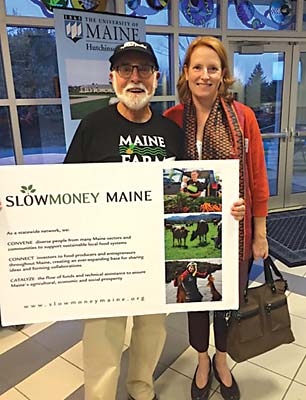 Steve Levy (left), a Slow Money Maine technical assistance mentor and member of Maine Farm & Sea Cooperative's board, along with Gray Harris of Slow Money Maine's steering committee and Coastal Enterprises Inc., at SMM's November 2015 daylong gathering. Photo courtesy of SMM
By Jean English
Like healthy soils that nourish abundant, nutrient-dense crops, Slow Money Maine (SMM) nourishes the growing "regenerative" food economy in our state – and SMM is seeking more investors and borrowers in order to expand that economy.
Slow Money was started nationally by Woody Tasch, and more than 20 chapters now exist nationally and internationally. Like the Slow Food movement, Slow Money works to enrich local places. Its mission: To catalyze the flow of capital to local food systems, connecting investors to the places where they live and promoting new principles of fiduciary responsibility that "bring money back down to earth."
Slow Money Maine, in addition, not only links investors with borrowers but also intentionally attracts a mix of people in order to find many ways to engage through more than financial capital.
In this new regenerative economy, publicized by former Wall Street analyst John Fullerton and by Ethan Roland and Gregory Landua (authors of "Regenerative Enterprise – Optimizing for Multi-Capital Abundance"), capital includes not just financial assets but also living, social, cultural and other types of capital. For SMM, that means focusing on relationships and on sustainability – "paying attention and having intention around the care of the land, people, plants and animals involved," says SMM coordinator Bonnie Rukin.
Slow Money Maine's more than $11 million worth of transactions in the Maine food economy is impressive, says Rukin, "but we are not only investing in these businesses, we're staying with them to help them grow and to access resources for developing a farm or food business. We think of what we do as an energy flow network, which needs healthy human networks to keep that energy flowing – just as the human body is a system of flowing energy that relies on many different contributors."
In its six years of existence, SMM has helped catalyze Maine's local and regional food economy by facilitating low-interest loans, grants and equity, says Rukin, adding that SMM "has provided technical assistance galore and developed a wide range of mutually satisfying relationships."
Rukin is the contact person for those seeking peer-to-peer and foundation funding, which may involve large amounts of money (or occasionally less). In addition, two investment clubs associated with SMM, No Small Potatoes and Maine Organic Lenders (MOL), make generally smaller loans to local farmers and processors.
Rukin says that SMM itself is not a funder per se but a diverse and inclusive network of people from all sectors of Maine. SMM convenes gatherings, connects people to each other's needs and catalyzes the flow of funds and technical assistance to a wide array of food businesses.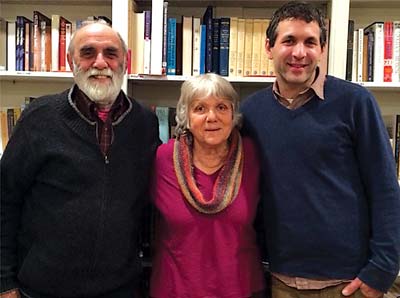 Bonnie Rukin (center), coordinator of Slow Money Maine, Samuel Kaymen, soil enthusiast and investor (left) and Jeff Wolovitz, owner of Heiwa Tofu, participated in a SMM forum on building a healthy local food economy. Photo courtesy of SMM
When SMM began, it identified food processing businesses for grains, meat, milk, vegetables and fruits as the biggest need of the local food economy. "We focused on those businesses as well as their suppliers, distributors and markets and the mutual needs that are part of the Maine food system," says Rukin. Now SMM seeks a larger pool of investors "to meet the burgeoning needs of these larger-scale infrastructure businesses; and we need to expand educational and informational opportunities for engagement," Rukin adds. She emphasizes that SMM does not do due diligence as a group and does not offer services that make recommendations or guarantees, but it does give guidance whenever possible. "We make it clear that this is a risky sector to invest in," she adds.
The 303 transactions SMM had facilitated as of December 2015 went to infrastructure businesses, farms, fisheries and nonprofits. Moneys came primarily from individuals and from grants (e.g., the Sewall Foundation). Individuals, for example, may have just inherited money that they didn't need right away and that they wanted to invest to benefit Maine's food economy. Rukin will ask them, "What are you imagining?" She explains to them that SMM tends to work with "patient capital loans" – low-interest loans of 3 to 5 percent for one to three years.
If they are comfortable with those terms, she will ask if any particular sector of the food economy appeals to the person. "A vegan may not be interested in a slaughterhouse," she explains; "or a potential investor may have family ties to Hancock County and would like to help a farmer there."
After engaging in these conversations, Rukin may connect investors with individuals seeking loans or with an investment club. Similarly, farmers and food businesses may be guided to resources within or outside the SMM network.
"We have people looking for millions of dollars for infrastructure businesses," says Rukin. "We may look within our network partners, which may include Maine Farmland Trust, Coastal Enterprises Inc., FAME (Finance Authority of Maine) and the foundation world. We'll work with everyone who might be able to piece something together."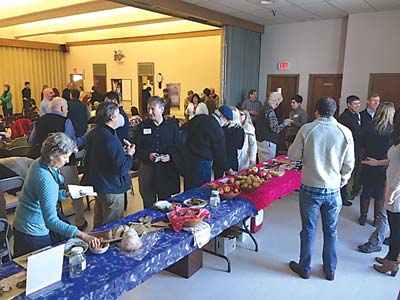 A Slow Money Maine gathering in Gardiner. photo courtesy of SMM
Investment Clubs
While Rukin makes connections for peer-to-peer and foundational support, the No Small Potatoes investment club, based in the Portland area, is an LLC that vets loan applicants.
Linzee Weld oversees No Small Potatoes, which has 20 members who have pooled $105,000 in capital to create a revolving loan fund. Pooling their money spreads the risk of each loan. The group makes lending decisions together after full discussions of the pros and cons of each potential loan in meeting the criteria of the club, along with site visits. It lends up to $10,000 at 5 percent interest for three years, with some flexibility in terms.
As of December 2015 it had made 34 loans totaling $181,400 to farms with annual revenues ranging from $7,000 to $600,000 and to farmers ranging from two years of experience to generations of experience. The loans have helped finance vehicles, tractor implements, hoop houses, cold storage units, barn expansions, drip irrigation, cows, a washing station, labels and more. Nineteen loans have been repaid in full; 15 are in progress; and one $5,000 loan failed due to a potato crop failure during an especially rainy season. These 34 loans leveraged at least another $166,000, including loans from Whole Foods, Maine Organic Lenders and a USDA grant. No Small Potatoes has capped its membership at 20, so it is not open to new investors right now. Weld has explained the No Small Potatoes model to groups in other states, and now at least 10 other investment clubs throughout the country are modeled on No Small Potatoes.
Maine Organic Lenders, based in midcoast Maine, makes low-cost loans of $5,000 to $25,000 to participants in the Maine food system. Applications for loans are reviewed on an ongoing basis as they are received. One or more members of the club then meet with the applicant to gather more information. By the end of last year, MOL had loaned $110,000 to organic food businesses.
Both clubs currently have more money to lend than they have prospective borrowers.
Information about both appears at www.slowmoneymaine.org under the heading of "Investing Locally." Another club may be forming in Blue Hill.
Technical Assistance
Slow Money Maine has also developed a network of technical assistance providers who have been involved in food system work to help meet a need for mentors. Slow Money Maine links those in need with people in government, health, marketing, education, etc., says Rukin. Mentors may help with facility design, marketing, sales or other aspects of food businesses.
For the last two years, Slow Money Maine has collaborated with the Fair Food Network, Coastal Enterprises and the Sewall Foundation to provide grants to businesses that source from multiple Maine farms and fisheries to pay for in-depth technical assistance. Grants have funded financial planning to identify financing needs; HACCP (Hazard Analysis and Critical Control Points) plan development; efficient layout designs for food processing equipment; and developing online sales platforms to businesses, including Maine Grains, Northern Girl, Tide Mill Organic Farm and Heiwa Tofu.
Gatherings
Slow Money Maine lenders, borrowers and interested parties meet every other month at Christ Church in Gardiner and at an annual gathering in Belfast to hear about proposed business opportunities, successes and failures. Well over 100 farmers, fishers, processors, marketers, schools, distributors, financial institutions, government agencies, investment clubs and nonprofits have presented at these gatherings.
Anyone who is interested in becoming an investor, in seeking a loan or in learning more about Maine's food networks may attend the gatherings, which, except for the annual gathering, are free, and all are open to the public. Participants can learn at the gatherings (or at www.slowmoneymaine.org) about ways to engage with SMM, including exploring peer-to-peer lending; partnering with SMM for grants; giving or receiving food business expertise; learning more about local and regional gatherings; creating, joining or applying to an investment club; or pitching a business or nonprofit. They can even learn about business failures.
"We've been in this long enough to experience failure," says Rukin. "We've learned from them and made them public." Last year a session at the annual SMM gathering included an investor and the principals of MOO Milk and Coastal Farms and Food Processing, talking about how those entities had failed and what lessons can be learned from them.
"As a result [of these failures]," says Rukin, "we have developed guidelines for our investors to ask more and perhaps deeper questions so that we're not as quick to jump into the excitement of a new business. We need to combine vision, a good management team and a good advisory team with financing."
Connecting with the Future
Building a local food system means building a regional food system, says Rukin, in order to increase opportunities for growers to scale up. So SMM is working closely with all the New England states and with distributors to build markets. In Maine those opportunities may come from developing institutional markets, such as supplying the UMaine food system, as the Maine Farm & Sea Cooperative hopes to do. They may also come from improving or expanding food distribution systems – e.g., connecting Crown O' Maine to other trucking opportunities to move food around and beyond Maine.
Also in the not-too-distant future, the Maine Farm Harvest Credit Project plans to start a credit union focused on filling financing gaps in the new food economy. Sam May, a MOFGA board member and SMM steering committee member, and Scott Budde, project director, are leading this effort through the SMM network with an oversight board composed of MOFGA and Maine Farmland Trust representatives.
"I don't think a single food strategy is going to be the answer for this state," says Rukin. "I think it's going to be a combination of people working at various levels in many ways and bringing it all together" – something SMM does well.
A proponent of organizational behavior consultant/philosopher Margaret Wheatley's emergent approach to cultural ills, Rukin paraphrases, "Rather than look at the puzzle pieces as you dissect, analyze and try to create the finished form, stay with the values and intentions that you have observed and know are needed, stay adaptive and responsive to changing needs as they happen, and something will emerge that will likely be unexpected and satisfying. Individual actions that were insignificant start to have new consequences because they are interconnected and are part of a new system."