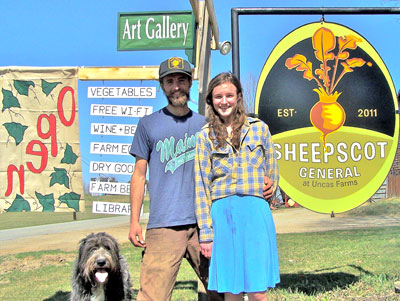 Ben Marcus and Taryn Hammer, co-founders of Sheepscot General, stand in front of the store sign with their dog Oslo. Shawn Hickey photo.
By Holli Cederholm
Taryn Hammer and Ben Marcus opened the doors of their Sheepscot General at Uncas Farms in Whitefield, Maine, in 2011 after a winter spent remodeling an already storied space. "The farm is way older than we are," says Marcus, who grew up in Whitefield and has watched the evolution of the building housing their storefront as well as the encircling farmland.
This landscape supported a commercial dairy; and later, under Austin Moore's ownership, the fields were also cultivated to produce vegetables for the people of Whitefield. The space now known as Sheepscot General was once an old dairy barn, later repurposed as an honor-style vegetable stand, and most recently remembered as a natural foods store. An onlooker can still discern the resemblance to these past lives.
Sheepscot General successfully replicates the feel of general stores of times past, but with a modern flair to better suit today's consumers. Wooden shelves showcase an impressive larder – from pantry staples, to handmade crafts, to supplies to make your own crafts.
"We like to encourage people to do things self-sufficiently," says Hammer. To that end, they carry the makings of a home-cooked meal and an array of goods aimed at self-reliance, including canning jars, tincture bottles, grafting wax and sewing materials.
Even more impressive, considering the breadth of Sheepscot General's provisions, is the fact that the inventory is largely sourced within Maine, with many items from within Lincoln County.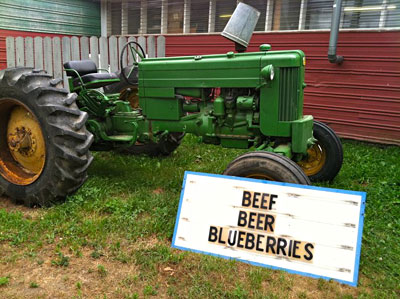 This sign, located in front of the General, says it all. Taryn Hammer photo.
Coolers and cases display local bounty harvested from farmers' fields and pastures, from woodlands and the sea: cheese, eggs, meat, seasonal fruits and vegetables, Uncas Farms maple syrup, and more. Accompanying signage not only offers prices but also attributes the source – often naming the producer and his or her location. So browsing in Sheepscot General is a little like shopping in a Maine-made museum. A casual shopper will know the cloth napkins are made by a craftsperson in nearby Jefferson, and the gift cards sketched by Whitefield artist Toki Oshima – who also happens to illustrate The MOF&G.
Building a Business
In August 2010, when Hammer and Marcus were considering opening the general store, the building and adjacent farmland were both underutilized. They were originally looking to lease the land, but elders in the area had another idea. "[They said] you have to open the store too," says Hammer.
The pair took on two separate leases, one for the store space and another for 5 acres on which to cultivate their MOFGA-certified organic pick-your-own strawberries; and mixed vegetables for distribution via their multi-farm CSA, at the Hallowell farmers' market, and through the general store. They kept the name Uncas Farms for their business.
Marcus handles logistics for the farm, while Hammer coordinates the store. "We divide and conquer," says Marcus.
However the two spent most of their first year focusing on the store. Marcus says, "There's a learning curve to running a business … The important part is to get your market secure before you start growing stuff for it."
For them this meant creating a physical space as well as determining what to sell and how to sell it. Though the building had been used as a store before, it still needed work – which they did themselves "on the cheap," says Marcus.
The counter at Sheepscot General. Taryn Hammer photo.
They knocked out walls, added windows, installed a counter (using a countertop they found in a back room) and built two commercially licensed kitchens.
"Part of dealing with perishables, you have to figure out what to do with them," says Marcus.
Their strategy for minimizing waste lost to perishable items in their retail business includes supplying what they can themselves, such as salad greens. Though Hammer and Marcus source vegetables from other farmers too, they decided that cutting lettuce from their fields not only provides their customers with a super fresh product but also allows them to streamline their supply – they never order more than they can sell.
Having a commercial kitchen on-site is another tactic. Surplus product can be turned into appetizing edibles, such as breakfast sandwiches, soups and hand pies. "They're homemade hot pockets filled with everything we have, like sausage and veggies or shrimp curry," says Hammer.
The kitchen has allowed for creative partnerships with other area small businesses, such as Atomic Proof Bakery. Business owner Liza Gottlieb is responsible for the hand pies, as well as the General's consistent offering of fresh baked goods.
More General than Store
"We like to think of ourselves as more than a store. It's great to help people find compost or piglets," says Hammer.
The two envision Sheepscot General growing into an aggregation point for all things food and farm. They see this happening in a number of ways. The General already acts as a pick-up destination for local suppliers selling to Crown O' Maine Organic Cooperative (COMOC). It also organizes bulk orders for people through any of its regular distributors, such as COMOC or Paris Farmers Union. "I think that's one major distinguishing point from us and another general store," says Hammer.
"It's endless what we offer," says Marcus.
In an effort to cater to the farm and garden more, and based on requests, they plan to bolster their inventory of seeds and bagged compost with livestock feed, potting soil and trays, and nursery stock over time.
"We're working on our mission statement," says Marcus. Hammer continues, "Letting the community build it."
This outlook has led to sharing their space with other businesses (such as Davis's Pizza, Farmer to Fisherman Compost, Edge of the Ledge Farm, and Blood Stone Farm) and to just sharing space.
The layout of Sheepscot General is open and inviting; aisles are clear for scampering children and for the store's resident dog, Oslo. A back corner overlooking tidy fields and pastured beef cattle hosts a small yet thorough lending library complete with cozy chairs and couches to curl up on.
"It's a place," says Marcus.
"It hosts events well," adds Hammer. A former milking parlor adjacent to the General's main room is now designated for this purpose. A string of colored lights and a metal clamp-style lamp can transform the back wall into a spotlight stage for a Bowdoinham-based string band or a monthly open-mic night. Pictures drawn by local children are strung up with string and clothespins, transforming the otherwise white walls into an art gallery.
Classes, music, movies, meetings and more crowd the Sheepscot General calendar, with events transpiring each week. Hammer and Marcus invest little effort in scheduling: People want to gather here. Their gallery is already booked a year out by local artists.
"It's working really well to say yes to everyone," says Marcus.
"This place is really about all the great people who live in Sheepscot Valley, and that's why we call it Sheepscot General … We basically believe this is the coolest area anywhere," says Hammer.
Sheepscot General, located in the center of Whitefield on Townhouse Road, is open Tuesday through Saturday, 9 a.m. to 6 p.m., and Sunday, 10 a.m. to 5 p.m. For more information, visit Sheepscot General's Facebook page or www.sheepscotgeneral.com, where you can sign up for its bi-weekly newsletter. Then go talk to your neighbor; most of Sheepscot General's advertising is word-of-mouth.
About the author: Holli Cederholm was MOFGA's farmer in residence, with Brian St. Laurent. Their Proud Peasant Farm is now located in Washington, Maine.