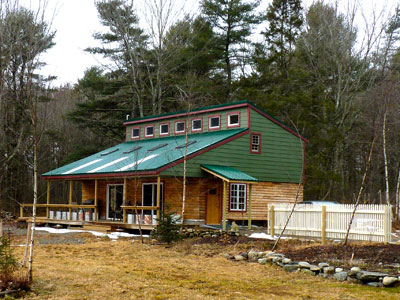 This craft building is a fairly recent addition to the campground. Campers enjoy classes and projects here, as do participants in the September Fiber College. English photo.
By Jean English
Searsport Shores Ocean Campground in Searsport, Maine, doesn't have paved roads, TV, streetlights or video games. Nor swimming pools, water parks or miniature golf. The owners haven't clear-cut the 40-acre site, with its quarter acre of ocean frontage, but instead have left well-spaced, huge pines and 200-plus-year-old oaks that create dappled shade and a lightly enveloping canopy.
The lack of paved roads alone was enough to demote Searsport Shores' rating by one star in one camping guidebook; never mind the fact that visitors compost their food scraps, can get fresh organic food from some of the 40 gardens on the grounds, or can elect to camp in an area where no motorized vehicles are allowed. This campground is an organic-oriented, nature-lover's dream – albeit with Wi-Fi throughout the grounds.
"We've gone against industry wisdom," says Astrig Tanguay, who, with husband Steve, now owns Searsport Shores and runs it somewhat like a six-month-long mini-Common Ground Fair. "We don't get rewarded for composting or using gardens to control water movement," adds Steve – except by their patrons.
Their loyal visitors value the agritourism type of camping the Tanguays offer, as do guidebooks such as Frommers, which has a different rating system from the norm. In fact, Frommers calls Searsport Shores – open from Mother's Day to mid- or late October – "one of the top campgrounds in New England." And this was the first campground to be certified green by the State Planning Office when it was rating lodgings.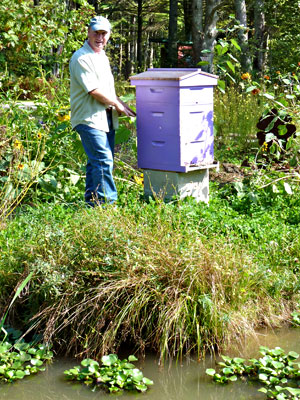 Honeybees pollinate crops at Searsport Shores – and educate campers. English photo.
Historical Roots
Long ago, the land was part of a year-round farm that shipped hay and apples up and down the coast from a granite ledge that still stands along the shore. In winter, the farmers netted fish in Penobscot Bay.
In 1965, Joshua Treat opened the campground. About 30 years later, Astrig's parents were looking for a campground that they could run during their retirement. They came from New Hampshire to Maine on a whim in the early '90s, encountered Searsport Shores and bought the site on a handshake that weekend, with the understanding that it remain a campground.
Steve and Astrig, who had met in graduate school in Arizona and later moved to Vermont, visited the following weekend, picked a spot for their own cabin, and said, "We're in." While continuing to work in Vermont, they commuted to the campground on weekends until they relocated.
They limbed and chipped trees, built gardens on the clay soil and worked on greywater issues.
Other than a system of dirt roads, the only infrastructure at Searsport Shores when Astrig's parents bought it was a small building and a couple of sheds, so they expanded the office and added a laundry facility to the bathhouse. Most recently they added a bunkhouse that can sleep 15 – whether college students, artists or members of multiple families.
They learned from the Maine Department of Environmental Protection about plants that could hold soil along the shore. Spreading junipers have done well there, as has soapwort, even when exposed to the ocean's salt spray. Hollyhocks have been a surprise: While whipping wind and salt water dwarf them somewhat, the rugged plants adapt, says Steve, and are holding up.
These plants grow above a 600-foot-long seawall – originally built with tamarack harvested on the farm. When that rotted, the family rebuilt 100 feet per year, as they could afford it, with concrete barrier blocks.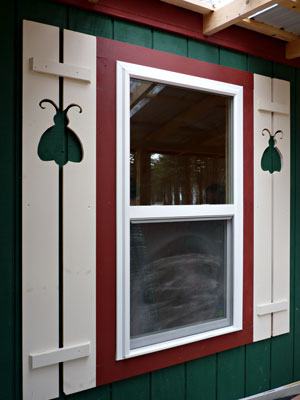 Even this new bunkhouse has a bee theme. English photo.
Building Gardens
When Steve and Astrig started creating gardens, campers who brought native plants that would feed birds and other wildlife could stay free. Thus arrived marshmallow, Joe Pye weed, soapwort, columbine, Queen Anne's lace, some old varieties of daffodils "and lots of daylilies," says Astrig. One native perennial, queen of the prairie (Filipendula rubra), grows to 8 feet all, has big pink blossoms and thrives in their wet clay soil.
Now they have about 40 scattered gardens – for fruit, vegetables, dye plants, flowers and water plants. "Each spring," says Astrig, "Steve starts hundreds of plants with a focus on heirloom seed varieties and plants that improve the soil and feed the insects that keep our world pollinated. We're committed to a green approach to all that we do in the campground so you can rest assured that the tomatoes you pick or the grass you play on is non-toxic and friendly. We garden extensively with native plants, emphasizing those that attract birds and butterflies" – and that support the two hives of honeybees they keep.
The many edibles enable campers to add herbs, cucumbers, tomatoes and other produce to their meals, says Steve, and people who stay all summer can have their own garden space. They can also benefit from Steve's horticultural expertise: He headed the award-winning gardening program at the Troy Howard Middle School in Belfast for several years. Campers will see his penchant for vertical gardening, for instance. He regularly grows 35-pound squash and pumpkins on a fence – plants that even survived Tropical Storm Irene last year.
All of this gardening on clay soils requires raised beds and plenty of organic matter. Steve and Astrig rake and compost more than 20 dump truck loads of leaves each year.
"We had to learn how to compost oak leaves," says Astrig.
"We started clearing the beach of [washed up] seaweed," says Steve, "mixing that with pine needles and oak leaves" shredded with a lawnmower. They add goat manure to that mixture to make compost.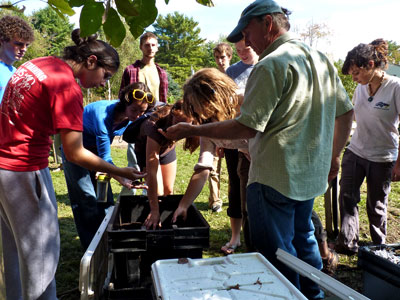 All organic scraps at the campground are composted – in bins, tumblers, or, shown here, by worms. English photo.
"When we start a garden bed, we lay down pine needles and seaweed about 2-1/2 feet deep." That material, along with manure and lime, decomposes over the winter.
In the summer, established gardens are mulched with less than 2 inches of seaweed – enough to discourage weeds, but little enough that the material dries and slugs don't like it. With all this attention and fertility, "we seem to have some of the first flowers coming up in town," says Astrig.
The gardens make the campground more interesting, she adds, "but we also have to keep the place looking good for people who are not interested in agritourism. Someone driving down the driveway for the first time needs to be struck by the beauty." So all garden paths are mulched with cardboard and pine needles, leaves and wood chips, and garden tools aren't left out.
Keeping a campground neat takes a lot of physical work – and a lot of weed control, says Steve. Instead of applying herbicides, he uses a York rake attached to a motorized vehicle (see www.yorkmodern.com) to disrupt weeds on the 125 tent and RV sites, and a torch to burn weeds in the horseshoe bed. Three goats – two Angora and one Cashmere – control poison ivy and supply fiber for Astrig's projects. "Just don't hug them for a couple of days after they've been in the poison ivy," says Astrig.
Children are encouraged to ride their bikes on trails to help control weeds. "Goats don't eat skunk cabbage," quips Steve.
For weeding the gardens, a neighbor named Norma is "the secret weapon." Norma, who grew up working in Belfast's sardine canneries, "gave me grief about not weeding enough," says Steve, so she's been their weeder ever since.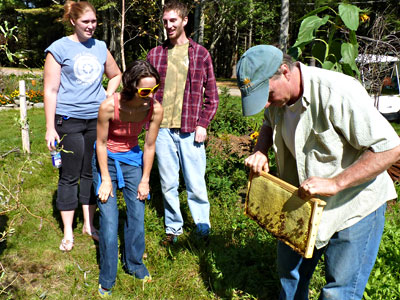 Steve Tanguay shows a frame from one of the two hives at Searsport Shores to Unity College students. English photo.
The Most Important Crop
"Our guests are one of the crops we grow," says Astrig. "We get to know them."
"The call in winter with ideas," adds Steve. "Sometimes they come for cleanup or other projects. They take real ownership." They also support the local economy, buying vehicles or campers nearby, for example. "They're really trying to support the area. We try to make them feel at home."
"We decided to go for people who wanted to stay for more than a weekend and who wanted something more authentic," says Astrig. "The guest who stays five days becomes invested. We have no vandalism or social behavior problems like some other campgrounds, because people are interested. They explore the gardens, the goats."
And the Tanguays are invested in their guests. They buy locally grown food for occasions when they cook for them, as when Astrig makes her focaccia, or her peach blueberry cobbler. They have lobster bakes on the beach on Saturday nights. They demonstrate food processing, such as pickling and char roasting vegetables. "It gets people talking to each other," says Astrig.
"We talk about farm-to-food vacations," says Steve, and they plot "trails" to local farms for their guests to visit. "We work hard to personalize their itinerary so they stay with us longer."
Their first summer at the camp, says Steve, had a rainy July with nobody in the park. They realized they would have to do more to attract campers. "People went to Camden, Bar Harbor – but there wasn't even a sign to Searsport."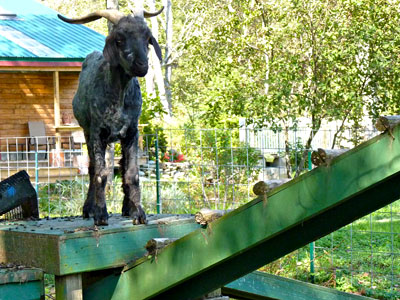 Goats provide fiber for Astrig's projects and add interest for campers. And they control poison ivy and other weeds. English photos.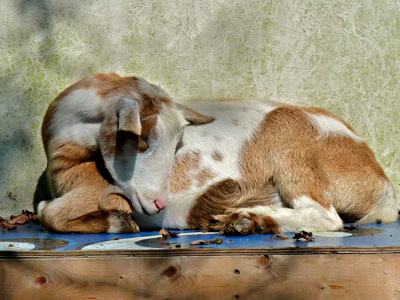 So they developed activities for all ages and for all weather. "We don't babysit," says Steve. "We do family activities. If the weather is bad, they can come off the water and have something to do – draw, watch the iron forger …"
Daily activities relate to oceans, woods and local arts – including "a lot of concrete projects" that boys especially seem to enjoy – such as making stepping-stones.
"This year," says Astrig, "two art professors from the University of Florida are coming with their kids. They're going to teach solar printing. They heard about our campground and are exchanging their class for a week of camping."
Over the last few years, says Astrig, "we've been hosting a group home of handicapped adults. We made concrete mushrooms with them. This is all they talk about. They think the Bumblebee Bunkhouse (the new, 15-person structure) is built for them."
Their campers made the allegedly largest Twister game in the world – one that 30 or 40 people can play at the same time, on the beach.
"If we could get more tourism to look at how special our world is here, we could do so much more," says Astrig.
"The state promotes white sand beaches, already popular destinations, leaving out the wonderful places in between," says Steve. Camping and agritourism have grown in the last couple of years, even with the bad economy, he adds.
Astrig says the traditional big markets for Maine tourism are Boston, New York and Washington, D.C. But "our European clientele is growing," says Steve. "We are in guidebooks in Germany and other places. Europeans come in through Bangor and rent an RV and stop here. The traffic from Canada is also good."
Weaving Fiber into the Mix
Over the years, classes in felting, floor cloth painting and other fiber arts were offered periodically, and now Searsport Shores hosts a Fiber College on the first weekend after Labor Day each year – Sept. 6-9 this year.
The fall Fiber College brings together talented experts in knitting, crocheting, quilting, weaving, spinning, dyeing, woodcarving and other arts with enthusiastic students for some 50 classes, many offered in a beautiful new pine studio.
"Fiber College is growing almost beyond my dreams," says Astrig, who works with her goats' fiber and the natural dyes she and Steve grow at the campground.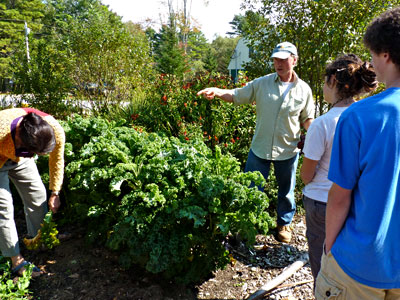 Astrig (left) and Steve with their kale plot. English photo.
The gardens feed into Fiber College and into campers' experiences in general. "In the 1800s," says Steve, "every farm in Maine was required to grow flax [for linen fiber]. We have a little patch of flax. We're going to relate that to our history."
Good food, creative crafts, history and outdoor lore – Searsport Shores is so in synch with the Common Ground Fair that, in fact, a number of fairgoers stay there when they come to Waldo County for the Fair each September.
For more about Searsport Shores, see www.campocean.com. The campground is located at 216 West Main St. (Route 1), Searsport, ME 04974; tel. (207) 548-6059.