| | |
| --- | --- |
| | |
| The Lost Kitchen is now found in this 1878 building, originally the First National Bank of Belfast. Photo courtesy of Erin French. | Erin French started The Lost Kitchen as a "secret supper" enterprise before opening her new restaurant. Jonathan Levitt photo. |
By Polly Shyka
For a short while, Belfast, Maine, was home to a secret supper that had locals and area visitors wondering and whispering.
Erin French spent months finding a space that suited her vision for the experiment she had conjured: a unique dining experience where she could hone her skills and creativity cooking for others.
"I finally had the [building] owners over for lunch. I cooked for them, said, 'This is what I want to do,' and they, amazingly, agreed to rent the space to me."
The venue, previously known to locals as The Gothic Café & Coffee House, was mysterious in its own right because of its unusual and ornate architecture. Originally the First National Bank of Belfast, built in 1878, the Main Street building was perfect for French's concept, summed up by The Lost Kitchen's tagline: "Eat. Drink. Go rogue."
Secret suppers, also called "underground restaurants" or "guerrilla dining," have been cropping up worldwide, from Singapore to Buenos Aires to San Francisco. Common among the endless forms are word-of-mouth (read: Facebook) marketing, set menus, secret locations with directions sent a few days before the dinner, and long-table dining where guests fraternize with others they may not know.
Documented in Secret Suppers: Rogue Chefs and Underground Restaurants by Jennifer Garbee, the idea has indeed gone global. With names such as "The Rabbit Hole," "Dining Under the Table" and "Hush Denver," secret suppers appeal to food enthusiasts who are willing to skip the formalities and, some might say, stuffiness of some restaurants in exchange for a riskier, more mysterious and unique dining experience.
Most secret suppers operate under the regulatory radar, without the required licenses to serve the public. (Maine's licensing requirements are listed at www.maine.gov/dhhs/mecdc/environmental-health/el/business/business-answers-restaurants.htm#01.)
French began hers in answer to her own question to herself when she turned 30: "What am I doing with myself?" Having grown up working in her parents' Ridgetop Restaurant in Knox, French was well versed in the ways of a restaurant.
"I started working the line [cooking the main items] at 12, and by 15, I was running the line. It was always my summer job."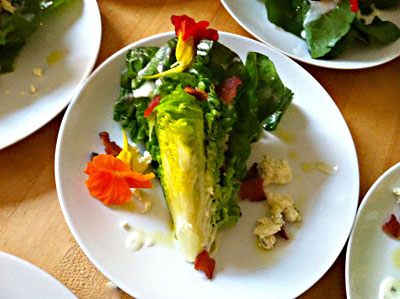 Among the dishes that may be served at The Lost Kitchen are wedged lettuce salad, beet and dill salad on yogurt, and oysters. Photos courtesy of Erin French.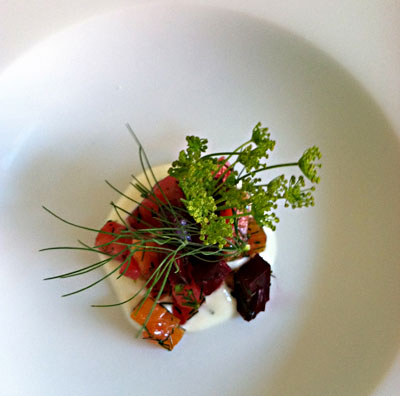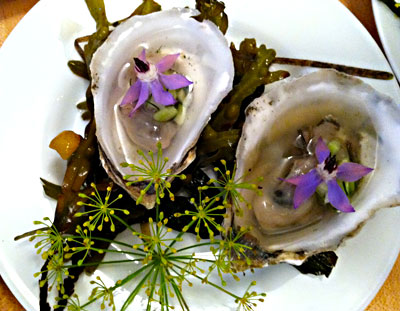 Out of high school, she wanted out of the kitchen. She had no inkling then of her future entrepreneurship. In her 20s, she spent several years working at Trillium Caterers of Belfast and then at Francine of Camden, slowly realizing that she loved the work and creativity of cooking good food.
"The secret suppers," says French, "were an easy way to have something of my own with very low overhead. I was tired of following everyone else's recipes. I wanted to do my own thing … try different stuff."
French balks at the title of chef, as she considers that a term reserved for highly trained individuals. Although she would love to have attended an extensive chef training program, she didn't see the sense of putting herself into lots of debt to earn a title.
"I was 30 and had a young child. When my friend insisted that I had all the skills already, I decided I could make the secret suppers my classroom. I could hone those skills."
French sold an old convertible to buy wood for a long fir table that would become a hallmark of The Lost Kitchen's secret suppers. She bought elegant glassware and started by inviting friends.
"By the fourth or fifth supper, there were strangers at my table!" French exclaims. All supper announcements were sent to an email list generated by word-of-mouth. When suppers began to fill in less than an hour and French had a waiting list of 52 for a seating of 24, she realized, "I have created something here. This could be a business."
French cooked for The Lost Kitchen's secret suppers weekly for nine months before taking the next step to open a restaurant. She bought the bank building that she had been renting. The first floor would be renovated to house a restaurant. Barely a trapezoid, practically a triangle, it needed work to fit French's needs. Zinc-clad bars for drinks and cheese, beautifully refinished floors, and a triangular kitchen were among the spare changes made to the landmark.
"I struggled with the name, " says French. "This [restaurant] was something different from the secret suppers, but I had built a name and reputation for The Lost Kitchen, so in the end, we kept it."
Beginning with the first secret supper, French has always used as many locally grown foods as possible. She has built relationships with more than 20 Maine cheesemakers, farmers and fisherpeople and speaks with many of them weekly as she plans the ever changing menu for the Lost Kitchen restaurant, which opened in October 2011.
"I am trying to have a meal for Friday and Saturday nights that is 90 to 98 percent Maine grown," says French. "This week it is Caldwell's organic beef tenderloin with organic frites and greenhouse grown greens with pea shoots and shallot dressing." Other menu items include scallop and shrimp sashimi, roasted halibut, Maine Water Buffalo Company's water buffalo burger with Noble Hill cheese by Hahn's End Dairy, fried Maine shrimp with hot chili peppers, olives and lemons, roasted mussels with rosemary and lime, fried rabbit with grilled radicchio and mustard vinaigrette.
Inspired by a new Scandinavian cookbook, French scraped sticky vanilla seeds from their slender pods into a bowl of pureed rutabagas. "These rutabagas were grown by Ken Lamson and Adrienne Lee at New Beat Farm," says French. [New Beat is a MOFGA certified organic farm.] "Now Ken cooks here for the winter. How many places can say, 'This guy grew the vegetables that he is now cooking for your meal?' Working with all the farmers is one of the most rewarding parts of this business. You can't make good food without really great ingredients."
Guests can even taste Maine in the drink selections at The Lost Kitchen. French made elderberry vodka this fall as well as rosemary syrup, both of which are ingredients in mixed drinks she dreams up. She also offers Maine dessert wines and many Maine-made beers. "If someone wanted to have an entire meal and drinks from Maine, we can pretty much do that."
French dreams of restarting the secret suppers and bringing the concept out to local farms and other venues, but for now, the rigors of running a new restaurant are enough. Whole wheels of Old Oak Farm cheeses sit on a mirror-backed mantle behind the cheese bar. Large vases of winterberry bring the Maine woods into the dining area. Winter-clad guests flow into the space with casual ease.
There is nothing secret about the Lost Kitchen now. Indeed, it has found its home and is a welcome addition to the midcoast farming, fishing and dining communities.
About the author: Polly Shyka farms Village Farm in Freedom with her husband, Prentice Grassi, and their three young sons.