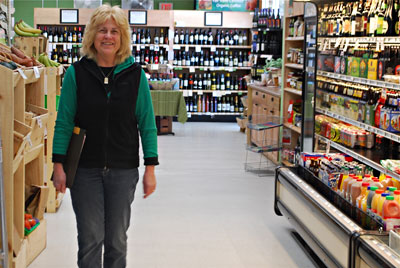 Peggy Schuler and her husband, Ken, started Axis Natural Foods in 1970. The store, now in Auburn, continues to be an important resource for healthful products.
Maine's Longest-Operating Health Food Store
By Rebecca Goldfine
When Peggy Schuler started out in the business of selling organic and natural food in the early 1970s, officials in Maine eyed some of her store's health items with suspicion.
"The health department said we couldn't have open bins for grains," Schuler says. "There was a lot of initial discrimination and disbelieving."
So she and her husband, Ken, bagged up their flours and rice. It wasn't until mainstream grocery stores started to sell bulk items – possibly taking their cue from the independent natural food stores around them – that regulations finally changed, Schuler says.
Axis Natural Foods, which Ken and Peggy opened in a small storefront in Lewiston in 1970, is to Schuler's knowledge the longest-operating health food store in Maine. (It is, however, challenging to research historical statistics on natural grocery stores in Maine, because the state doesn't differentiate between, say, an IGA and an organic grocery store.) But back when Schuler and her husband started Axis, Schuler remembers just one or two other organic groceries in Maine: one in Brunswick and one in Portland that opened after Axis. "Very few," Schuler said. "Very few."
All that, of course, has changed. The Organic Trade Association, a trade group for the organic industry in North America, reports that in 1990 total U.S. sales of organic products were $1 billion. By 2002, the market had grown to $8.6 billion, and now it's reached $26.7 billion. Whole Foods Market, which super-sized the natural food store, is said to be the most profitable U.S. grocery store and made $9 billion in sales last year.
Axis, too, is doing well. This fall the store left its 20-year location and moved down the street into a bigger space at 120 Center St. in Auburn to meet growing demand for healthier products.
Natural food stores, like Axis, share their origins with the natural-food movement that has over the past three or four decades helped change and expand the country's food-production systems to create healthier and less environmentally harmful sustenance for consumers. Organic farms and organic health food stores have both played a critical part in expanding society's awareness about the food we eat and how it's grown, and have helped one other –producer and retailer – succeed.
The History of Axis
Peggy Schuler grew up in Augusta and met Ken when they were students at Franconia College in New Hampshire in the 1960s. She says they were both influenced by Eliot Coleman, a charismatic youngish professor there. After Coleman moved to Cape Rosier in Maine to start a farm (and eventually become a widely-selling author of organic farming books), Schuler says she and Ken would visit Eliot and his first wife. But they opted not to follow suit and start a farm Down East.
"We decided not to be part of the group," Schuler said, describing other idealistic homesteaders who wanted to live back-to-the-land like Helen and Scott Nearing, neighbors of the Colemans who advocated a simpler lifestyle. "We were very independent."
The Schulers bought a farm instead in Hartford, where they still live, and opened their store in downtown Lewiston, which was a more vibrant urban center at the time compared with today. (They named the shop Axis as a play on the word "axiom" and the phrase "axis of the earth.")
In the beginning, they sold eggs and vegetables from their farm, where they raised chickens, horses and cows. They also sold homemade bread and dry goods such as beans and grains.
They ran both the farm and store for a few years before deciding to focus more on the retail end rather than the farming end, because there weren't many places, other than a few roadside farm stands, to buy organic food, Schuler says.
Axis grew over the years, moving three times before landing in its current spot near a small strip mall. Although the store began with just Peggy and Ken, today it employs between 10 and 16 people. Ken has retired. At its current location, the store has triple the space to handle growing customer demand for gluten-free foods, organic wines, gourmet cheeses, more fresh produce, and a broader range of vitamins and supplements.
In her many years running the store, Schuler has seen food fads come and go. Rising and falling in popularity have been macrobiotic, vegetarian, vegan and raw diets; diets without wheat, without corn, without soy; locavore diets; raw milk; locally-sourced, grass-feed beef; eggs from cage-free hens; and the ceaseless stream of new supplements promising health and vitality.
Schuler says it is her mission to support customers' quests to "make their lifestyle better for them."
As healthcare and health insurance become more expensive, Schuler says more people are choosing better diets as preventive medicine. She can remember a time when few people were asking for collards, kale and Swiss chard, and they certainly weren't browsing for spelt or millet bread, all of which are popular today.
Schuler credits her success to being responsive to customers, and says some of her shoppers are "third-generation" – grandchildren of original customers.
She also tries to buy her products at the lowest cost she can to pass on savings to her customers. "The reason we're still doing well is because we try to be a low-price leader," she says, with prices that can compete with larger grocery stores.
Her longstanding habit of carrying a wide selection of books has also attracted customers who want to educate themselves on how to eat, live and feel better.
Schuler points out, too, that Axis and other organic and natural food stores have helped, and been helped, by local producers. Products by companies such as Tom's of Maine and Maine Root were first available only in small health food stores, Schuler said. "That's how they got their start." In turn, their popularity has fueled people's tastes for more.
The rise of "big box" grocery stores that sell a substantial line of organic and natural products elicits mixed reactions from Schuler. She says it's positive that Whole Foods and Wal-Mart are promoting food that's good for people and the planet, but she also acknowledges the toll they've taken on smaller stores like hers.
Although the natural food movement has changed in ways that are both positive and negative, Schuler says she's satisfied with her career. "When you come into a health food store and work, you're doing something good for the planet," she says. "Any work you feel good about is good, and I feel good about working in this industry."
About the author: Rebecca Goldfine writes for Mainebiz and lives in Dresden. She wrote about Hidden Valley Nature Center for the last issue of The MOF&G.