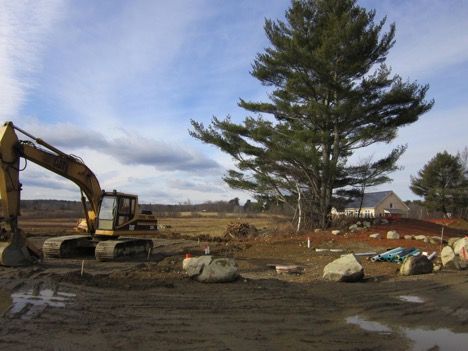 This story appeared in the 2021 spring issue of The Maine Organic Farmer & Gardener in response to the theme, "Breaking Ground."
My husband and I lived in Northern California for a decade starting in the mid-1980s. We were young, idealistic and longing for more community. Finding others who shared similar values of living lightly on the planet and growing food topped our list. Early on in our quest, we spent a summer traveling around Oregon in our yellow VW Squareback (nicknamed "Velma"), looking for the community of our dreams. We visited several communes and they seemed to share everything, including income, personal resources and housing, which we discovered was not what we had in mind.
Then we learned about "cohousing," and we thought this is it! This model of living is not new – it's like an old-fashioned neighborhood or village, reimagined in the '70s in Denmark then brought to the U.S. in the '80s. Cohousing communities were starting up in the Bay Area and we wanted to join, but instead we made a cross-country move to Midcoast Maine for work.
We hoped to find others in the area that shared similar values. We got our chance when we heard about a small cohousing group that had formed in early 2007. In 2008, they purchased the former Keene Dairy Farm on Edgecomb Road in Belfast. At that point, we jumped in and became members of the newly formed Belfast Cohousing and Ecovillage.
We went on to self-develop, self-finance and design our community, energy-efficient homes and a common house from the ground up with the design-build team GO Logic. In 2011, we had approximately 22 of the 36 households needed to complete the community. We had been planning, meeting and going full tilt for over four years and were faced with the big question: Should we break ground and risk losing it all, especially during the U.S. and global financial meltdown in 2011? What if we weren't successful and couldn't find enough people and capital for this multi-million dollar housing project? We also knew that we ran the risk of losing people by not breaking ground.
Looking back at that challenging time, we were just ordinary people doing extraordinary things with a clear vision of a different and better life. If we hadn't taken that risk to break ground 10 years ago, it may have just remained a dream. Instead, we have a vibrant, multi-generational, close-knit community and intentionally ecological way of life that is deepening and growing with each passing year.
Wendy Watson
Belfast, Maine