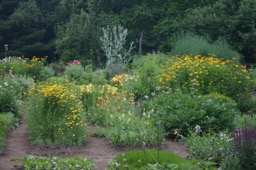 This story appeared in the 2021 spring issue of The Maine Organic Farmer & Gardener in response to the theme, "Breaking Ground."
Pasture pine, gray birch, old field juniper and poison ivy – all of these "undesirables" managed to survive on a meager 2 to 3 inches of poor topsoil over bedrock shale at the top of the hill; on towards the bottom of the hill, 4 or 5 inches of the same tired dirt covered what looked like beach sand. That's what I started with. I'm not complaining. The land, which had been clear-cut 40 or 50 years before, was given to me by my folks. If it wasn't for them I'd probably be living in an abandoned bus somewhere.
I started in a sunny spot, cutting and removing enough vegetation to put in a small garden of cukes, tomatoes and corn. Over the years, I cleared more land and added compost, manures, leaves, hay, seaweed and wood chips. The soil came alive and the vegetable garden grew, and then came the perennials. I started with a half dozen common varieties given to me. When I divided them, I set a few divisions on a table near the road with a "for sale" sign and, after that, the perennials took centerstage.
The garden became an acre, and I now grow over 300 varieties of perennials for sale along with vegetables, fruits, etc. for my own use, though these take the backstage and will until I retire at 100.
I never applied for organic certification – having never felt the need – though if I sold vegetables I certainly would have. You farm organically because it works and it is the right thing to do. In "Silent Spring," Rachel Carson wrote, "How could intelligent beings seek to control a few unwanted species by a method that contaminated the entire environment and brought the threat of disease and death even to their own kind?"
Kenneth Rice
Saco, Maine