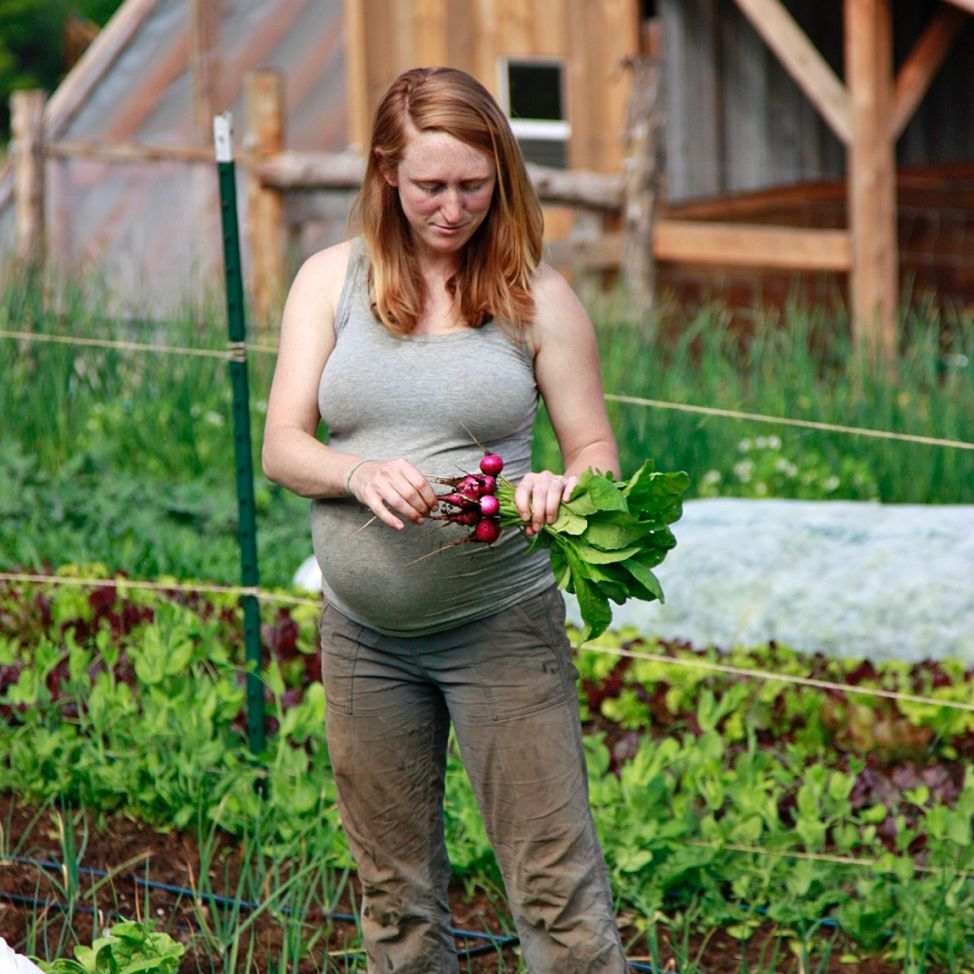 This story appeared in the 2021 spring issue of The Maine Organic Farmer & Gardener in response to
the theme, "Breaking Ground."
We bought the land in 2012: a 9-acre field, once sheep and cow pasture, that had fallen into a decade of annual brush hogging. That September, we sowed oats and peas into newly tilled soil. A month later, a different kind of seed rooted in my womb.
Long before we first broke ground I had a vision of our farm, what it would look like in some future, complete form: lush rows of vegetables and flowers, a patchwork of annuals and perennials, greenhouses, a farm stand, children running through the field.
But the peas and oats grew only a few inches before frost descended that first year. Snow flew as we raced to raise a small barn for our sheep. In March my husband slept in the seedling house to stoke the woodstove on cold nights as our first crops germinated. By April we were tucking transplants into soil.
All the while, my belly grew. It grew through frost and snow, through not enough rain and too much rain, through bountiful lettuce and meager tomato harvests. It grew into July, forcing me to give up the broadfork and set down the trellising twine, until the peak of summer when one morning my water broke, and we finally welcomed our son into the world.
Now, nine years later, I'm coming to accept that the farm work will never be finished and yet there will be thousands of completions: springs that turn into summer and fall; seeds that grow into carrots and kale; rows that transform from freshly raked soil into green mats of salad mix.
That first year I looked toward the outcome: the harvest, the birth. But farming and life aren't so much about completion as they are about cycles. The moment a sunflower is harvested or the salad is eaten or a baby wails for the first time, a new cycle is already set in motion.
So we break ground again, turning cover crops into soil, seeds into food, flowers back into seeds, and show up day after day to grow along the journey.
Kate Spring
Worcester, Vermont