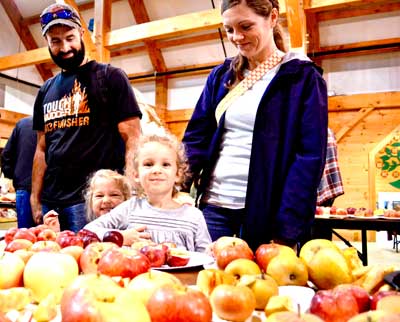 The Heck family – Josh, Natalie, Caroline and Kirsten, left to right – savor apples set out for tasting at the Great Maine Apple Day. English photo
By John Bunker
In the autumn of 1852, a farmer named N.T. True of Bethel, Maine, packed up and headed for the Oxford County Agricultural Society fall fruit show, bringing along five specimens of an apple known as Bethel Belle. True set the apples on a plate for everyone to see and taste. Another farmer, James Grover, also of Bethel, brought along Jine Sweet. Perhaps they drove over together in the same wagon. Orison Ripley of Paris, Maine, brought six apple varieties, including Craft's, Dr. Brooks, Sheepnage, Spear Sweet, Striped Sweet and Squash. John Robinson of Greenwood brought Belnap Sweet, Fall, French Sweet, Georgiana and Roxbury Sweet. We can guess that this made for a great way to spend a fall day in Maine.
For most of the ensuing 165 years, farmers from one part of Maine or another have gathered at fall or winter events to meet one another, learn the latest orchard growing techniques and bring their apples to show and taste. Speakers have given hundreds or even thousands of talks, including providing strategies to address the latest pest challenges. The tastiest pie and showiest plate of apples got awards. On that day in 1852, True's Bethel Belle was considered "worthy of propagation."
A new twist to the old fruit show was re-invented 25 years ago by long-time MOFGA volunteer Jack Kertesz, who called the new event the Fruit Swap. His reincarnation of an old idea was to get fruit and nut growers together to share the full range of woody edible crops being grown throughout Maine. Improvised displays sat on paper plates. A potluck lunch was always included. Each year one or two speakers were featured. The venue was a large classroom at Unity College.
The Fruit Swaps drew enthusiastic crowds and wonderful local speakers, many of them the elders of a generation of horticulturists and orchardists now gone by. Roger Luce of Newburgh, Gladys Gould of Blue Hill and Francis Fenton of Mercer all shared their decades of experience with a largely much younger crowd. Occasionally contemporaries would also speak, such as the year Steve Page answered questions about his ground-breaking "Orchard Almanac," one of the books that led to the current success of organic apple growing.
By the time MOFGA moved a few miles from Unity College, the Fruit Swap was in a bit of a lull. Everyone was busy in October, and it was hard to get us all together in one place. For a while the swap seemed to have disappeared, but the event was a great idea. It served a valuable function for everyone interested in growing woody plants. With a tradition of nearly 200 years, it was one that wouldn't die.
In 2001 a group of us got together from MOFGA and UMaine Cooperative Extension to get the Fruit Swap going again – at MOFGA and at UMaine's Highmoor Farm in Monmouth. On Saturday, November 10, 2001, The Great Maine Apple Day was born. It was a hit, with a good crowd at MOFGA's exhibition hall. Dozens of varieties of apples were shown and tasted; dozens more "ID'ed." It felt like 1852 all over again. A personal highlight was meeting George Stilphen, who gave a talk. Stilphen had published "The Apples of Maine," originally a 1909 University of Maine thesis by Richard Bradford cataloging all the apple varieties being grown in Maine at the time. The "Bradford Thesis" as we all knew it is one of the great works in historic apple identification.
The Great Maine Apple Day alternated between MOFGA and Highmoor Farm for the next four years. By moving to Monmouth every other year, we made the event more accessible to those living west of Augusta. But Highmoor's facility was not heated, and one year we all nearly froze to death as temperatures hovered below freezing all day. After two tries at Highmoor, The Great Maine Apple Day returned to MOFGA for good.
It's been a good run. Depending on the apple crop, you might get to taste as many as 60 or 70 apple varieties any given year. There's a pretty good chance that our team of apple identifiers can ID your mystery apple. The upstairs MOFGA library is packed all afternoon as speakers share their knowledge. A few highlights over the past 15 years have included apple collectors Lou and Sue Chadwick from Massachusetts; Eliza Greenman, who has more recently gained attention with her "Eat Ugly Apples" campaign; and Claude Jolicoeur, author of "The New Cider Maker's Handbook." Perennial favorite speakers have included Mark Fulford, Tom Vigue and Jack Kertesz. Kertesz still comes every year. It wouldn't be the same without his chatting and answering questions all afternoon.
The speakers this fall reflected the changing face of MOFGA – a good thing. Years ago MOFGA spoke to a generation that is now reaching the elder status. Meanwhile a younger group has found MOFGA and is stepping up. This year's line-up included six speakers of that new younger generation, including Abbey Verrier and Laura Sieger on fruit exploring; Aaron Parker and Jesse Stevens on permaculture and a range of more unusual crops; and Angus Deighan and Justin Glover on cider making. Meanwhile attendees flocked around the displays and the long table of apples to taste. They enjoyed Opalescent, King of Tompkins County, Gray Pearmain, Taterhouse and several dozen others. It was a good Sunday afternoon in October. Alas, however, no Bethel Belle.
So a tradition rolls on into the future. In the evening, if we can stay awake that long, we open another of those wonderful old Maine Ag Yearbooks and read about the old shows of many years ago, which contain much information about our agricultural heritage. You can often pick them up in used bookshops for a few dollars each. Trees of many of the apples introduced and displayed in those shows now grow in MOFGA's Maine Heritage Orchard in Unity. The collection now stands at just under 300 varieties of historic apples and pears, with more being planted annually. If all goes well, one of these days we'll locate an ancient Bethel Belle tree hunkered down behind an old barn somewhere in Maine. N.T. True will be happy if we do.