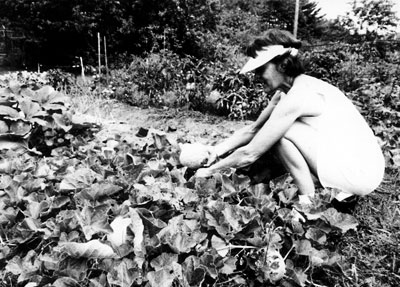 Barbara Smith admires a fellow gardener's melons. Lamb photo.
By Jane Lamb
How can a community garden be a secret garden? Just ask any of the folks who raise their favorite vegetables in the Camden Community Garden.
To some of them, it's the most beautiful place in Camden. "It's a fun place to be," says Barbara Smith, who's been gardening there since the beginning, 20 years ago. "It's kind of our little secret place. It's wonderful to come over here in the early spring and just be here all by yourself, just digging your garden. We don't have social gatherings, parties, nothing like that.  People just want to grow their own stuff, be individual. Everybody waves and says 'Hi!' when they're here, and that's it."
Well, not quite. Members quietly cooperate, promptly sending in their small annual fee to pay for the manure that is trucked in every year and for other minimal costs; adding to and subtracting from the compost pile at will; sharing know-how and the common wheelbarrow. When the wheelbarrow needed repairs, someone quietly took care of it. It's just that gardeners are by nature an introspective lot, privately relishing the feel of the earth, the sunshine and rain, the abundant birdsong, the chance to try whatever crop or method they want and the time alone with their thoughts. In the Community Garden, town-dwellers who haven't the space, the soil, or the exposure to garden can find all of its joys.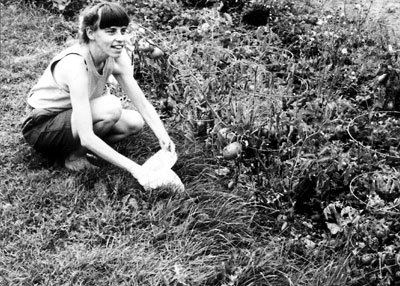 Barbara McBride has tomatoes to rave about. Lamb photo.
Barbara and her husband, Bob, moved to Camden 25 years ago to get their three young sons out of the New York City suburbs, follow a vegetarian diet and live year-round in the Maine they had visited during summers for years. "We moved close to the school so I wouldn't have to drive the children everywhere. The boys had only to cut through the back yard, and they were late for school every day!" Barbara recalls, laughing. Instead of chauffeuring, she rode her bicycle everywhere, but she had no room for a garden. She and fellow MOFGA member Beedy Parker began looking for space. Beedy says the subject came up at a MOFGA chapter meeting. Tony Bok, who once kept bees on the edge of a suitable field, offered to approach the owner, Dick Wentworth, and the would-be gardeners soon had their spot. (The land changed hands, but they still pay the present owner, David Nazaroff, a dollar a year, which means they waive squatters' rights.) "[The community garden] was very anarchic and perfectly functional," says Beedy, who gardened there for about 10 years.
Just past a hedgerow behind Merry Gardens on Mechanic Street, the Community Garden is a well-kept secret, not by design, but only because the garden and its members are more or less invisible. They come and go freely through the Merry Garden drive, courtesy of the owners, Mary Ellen and Ervin Ross, even parking in the Merry Garden lot in the spring when the lane is too wet. "We're very grateful to the Rosses," says Barbara Smith. "They accept the cars coming through all the time. Mary Ellen says 'Go slow and just wave.'" The invisibility may occur partly because it's hard to get a plot in the garden, for no other reason than people just don't leave and only two or three plots are available for newcomers each year. There are more than 20 plots, mostly 10 feet by 10 feet, though they vary slightly in size. The beds, some of them raised, are separated by wide grass paths and surrounded by a low electric fence. Some gardeners cultivate several.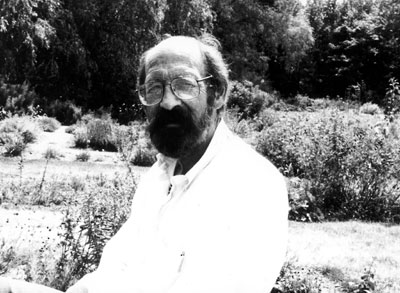 Wayne Pendleton, Camden Community Garden guru. Lamb photo.
"We have every kind of gardener," Barbara says, "people who have been with us for a long time, which is nice. Marjorie Gallace is a real old timer. She has asparagus. It takes a while to establish asparagus." Marjorie asked for an additional plot last year so that she could grow enough food for the soup kitchen in Rockland. She doesn't have a car and rides her bicycle everywhere, even to take the produce to Rockland.
Eric Charlton, who has gardened in England, Canada, Pennsylvania and Vermont, attests to the "invisibility" factor. It took him several years after moving to Camden to discover a place to garden, one he has found quite satisfactory. "It's very fertile, well-drained, sunny," he says. "At home I have no sun. We're lucky to be so close to the ocean, two temperature zones warmer than Vermont, which is on the same latitude." He's also found the gardeners to be a congenial group. "There's no one-up-manship. They're more than happy to discuss what works and what doesn't." Eric grows such English favorites as fava beans and parsnips, and even though this is supposed to be a vegetable garden, "I always put in a row of sweet peas," he says. "They're a wonderful cut flower and they won't grow in Pennsylvania or Vermont."
Adding to the diversity of gardeners and garden plots are Cindy Voorhees, a teacher, who raises medicinal herbs along with her vegetables; Gretchen Ogden, on the PBS staff for "Anyplace Wild;" Pauline Johnstone, a longtime member who helps Barbara with some of the planning; and some Midwesterners who like to grow corn. "It makes a very interesting combination of vegetables," Barbara says. "Everybody has their own style, their own personal things they grow." Barbara McBride, who grew up gardening with her family in Michigan, had her first Camden Community plot last year. She'd lived in Camden for nine years, working as a family therapist and clinical social worker. "I'd heard about the Community Garden for years and never quite knew who to contact," she says. She eventually found it through the grapevine. "It's very different from Michigan, gardening in the coastal area. I put in a mix of things as Barbara suggested. It's done very well."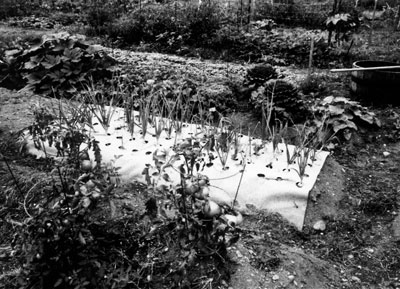 Pendleton's method for great onions – and tomatoes, ornamental cabbage and giant squash. Lamb photo.
Wayne Pendleton, who lives next door to Merry Gardens, is the resident Old Mainer. "It's wonderful to have him around," says Barbara. "He gives advice freely and people usually ask him." Wayne is responsible for the electric fence. "We had problems with the deer. They come all the way down from the Snow Bowl on the power line, just over there. We tried everything – soap, urine – and finally decided to put up the fence. It's just 2 feet off the ground and the shock is just a little ding, but it keeps the deer out. We've had no problems, year after year. Wayne does things like that for us. He's wonderful. We're lucky to have him."
"I've been gardening pretty much all my life," Wayne relates. "I have three lots. I grow my garlic, onions, peppers. Everything grows [well] over there." His plots are easily recognized by the vigor of the plants and the distinctive onion patch."I use old carpets, underlayment, anything. I drill two-inch holes and plant my onion plants right in the holes. It saves a lot of weeding, keeps the moisture in, works perfect." Wayne grew up next door and says he wasn't involved in the Community Garden until three years after it started. "I'm so shaded, I wanted to get out in the sun," he explains. Injured while working as an industrial pipe fitter some time ago, he helps out at Merry Gardens as much as he can. "As long as I can lean back on this [tractor] seat, I'm OK," he says cheerfully.
While some of the gardeners grow lush tomatoes and others reap heaps of greens and beans, Barbara Smith likes to grow winter vegetables. "So I grow carrots and winter squash to put away. I get enough out of my garden to last well into March and April, maybe May. I grow things for keepers. I had onions till March last year. I think it's fun to see what you can provide for yourself during winter time. This gal next to me is single, a first-year gardener with us. She has celery and kale. That's another thing I grow because I can get kale right up until December. I eat it twice a week for osteoporosis." A goldfinch is browsing on one of her sunflowers, a short, branching variety that defies wind and rain better than the giant, top-heavy kind, and works well as a cut flower, Barbara notes.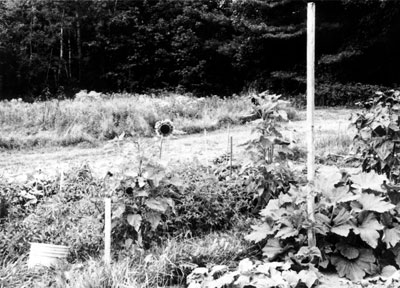 Birds planted some of Barbara Smith's sunflowers in an unsuspecting gardener's patch. Lamb photo.
"This is an organic garden," she continues. "It's absolutely got to be organic. That's very important." Many of the gardeners are MOFGA members. "Pauline and Marge got together and entered their things in the Common Ground Fair and came home with all these blue ribbons. We have lots of fun." And not too many bugs, Barbara adds. "The first few years we didn't have a bug, nothing. But as the years progressed, it seems to have gotten more buggy, though it's not bad. We only allow rotenone. We ask people not to use any chemicals at all."
Although she has no official title, Barbara is a sort of clerk of the works. "I start the paper work early in January, planning how I'm going to let people know the gardens are back in commission again. Last year we had a problem because we were a little short [of cash]. Up until a year ago, we only charged people $5 a plot if they came back. (It was then raised to $8.) For newcomers it was $10. Out of that I was able to pay for the water, the manure, anything else. We don't have to pay for electricity for the fence. Merry Gardens does. The Rosses have been very good to us. Expenses are kept very low. We had to buy a new hose last year. Manure is the only thing that costs much." Barbara sends a letter out in early March, asking people to respond if they want their plot back again, and most do. Very seldom is a new plot available. "I ask them to get their money in at a certain time so we can get ready for the season, and by George, they send it, right on time. They want their plot back! We break even. I even have $15 to join Seed Savers, because I really feel we should support them. Some people save seeds. Wayne and Marge do, and I will when my lettuce goes to seed."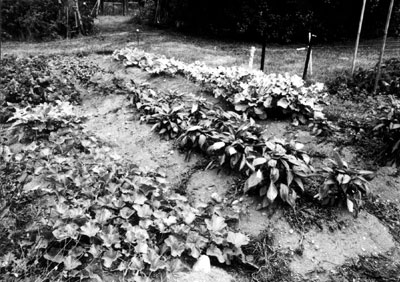 Healthy cucumbers and peppers are guarded by a fragile but efficient electric fence. Lamb photo.
Marge Gallace and Pauline Johnstone help Barbara map the year's plots, and together they discuss possible changes and additions to the procedure. "I type it all up and everything is done by the time I'm digging up my plot," Barbara says. All she really has to do after that is order the annual two loads of manure. "It's very simple. It just seems to work. These are all the records from 1980. I just went through and looked at them for fun – one small filing cabinet!"
Simplicity and independence are the keys to the Camden Community Garden's success. "We started out with a shed and some kids got in and destroyed it, so we started bringing our own tools," Barbara says. "Some people bring in a rototiller. I dig [my plot] every year because I think it's wonderful exercise. I start in March and do it piecemeal, a couple of rows once a week in early spring." The sloping soil drains well, so it can be planted fairly early. "The soil is excellent," she notes. "It's not actually an old farm field, but we've manured it every year, sometimes twice, in fall and spring. After 20 years we've got to have some kind of fertility." They have always used cow manure, but Barbara was considering composted manure to eliminate the crop of mallow and clover that the old-fashioned kind produces along with the good vegetables. "Everyone does their own manuring," Barbara adds. "Everyone is responsible for their own plot."
But there's tacit sharing, not only of advice, but of jobs as well. "Michael Ogden (Gretchen's husband) offered to fix the wheelbarrow," Barbara says. "That's what it means to be part of a community. We've gotten along together really well, I think. I think that's what community gardening is about – sharing, being part of a community spot that belongs to everybody." Then she adds, wishfully, "Maybe that's what we're heading for in the next millennium."
About the author: Jane Lamb has been writing feature stories for The MOF&G since the last millennium.