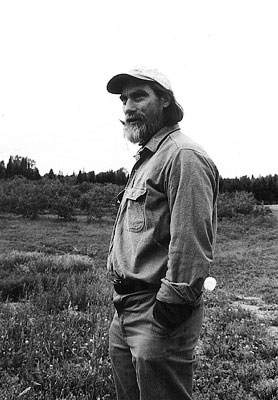 Jim with the Gerritsens' orchard in the background.
The Not-So-Common Potato
Text and photos by Jane Lamb
One of the most sophisticated operations in Aroostook County takes place in the most unpretentious of settings – the utilitarian potato-packing plant cum residence and its surrounding outbuildings, farming equipment and fields at Wood Prairie Farm in Bridgewater. Here Jim and Megan Gerritsen have created a unique niche for a viable business in what is often regarded as economically depressed territory. They market certified organic table and seed potatoes and an expanding variety of other organic products as a mail order enterprise. Their catalog, with its striking, full color illustrations and detailed descriptions, rivals those of some of the fanciest national mail order houses, except it's not printed on glossy paper, but on 100% recycled paper made in the state of Maine.
"We do all our packaging right here in this room," Megan says as she and Jim take a break for tea, freshly baked bread and a visit with The MOF&G in the spacious second floor work area. "We started out on the kitchen table, then we moved out here. Last August our right hand helper, Jill Rusby, had a little baby girl. We couldn't lose her, so we walled off two offices, one for me and one for her. She brings little Haley to work and we have two little girls at work sometimes." The other little girl is the Gerritsens' Sarah, a lively three-year-old who's teaching little Haley all her favorite games. Haley's older siblings are schoolmates of Sarah's brothers, Caleb, 7, and Peter, eleven.
While the Wood Prairie Farm catalog looks like the combined effort of an MBA from Harvard and a graphic designer from RISD, "It just evolves as we go along," Megan says. "We've been in the mail order business since 1988. Before that we went to farmers' markets and had a CSA for four years."
A Viable Marketing Strategy
Jim analyzes the oft-lamented dilemma of Aroostook County. "The soil is unsurpassed in the world for growing potatoes, a microcosm within a very troubled farm economy. Part of the problem is that farmers are typically focused on production. Marketing doesn't hold their interest, so they delegate that role to someone else. Marketing pays better wages and the farmers are short-changed." Eliminating the middleman made sense, but selling directly to the consumer at farmers' markets, in a county with only 75,000 widely scattered consumers, did not. "We sold at farmers markets for 10 years and could barely eke out a living," Jim continues. "So we went to mail order." Except for a few local customers who come to the farm, mail order is their only retail outlet.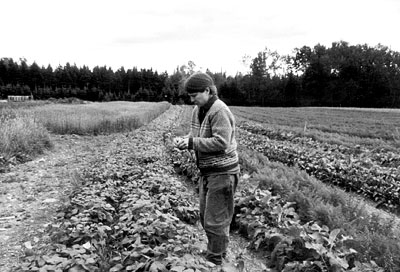 Megan checks WoodPrairie's fall vegetables.
"There are two aspects to mail order," says Jim. "Gourmet table stock potatoes go to cities and suburbs, and that part of the business is very busy from September through Christmas and into January." The second phase, from early fall well into spring, is the production and shipping of seed-potatoes. These go to rural customers, home gardeners and commercial growers all over the country. "Nothing could be called slow around here," Jim says, but the summer pace is just the opposite of that of most farmers. Wood Prairie's busiest time is from September to June, their marketing season. "In summer all we have to do is grow things. That's the simpler time."
The gourmet trade has been upgraded by turning potatoes into a gift item – in a barrel or a basket, a burlap bag or a sampler, a sort of semi-value-added product, although, as Megan points out, nothing is added to the potatoes themselves. The Maine Potato Samplers of the Month feature three different varieties for each of five different periods of the year, a total of 15 unusual gourmet opportunities for subscribers to a Potato of the Month Club. The customer can select from a price range of anywhere from a one- to an eight-month club. "We thank Harry and David [the famous Oregon gourmet mail order house] for the 'continuity club' concept," Jim says, only half joking. The Maine Potato Barrel, a small replica of the traditional potato barrel still in use, contains 20 pounds; the basket, holding 10 pounds, is an authentic ash basket handmade by the local Micmac tribe; five pounds of potatoes come in a burlap bag silk-screened with the Wood Prairie Farm logo. Customers can fill their orders from an enticing array of unusual potato varieties. Red Cloud, Elba, Rose Gold, Island Sunshine, All Blue and Rose Finn Apple Fingerling are just a few of them, listed in the catalog under categories of texture, flavor and use. Each entry carries its distinctive watercolor illustration, designed by Jenn Folk Muno, a former apprentice, in the folk-art style of early 20th century fruit box labels. Postcards that accompany each shipment or can be ordered separately use the same design.
Potatoes can be ordered, of course, as individual varieties in lots of two to 20 pounds. But, along with tempting recipes, helpful tips and fun anecdotes spotted throughout the catalog, one finds Chantenay carrots, King Richard leeks, Dutch yellow onions, French shallots, Frost Sweet parsnips, Lauretian rutabagas, Red Ace beets, dry beans, bread mixes, whole grains, flours, cereals, even a bread machine. Many of the grains are raised on the farm in conjunction with WoodPrairie's crop rotation system. The flours, cereals and bread mixes are freshly stone-ground or rolled on the farm. Dry beans come from Maine growers Paul Birdsall and Al Putnam. The catalog also lists dried fruits and nuts from organic sources from Maine to California, selected by the Gerritsens for their high certification standards. "We learned at the farmers' market that once you get a customer, you want to sell them as much as you can," Jim says. "There are only so many potatoes one person will buy, so you've got to cross-sell. We've taken that lesson and put diversity into our catalog." The idea of adding other vegetables originated when a few chemically-sensitive people began asking for organic carrots. Potatoes, however, remain the center of the operation.
Growing, Packing and Shipping
Of Wood Prairie Farm's 110 acres, 45 are in crop land, the rest are woods. The basic plan is 40 acres of potato fields in a four-year rotation: 10 acres of potatoes, followed by 10 acres of grain, followed by two years of clover hay, then back to potatoes. The other five acres include a small orchard, pasture, vegetable plots and odds and ends. "We've come to the conclusion that we're too far north to be practical for commercial apple growing," Jim says. For their own use, they favor Cortlands as well as the scab resistant varieties, Prima and Redfree. A Jersey cow provides milk, cheese, butter and yogurt for the family. "We don't do much in the grocery store," Jim allows. A flock of chickens and a beef calf are for their own use and contribute to the potato operation as well. The manure goes into the compost, thence to compost tea, which is sprayed on the potatoes for disease control. Barnyard cats keep the rodents under control and chase the dogs that get too near their kittens. The dogs do their part patrolling the perimeter of the garden, discouraging the bigger animals – deer, raccoons, skunks, moose and bears – from trespassing. The Gerritsens haven't had a predator problem since they gave up keeping sheep.
Among the various pieces of farm equipment parked in the yard is a flamer, an unlikely participant in the organic growing business. "Flaming is a slow process," says Jim. "I spend a lot of time on the tractor." He flames for potato bugs in the spring and flames to top kill the potatoes prior to harvest. He uses it to "stale bed" carrots, a common practice among European organic growers that they learned about from Eliot Coleman 20 years ago. "We seed the carrots one day, and five days later come back with the flamer. The carrot seeds have not come up, but quick-sprouting weeds are emerging. The carrot crop comes up the eighth or ninth day in a clean bed." Beautiful, vigorous rows of carrots in September attest to the effectiveness of the method. As the different varieties of potatoes mature, they are top-killed by flaming, and after a pass with the John Deere digger behind the tractor, are harvested by a dozen or so middle school kids. Nearby Mars Hill is among the diminishing number of Aroostook County school systems that close in September for the potato harvest. The kids are paid by the bucket. The potatoes are dumped directly into 4-foot pallet boxes rather than in the traditional barrels, and hauled to the two-story potato house.
The pallets are stored compactly in triple stacks in the temperature-controlled potato cellar, leaving working space between them. Storing potatoes in the pallet boxes is a big labor saver, Jim points out. "With barrels, we used to dump them into bins and had to shovel them out of the bins into the hopper. Now we have a dumper that will gently pick up a pallet and pour it into the hopper. No more shoveling." An alleyway leads from the storage room to a grading line in an adjacent basement room where the potatoes are dry-brushed to clean them before they pass over a sizer and on to an inspection table. Jim picks out the culls to feed to the cow and separates by size and grade for seed and table stock. From there they go upstairs to the packing room on a dumbwaiter. Jim's job for most of the winter is to work in the cellar the first half of the day, then go upstairs to help with the packing. "We employ four helpers in the winter. I do the grading, they do the picking, bagging and packing and help with the invoicing. Megan runs the office crew, getting invoices together and orders out. Usually in the afternoon everybody comes together to help get orders ready for UPS. Sometimes it's a panic, especially it they show up early." Shipping perishable products in the middle of the winter is tricky, Jim says. "UPS and the Post Office don't care. You have to insulate and know the weather in Chicago four days in advance. I'm up every morning at five o'clock to watch the weather channel for half an hour and make a determination of where we can ship that day. By 5:30 I know just what orders we can accept, what we might have to roll over to a warmer week."
Certified Organic Seed Potatoes
Wood Prairie Farm's on-line web store (www.woodprairie.com) provides a unique service to growers, who can place their orders directly over the Internet. "Not many companies in the country offer the varieties we do, with quality Maine can provide and the ability to ship [anywhere]," Jim points out. "In Maine getting certified seed isn't hard. You can go to Agway or the Paris Farmers Union and it's there. Outside of Maine all that's available are maybe Kennebecs and Norlands, and the feed stores don't know how to handle them. They get sprouty and shriveled. We have varieties that are much better tasting than the standards. The Internet allows us to connect directly with customers in different geographical places. But in that way it's no different from a customer in Montana ordering seeds from Johnny's because he wants Northern varieties. When people buy our seed potatoes, they get a phone number they can call if they have any trouble. That's worth a lot."
The reason Maine has such a good reputation for growing seed potatoes, Jim goes on to explain, is that insect activity is minimal this far north, reducing the number of insects that serve as vectors for viruses. Viruses are the major factor limiting potato production. There are a whole lot of potato viruses, which are largely transmitted by aphids. If an aphid feeds on a sick plant and lands and feeds on a healthy one, that one is instantly infected. Even the strongest chemical sprays take a couple of seconds to kill the aphid, and by then it's too late. The disease is already spreading. Potato viruses don't affect humans but they result in inferior crop production. "The reason commercial farmers buy certified seed every year is that the margin is so tight they can't afford to risk having a bad crop. Certified seed increases the likelihood of a successful harvest."
Organically grown seed is the best quality seed you can get, Jim maintains. "We raise our own seed for the most part. Like any seed potato grower, we renew that seed on a regular basis to get origination seed, which is virus and disease free, from tissue culture." The state sends out field inspectors three times a year, looking for signs of virus on a pass/fail basis. "We have to prevent that virus from growing up. If we don't, we won't get certified and we can't sell the seed."
The Gerritsens have developed a special planter called a tuber unit planter. Pulled by a tractor, it plants two rows at a time in one operation. It lays down an organic fertilizer made from fish waste from the Eastport sardine industry. Two people riding on a bench behind the tractor pull whole seed potatoes from a hopper, cut them into pieces, and lay them on a conveyor belt that drops them into the row in consecutive order, four from the same lot at a time. "This allows us to 'rogue' the crop." Jim explains the term. "We go through the field three or four times a summer removing virus [-infected] plants. It's a lot easier to spot three or four plants in a row than in a random planting. The leaves will be rumpled, the plant shorter. You train your eye. Our seed inspector, Murray Lawrence, is one of the best in America. I like to go out with him. I can use him as a teacher. If he comes from fields that have just been sprayed, he's coughing. He likes to come out here where he doesn't have to worry about that. We've been lucky to have really good inspectors over the years. We're so small, but we have 15 different varieties, which means a lot of paper work and makes their job harder."
Maine's certification process begins with grow-out testing at its farm in Homestead, Florida. Jim describes the sequence. "We give them 50- to 400-tuber samples from the lot we want certified. They take seed representing about 20,000 acres [all over] Aroostook County and plant them in Florida in November. Beginning the week after Christmas they take field readings of the plants. A trained inspector can visually tell if a plant has virus. They do readings and publish them in 'Florida Readings.' If you have readings low enough, you get seed tags and can label your seed Maine Certified. If the readings are high, you flunk, regardless of how you did on field runs, and you don't get seed tags." He notes that Maine seed potatoes have the advantage of being certified early enough in the season to be shipped to growers in plenty of time for planting. Some states, such as Idaho, do their grow-out tests in California but the results aren't available till the first week in March, too late for eastern Washington, where they usually start planting the last part of February.
The Gerritsens raise most of their own seed for seed potato and table stock production. Their preferred method is "green sprouting." Starting the sprouting about 30 days before planting time cuts 10 to 14 days from the growth time in the fields. In a dark room in the potato house, the tubers are warmed up to 70 to 85 degrees for a week to break dormancy and start sprouting. Then the temperature is lowered to 50 to 55 degrees and the industrial fluorescent lights are turned on. "The intensity of light and the coolness stops the elongation of the sprout. It gets quite stubby and tough and works perfectly with our tuber unit planter. It also allows us to grow some late season varieties that are otherwise inappropriate for the County. All of our customers are in a milder climate to the south, so those varieties do well for them," Jim explains. Certified seed potatoes are listed in the catalog in small lots, such as Experimenter's Special, the customer's choice of four varieties sufficient to plant 12 hills; Potato Patch Special, bulk orders of four or more varieties in packages up to 20 pounds; and Market Gardener's special, four or more 50-pound cartons.
The Staff of Life
While historically the rotation schedule for potatoes is five years – two years in potatoes, one in grain, two in hay – the Gerritsens raise potatoes only one year out of four, followed by one year of grain and two of clover. Grain, like everything that grows there, has its place in the Wood Prairie Farm economy, but not just as a green manure crop. It's difficult in New England to compete with the large-scale production and milling of grain in the West and Midwest, Jim points out. "They think in terms of sections and quarter sections. If we say 10 acres, they think of it as your front lawn. That's what it takes to turn the combine around in! They're the grain experts. We know how to grow potatoes and happen to grow grain because it's a good rotation crop, so we're trying to turn it into a value-added crop." They began selling bread mix in their catalog and it drew interest from national mail order companies, who tried it, liked it and asked the Gerritsens to experiment with recipes for the bread machine. The bread machine is a great blessing to people like themselves who love homemade bread but work all the time, they've found. "I'm an inherent skeptic when it comes to technology, but I'm converted to the bread machine," Jim confesses. "You can program it. When you have to wake up at five o'clock every morning, it's a pretty good thing to smell freshly baked bread. If you're working all day, you can program it so it's ready when you get home at night. We bake five to six loaves a week. So every day it's like being next door to a Parisian bakery." For the bread mixes that use oats, wheat and rye, the Gerritsens grow the grain on the farm or obtain it from other Maine organic growers. Spelt (an ancient subspecies of wheat), which doesn't do well in Maine, comes from Michigan organic growers, and Mandan Bride corn meal comes from Mandan tribes in the Great Plains. They've added pizza dough mix and whole wheat tortilla dough mix to the catalog, as well as Brittany sea salt and Red Star yeast, the only yeast they have found that does not contain GMOs (genetically modified organisms).
Making It in Mail Order
While Jim and Megan are making a success of a mail order potato business in Bridgewater, as far as they know the only one in Maine, they're not sure if mail order is the best solution for the Aroostook County economy. Success is commensurate with the amount of work one can do without visible reward, they say. In addition to the hard work, there's the expense of boxing, bagging, shipping and advertising. "The devil is in the details," Jim says. "If you're not good at details, mail order is not for you. The execution is all or nothing. If you ship potatoes on the wrong day and they all freeze, you can have thousands and thousands worth of products shipped out that you have to make good on. Then there's those shipping costs."
"You never have any trouble shipping to the Boston market," Megan adds. "A lot of trucks go down there all the time. The trouble with the Boston market is getting enough of a price to make a living. The middleman takes a big cut, and he thinks, 'Well, my customer probably doesn't want that product. He's not going to pay enough for it.' But actually the customer does want to pay for quality. We know that customer."
Jim continues. "We sell to them, direct, and know what they want. It's like the situation where the buyer thinks the world wants only ground beef. Certainly a lot of people do, but some want roasts, steaks. Some want filet mignon from Omaha Steaks. If you are so pigheaded that all you're going to put in your store is ground beef, you're not satisfying the needs of the customers. If you have a quality product, like potatoes in [uncommon] varieties that are particularly good and of high quality, there's a customer who is willing to pay for them. You have to be able to get the message across that what you have is different from the rest, and you would do well to serve that interest because it's expanded business. The customers understand it. The buyers don't." The Gerritsens advertise in Organic Gardening, the New Yorker, and various Epicurean magazines. "It's expensive," they admit, "but you have to acquire customers from somewhere. You can't just sit back and think people will come knocking your door down. If you do, you'll have some time on your hands." The other necessary ingredient is repeat customers. "You can't afford to advertise for one-time mail order customers," Jim says. "The only way to recoup the cost and pay the bills is repeat customers."
Building a Way of Life
Jim and Megan, both with rural roots, came to Maine in 1976. Jim had started forestry school at Humboldt State College in Northern California. Megan grew up in Upstate New York. "We were all country folks," she says. She often summered in Maine with relatives who lived here and she wanted to come back. Jim researched the agricultural possibilities in Maine and found in Bridgewater farmland that was going fallow, growing up to trees, with enough rainfall and close enough to the coast so they could get to the sea occasionally. The previous owner didn't grow potatoes, but fenced the fields and raised beef cattle. "They did a good job of keeping the fields open, kept the weeds and bushes down and fertilized the ground," Jim relates. "The land hadn't been used for potatoes since the 1950s. We didn't have to wait for certification. We were doing things organically from the time we came and applied for certification in 1979. A month later we were accidentally sprayed by the spruce budworm program. We didn't get certification for three more years." The name, Wood Prairie Farm, refers to the "other" definition of prairie, a small field surrounded by woods. West Coast Indians would clear and burn a hilltop and keep the field open in the middle of the forest, Jim says. "Ours are definitely small fields surrounded by woods." As they tried different ways to make a living in Aroostook County – farmers markets, community supported agriculture, and eventually the mail order business – they built everything with their own hands. The modern potato barn is the most recent addition. Their living quarters are "surrounded," Meg says, by the potato barn, "and the big packing room is a great place to skate."
This newest building may not be the final one. Will they expand? "Maybe the next generation, if the kids want the farm," Jim speculates. "If not, we'll just go on till we're done. The economy in Aroostook County is always a challenge. There may have been some good times in the '40s and early '50s, but it's hard to make a living. We want to have enough of a business so if any of our kids want to go into farming, there's enough to keep them busy. There are different areas we could go into, like pasta production. You could spin that into a business, raise pasta wheat. With connections in the West, we could buy as much pasta wheat as we could ever use, make fresh and dried pasta. It could become a full time business." For now, though, the Wood Prairie Farm mail order potato business is keeping the Gerritsens, Jim, Megan, Peter, Caleb and Sarah, fully occupied.
About the author: Jane Lamb is a long-time freelance writer and feature writer for The MOF&G. You can order a catalog from Wood Prairie's website (www.woodprairie.com), by calling 800-300-6494, or by writing to 49 Kinney Rd., Bridgewater ME 04735.