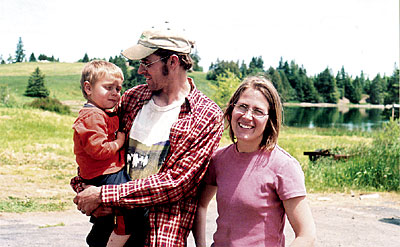 Aaron Bell, shown here with his wife, Carly del Signore, and their son Henry, is the eighth generation of the Bell family to live on the land at Tide Mill Farm. Lee Ann Ward photo.
Nine Generations on the Same Land
by Larry Lack
Tide Mill Farm is remarkable in a myriad of ways. It is most certainly a family farm – an enduring homestead that has been passed down and worked by the same family since 1765, after Robert Bell, at age 14 or 15, arrived from Scotland in the still mostly wild coastal territory of the native Passamaquoddy that today is part of Washington County near the easternmost point in the United States.
Hoping to find a place to settle, Bell gained the trust of some of the Passamaquoddy who took him by canoe from Sipayik, their summer hunting and fishing village near Eastport, to the place where Crane Mill Stream empties through a narrow passage into Whiting Bay, an inland extension of Cobscook Bay.
Bell and his bride, the former Jemima Merrill, who had been Eastport's first schoolteacher, settled at the place the Passamaquoddy had shown him. Soon the young immigrant had built a grist mill powered by the bay's strong tides and was clearing land, growing crops and raising cattle. Before long schooners were docking at a wharf by the mill, bringing grain and supplies and carrying flour and farm products from Bell's prosperous homestead to feed the growing colonies to the west and south.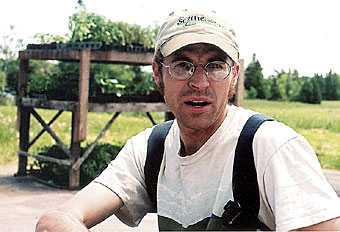 Bell in a rare moment – sitting down! Lee Ann Ward photo.
Tide Mill Farm Today
The 1600-acre Bell property, now known as Tide Mill Farm, is a quintessential New England saltwater farm located on a gracefully rolling landscape that features breathtaking coastal vistas. The property includes 5.5 miles of rocky shore, extensive timberland, an 1886 farmhouse and other homes and barns, a large greenhouse, and 40 acres of fields and pastures.
Tide Mill is home to six Bell households and 17 Bell family members, including six children ranging in ages from 3 to 9, all homeschooled on the farm. Bell family members involved in managing the farm work singly or in pairs or teams, consulting one another as necessary to keep Tide Mill's active, multifaceted operation on track.
In addition to family members, the Bell farm employs two year-round workers and hires six or seven more for the growing season. Apprentices also have a role in the farm's work force. A novice farmer who recently moved to Washington County from Georgia with his wife and 10 children is apprenticing at the Bell farm along with his two oldest children.
Tide Mill Farm's longevity makes a clear statement on the first 244 years of its operation, and the Bells' farming methods seem well suited to their long-term outlook on the past and future of their home. The family has a strong and obvious commitment to nurturing and protecting the natural environment that has nourished the farm for so many years.
Since 1990 the farm's woodlands, which account for more than 90 percent of its area, have been protected by a conservation easement administered by the state's Land for Maine's Future program. All food produced on the farm, including a full array of vegetables plus beef, pork, chicken, 300 Thanksgiving turkeys, milk and ricotta cheese, is MOFGA-certified organic. Some is sold to members of a local community supported agriculture (CSA) enterprise based on the farm. Some is distributed through the Maine Department of Agriculture's Senior Farm Share program, which provides eligible seniors with fresh farm produce.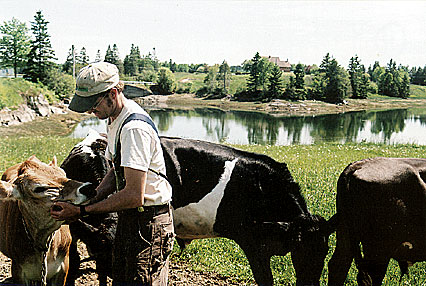 Tide Mill raises both beef and dairy cattle. It was one of several Maine dairy farms that HP Hood recruited in 2005 to produce organic milk. With Hood's pullout in 2009, these farmers are seeking alternate markets. Lee Ann Ward photo.
Tide Mill veggies, chicken, beef and pork are sold at a number of retail outlets in Washington and Hancock counties, to buying clubs in Calais, Eastport and Machias, and at a "farmers' market" held on the farm each Saturday from May through September. The market includes a Lubec bakery and sometimes other vendors and draws 45 to 50 customers to Tide Mill Farm despite its somewhat remote location.
The Bell farm's 60 beef and dairy cattle require about 1000 round bales of hay each year to carry them through winter. Some of this hay is grown on the farm, but since Tide Mill's pastures are mostly managed for summer grazing, the bulk of winter hay is grown on nearby leased fields. These, like Tide Mill's own fields and pastures, are MOFGA-certified organic.
Chicken is one of the farm's most important products. Ten shipments of 600 crossed Leghorn/Cornish peeps arrive each year in spring and early summer at the local post office. After feeding for five to six weeks on organic pasture, which they fertilize as they move along on 12 farm-built "chicken tractor" coops modeled after those promoted by alternative agriculture guru Joel Salatin, the birds are market ready. About half are wholesaled to restaurants, health food stores and coops. The rest are sold directly at Tide Mill and to retail stores in Washington and Hancock counties.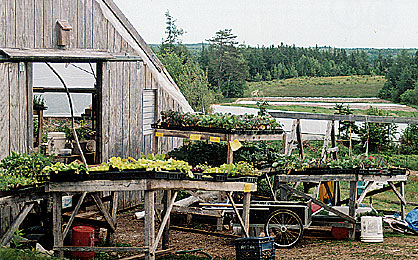 Bedding plants are an important source of income at Tide Mill in the spring. Hundreds of customers came to the farm during the annual Memorial Day weekend bedding plant sale. Lee Ann Ward photo.
Bedding Plants, Forest Products and More
Nonfood products are essential to the synergy and diversity that have enabled Tide Mill Farm to survive even in very challenging economic circumstances, including those created by the current recession.
The farm grows and markets many varieties of bedding plants, which are increasingly important at Tide Mill. This year the farm's annual Memorial Day weekend bedding plant sale attracted several hundred customers.
Timber from the farm and custom woodland management and harvesting for other woodlot owners provide work over much of the year for senior Bell brothers Robert and Terry, who also manage 300 acres of conventional blueberry land in eastern Washington County. Several Bell family members also make and sell Christmas wreaths using balsam fir brush from the farm.
In their timber operations at the farm and elsewhere, the Bell brothers use specialized, easy-on-the-land logging equipment made in Sweden, including a cut-to-length harvester and a low-impact forwarder. Some of the Bells' logging equipment as well as the farm's tractors are run partly on fuel made from used cooking oil picked up at local restaurants.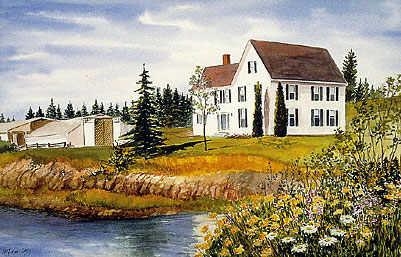 The 1886 Tide Mill farmhouse is available for weekly rental. Art by Nita Leger Casey, Gingerbread Art Gallery (www.gingerbreadartgallery.com), Pepperell, Mass., used by permission of Tide Mill Farm.
The main farmhouse, which commands views of much of the farm and its magnificent shoreline, is rented by the week to summer guests seeking an in-depth acquaintance with Down East farm life. Farm tours for day visitors are held on Wednesday afternoons from 2 to 4 throughout the summer. (Reservations are required – check tidemillorganicfarm.com for details).
Tide Mill Farm's sales have increased steadily in recent years, according to eighth generation family member Aaron Bell and his wife, Carly DelSignore, entrepreneurial young farmers who, by their own account, are constantly on the go. Aaron often mentions possible new lines of activity for the farm, and he, Carly and other family members are regularly involved in testing and fine tuning new farm ventures and methods. Along with commitment to the environment and the local community, evolution and diversity are the factors Aaron cites as critical to surviving and thriving on a farm in today's fast changing world.
Seeking Post-Hood Milk Markets
The Bells have come to this understanding – especially the part about diversity – the hard way. In 2005 the Bell farm was one of a dozen or so Maine dairy operations recruited by HP Hood to produce organic milk for sale under the Stonyfield Farm label. Hood's tanker trucks pick up organic milk from dozens of New England producers and haul it to be processed at the firm's facility in Oneida, New York.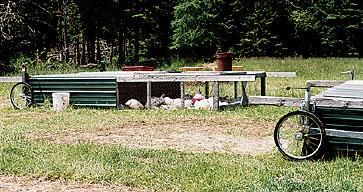 A moveable chicken tractor provides fresh air, shade, water and feed. Lee Ann Ward photos.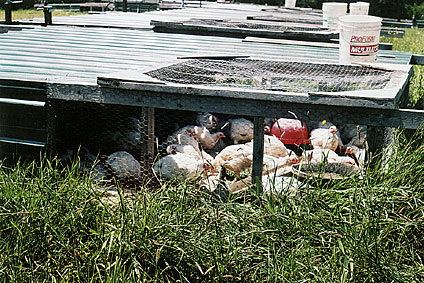 Consolidation in the milk industry has made marketing and survival very difficult for small dairy farms, and like several of their neighbors who operate family dairies, the Bells welcomed Hood's offer of a two-year contract for their milk. Soon they were selling over 95 percent of their production to Hood.
In February 2009, citing poor market conditions and the long haul from Maine to Oneida, Hood unexpectedly announced that it would be dropping the Bells and nine other Maine producers when their contracts expire this November. The decision has hurt the Bells, who, like many of their peers in organic dairy farming, borrowed heavily to expand their herd and add equipment.
Of the 200 gallons of milk that Tide Mill Farm produces daily, about 80 percent is still being shipped to Hood. Most of the remaining fraction of Tide Mill's milk is sold at the Eastport IGA, the Calais Shop 'n Save and six other Washington County retail stores as raw milk and raw milk ricotta. (Maine law allows the sale of raw milk and raw milk products subject to certain strict standards, which Tide Mill's operation meets.)
But finding additional outlets for the 80 percent of Tide Mill's milk that Hood will stop buying in November poses a major challenge for the Bells. Washington County's low population density and the region's difficult economic circumstances complicate matters for the family as it tries to adjust to the loss of the Hood contract.
A feasibility study that the Maine Farm Bureau is conducting with support from MOFGA and the Maine Department of Agriculture may help the Bells and the other nine Maine organic milk producers stranded by Hood decide whether to arrange for their milk to be slow vat (lower temperature) pasteurized in the future. This move would allow the 10 organic dairies to work together, operating what dairy farmers call a "full creamery" operation, which could produce and sell skim milk, hard cheese, butter and other products. If the Bells and the other affected dairies decide to pursue this option, they hope Maine consumers will support a Maine creamery by buying its organic milk and milk products.
The farm's large debt and the impending loss of both income and regular tank truck pickups from Hood are major concerns for Aaron and Carly, who manage Tide Mill's dairy operation. Ironically, last fall the couple were guests on the Martha Stewart Show, the producers of which had invited them partly because while most U.S. farms are struggling to survive, Tide Mill seemed a prime example of the new organic path to agricultural success.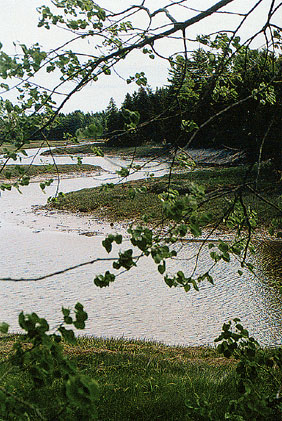 Crane Mill Stream upstream of the original tide mill site on Tide Mill Farm. Lee Ann Ward photo.
A Great Place for Grass and Livestock
Despite the major setback caused by the cancellation of the Hood contract, Aaron, who studied philosophy at the University of Maine (and so, he says, "views life philosophically"), is not discouraged when he thinks about the farm's future.
"We have a good climate here for growing grasses," he points out, "and for keeping animals comfortable. This is a great place to farm, and I think livestock are very important for farms in this part of the world. I don't have scientific evidence for this, but it seems to me that some essential nutrients – minerals, I mean – may get transported and deposited on our pastures here by the fog and wind from off the sea. Who knows, this may be quite an important part of what we have going for us here."
Whether or not wind and fog are adding nutrients directly to his pastures, one element Aaron definitely sees as a plus in Tide Mill's saltwater location is the possibility of using prescribed amounts of the plentiful rockweed he sometimes gathers from the shore as a regular food supplement for the farm's cattle, pigs and birds. "It's definitely a great source of lots of nutrients," Aaron says. "Getting this figured out and added to what we feed our animals is on a long list of projects we hope to get to this year or soon."
From Aaron's perspective, "Life on a farm isn't necessarily idyllic or romantic. In fact," he says, "it's just endless hard work. But when you think about it, it's really a privilege to live the way we do, to have this opportunity to work creatively and raise our kids in this beautiful place. We love what we're doing, and Carly and I hope we'll be able to carry on with this way of life. This farm has been here for a long time, and we hope what we're doing here now will keep it, and our family, healthy and productive for another good long time to come."
For more information about Tide Mill Farm, see www.tidemillorganicfarm.com or call 207-733-2551.
---
Bells Band Together
Some of the "Gen 8" Bell family members – Aaron, his cousin Rachel and her husband, Sam Furth – supplement their farm earnings by playing in a roots band called r.e. bell, which has performed several times at MOFGA's Common Ground Country Fair. The group's lyrics are Rachel's poetry set to music by Sam.
"Our music is our garden," Rachel was quoted in a Gettysburg Review article by Kim Dana Kupperman. "It is our belief that organic agriculture, small family farms, supporting one's local economy and local artists are some important ways to make a difference in the world today."
While r.e. bell's gigs at local pubs and events don't add a lot to the farm's bottom line, the music "contributes a lot in other ways just because it's so much fun – but I'm still not quitting my day job," says Aaron.
---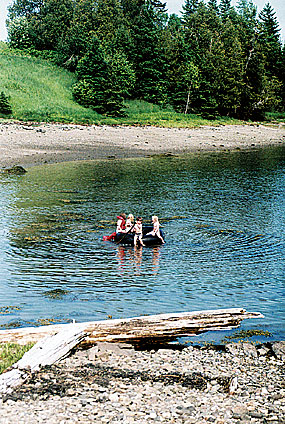 The ninth generation of Tide Mill farmers plays in the tide waters. Lee Ann Ward photo.
How Martha Stewart Found Tide Mill
Aaron Bell is among more than 200 family farmers portrayed by photographer Paul Mobley and editor Katrina Fried in their book American Farmer. These portraits of modern American farmers, accompanied by short narratives in the farmers' own words, reveal the joys and difficulties of U.S. family farmers. The producers of the Martha Stewart show learned about Aaron Bell, Carly DelSignore and Tide Mill Farm from American Farmer. For more information about the book, see www.tidemillorganicfarm.com.