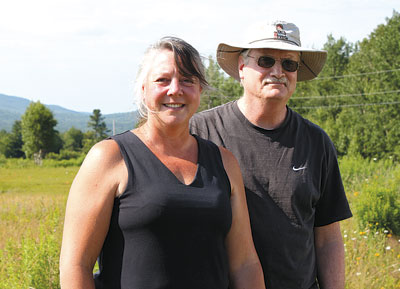 Tom and Theresa Gaffney of Highland Blueberry Farm in Stockton Springs. Dozens of women have worked on the farm as part of their drug rehabilitation program. Rebecca Goldfine photo.
By Rebecca Goldfine
When Rebekah Pressley boarded a bus in New Jersey to travel to central Maine, she had never heard of the small community she was headed to, let alone the state of Maine. And the 24-year-old had no way of knowing that she would soon be replacing her pills and bottles with berries and twigs. As part of her church-based drug and alcohol rehabilitation program, she would end up working at an organic blueberry farm in Stockton Springs.
Before arriving at Tom and Theresa Gaffney's 100-acre Highland Blueberry Farm in 2006, Pressley had been lost in "a world of craziness I created for myself.
"I was using drugs and alcohol to get through all the pains in my life," she said. "I had a lot of hurt and burdens in my heart."
Now back in New Jersey, Pressley still speaks about Highland Blueberry in a torrent of gratitude. As the months passed and her addiction weakened, the contrasts between her old and new life became stark.
"It's mostly night time," when you do or buy drugs, Pressley said. "You're not even awake to look at nature." But at the farm, she was immersed in "sunshine, the breeze, nature." Sloping blueberry meadows that produce their own steady insect hum surround the farm, which lies on a narrow back road with a view of softly rounded hills.
"You have time to sit and be with yourself. You have time to look around, and see the trees. You can look around and see everything. You can sit up there and be still, listen and hear [God's] voice," Pressley said. "You're taking in all the beauty and glory of the world."
The Gaffneys have been hiring women like Pressley since 2006. Combining farm work in a bucolic setting with mental-health healing seems like a natural fit for anybody who's spent any time peacefully toiling in a garden. But when you're running a working farm, there's not much time to do the intense interpersonal work that this type of employee requires. Yet the Gaffneys say they would never consider returning to a standard business model.
"We could hire one or two people. It's all we really need to handle all the things we do steadily," Tom said. "But the meaning of what Theresa does with the women is so much more valuable for them and us. It would make it just a business. And this is not what we're doing this for. This business is really a mission."
The Leaf Tea and the Vision
Tom, who is from Pennsylvania, bought the Stockton Springs farm and its 22 acres of blueberry barrens in 1987 with his first wife, Gretchen. After Gretchen died in 1997 from cancer, Tom married Theresa, who had nursed Gretchen in her final days. Their farm became certified organic in 2002.
The Gaffneys began questioning the health value of blueberry leaves in 2004 when a group of Hampden Academy students, with a Ph.D. student as their mentor, came to the farm to do a National Science Foundation project. Theresa said she asked them an age-old foliage question: "When it turns that pretty red in the fall, why? What's happening and what purpose does it have, if any?"
Dr. Kristi Crowe, the University of Maine graduate student, took on this question in earnest for her doctoral research, while working with the students. To everyone's surprise, they found that blueberry bush leaves, when they turn red in autumn, contain even more antioxidants than the berries. Since then, the farm has received three Maine Technology Institute seed grants to develop its blueberry leaf tea.
At the same time, Theresa began harboring a "grandiose idea" to "have women and children out in the field and we would harvest blueberries together."
The Gaffneys reached out to a local church that runs a rehab program to talk about forming a partnership. (The church leaders chose not to speak for this article and asked that the church not be identified.)
Since 2006, between 50 and 75 women have passed through the program. Between four and 15 women at a time work on the farm for three days a week for the length of their rehabilitation, which costs $2,500 and can last from six months to a year. The Gaffneys pay the church 10 percent of their sales as a labor cost. Last year sales of the tea and a blueberry snack they also make called barque were between $10,000 and $12,000, said Theresa.
Theresa, who runs the farm and its social program while Tom, a psychologist, works at his practice in Bucksport, is tall and sturdy and has an air of anticipation about her, as if she's about to start something new and exciting, even if it might be the same thing she's done a thousand times before. She has both the work ethic and focus of a farmer and the compassion to mentor young women.
"These are hard street girls," she said, sitting for the interview in her living room with Tom, her cat JB (Junior Beast), her dog Skipper, and two pastel-colored lovebirds, Lizzie and Larry Bird, who let out an occasional chirp from inside their dangling cage. She described, as an example, a girl who came to work on the farm who wouldn't look you in the eyes, wore a hoodie pulled over her head and painted her fingernails with black polish.
"For them to come and put their hands in the dirt, they're like, 'Eww.' I'm like, 'Stop and look at where you come from. You can't say eww here!'"
Many of the women, when they first arrive at the farm, grumble about the labor, the bugs, the dirt. "You get this amazing reaction," Pressley said. "When they first go out there, they say, 'I hate this. This is ridiculous. I'm sweating. This is gross.' We're a bunch of drug addicts and used to doing whatever we want, whenever we want."
Yet, pushing through the physical discomfort of the job is akin to overcoming addiction.
"You can't just stop when it gets hard," Pressley pointed out.
Besides being a physical outlet, the farm work also illustrates the often abstract metaphors of healing.
"There's lots of agricultural similes," Pressley said. "Like the roots of bitterness in your heart. If you let them grow, they can snuff you out, so if you're in the field and pulling out actual roots, you see how deep they go, and you see them wrap around the good plants. You see it actually happening."
It is easy to see where Pressley's connections between farm work and personal transformations originate. Theresa frequently uses such expressions herself, such as, "If you don't cut down to the roots, [the problems will] come back. If we don't cut it all out, it's harder to deal with.
"It's an interesting project," Theresa reflected. "They're like, 'What are we doing out here?' I tell them that we're preparing the land to be fruitful and productive, and they have to put the hard work into the field like their lives."
After leaving the program, Pressley married the son of her church pastor and recently gave birth to her first son. Just as when she was harvesting blueberry leaves, she said she has "picked out all the dead stuff in my life and left only the good behind."
Highland Blueberry Farm is not the only organization in Maine that links agriculture with a social mission. Others also incorporate farming or gardening into their client services. A sampling follows.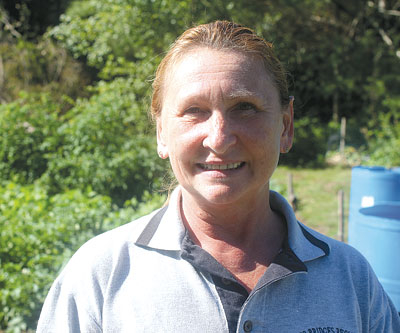 Naomi Bonang, industries supervisor at Two Bridges Regional Jail in Wiscasset, runs a garden project where inmates raise thousands of pounds of vegetables to donate to the community. Rebecca Goldfine photo.
Two Bridges Regional Jail, Wiscasset
This summer, in its second year, the Two Bridges Regional Jail organic garden – a 5,000-square-foot plot overlooking a saltwater estuary and built around an old apple tree – produced 3,314 pounds of vegetables, including potatoes, beets, green beans, winter squash and tomatoes. Inmates with a good record of behavior were eligible to head out at 6 a.m. to cultivate the vegetable patch – a chore they began to look forward to, according to Naomi Bonang, the industries supervisor, who runs the garden program for the jail.
"A guy said to me, 'I can't sleep at night because I'm thinking of what I need to do the next day.'"
All the produce is donated to a handful of regional soup kitchens and food pantries. Two Bridges hires an outside food contractor that, for liability concerns, can buy only from food vendors who are licensed by the government, according to Bonang, and it won't use food that comes from any other source.
While it might seem a shame the garden can't feed the jail population, the fact that the final recipients of the food are hungry Mainers is an important part of the work, Bonang said.
"When they come in here, [prisoners are] separated from family and friends. I stress to them the importance of community service and giving back to the community. They know this will help families like [those where] they come from."
The inmates who work in the garden have never tried to run away or misbehaved, Bonang said. They walk to the garden freely, work for a few hours and walk back. Nonetheless, the jail did have to install a hidden camera after someone began stealing vegetables after hours.
On an August day at the garden, the jail pastor, Wally Staples, drove up to the garden to pick up some vegetables for his parish soup kitchen. He complimented Bonang for the elegance of the garden and for her rehabilitative program.
"She's given [the inmates] tools to work with when they get out. It gives them a different perspective on life, seeing something that grows." He paused. "And it is not pot."
Bonang recounted a time when an inmate who had never eaten a tomato picked one off a sun-warmed vine and asked her, "Is this supposed to be warm?" And then he asked, "And how do I eat this?"
Jeremy Messer, one of the garden inmates, said those who work in the garden appreciate the taste of freedom it gives them.
"Time is slow in here," he said, and gardening helps the hours pass. "Just being able to do something is good. You're keeping your mind occupied and keeping your body strong."
Northeast Occupational Exchange
Northeast Occupational Exchange, a day program for adults with severe mental health issues, was able to plant a 100-square-foot plot at the community garden in Portland's Payson Park this summer after being on the waiting list for three years. Up to 10 clients, who have major depression, anxiety, schizophrenia and other disorders, were involved from start to finish in purchasing seedlings, planning the garden, and planting, harvesting and eating the produce.
"The clients love it," said regional director Jennifer Tingley Prince. "It's a way for them to practice their social skills. Those with mental illness tend to isolate, and it's a nice complement to therapy."
Community Partners, Inc.
Community Partners is a nonprofit in Biddeford and Portland that provides services to about 200 adults with developmental disabilities. After receiving a $1,200 grant from the Maine Community Foundation, the organization started an organic garden last summer in the community plot off Baxter Boulevard. Any client with an interest in gardening was encouraged to participate, and about six to eight clients headed to the garden regularly, said Amy Safford, manager of development and community relations. All their lettuce, beans, peas, basil, carrots and zucchini were donated to the Preble Street soup kitchen in Portland.
"Community Partners really believes in making sure that all people who receive services are out in the community, working with people in the community," Safford said. "In the past there have been a lot of sheltered workshops, and people with disabilities have worked with others like them. But now we have the philosophy to get them out there."
Plant a Row for the Hungry
Barbara Murphy coordinates Maine's Plant a Row for the Hungry program – an outreach of the University of Maine Cooperative Extension – and grows her own produce to donate. The nationwide program has volunteer gardeners around the country growing food to give to their local food pantries.
Murphy oversees two gardens in South Paris and Rumford. Every Thursday night during the growing season, she invites anybody in need to pick up free vegetables. It is not unusual for 25 to 50 people to line up, she said. Disabled, low-income, single mothers or elderly – they cannot afford fresh vegetables or fruits.
One night a year, Murphy makes a big dinner for everyone. "We all sit down together, using stuff from the garden," she said. "They tell me what a difference it makes. We aren't saving them from the brink but we are providing them access to food they find prohibitive [in cost]."
Garden Angels
Master Gardeners with the University of Maine Cooperative Extension can volunteer to be garden angels and help an elderly or disabled gardener return a patch to its former glory.
"It is a big loss when they are no longer able to do gardening by themselves independently," said Amy Witt, extension educator for Cumberland County.
Nikki Griffin, 62, a garden angel in Portland, has been helping an older woman who lives on Munjoy Hill with her flower garden for four years. Griffin volunteers two hours a week, and while she works, she chats with the garden owner and listens to her advice on how to grow "old-fashioned perennials," as Griffin calls them, such as hollyhocks, roses and violets.
"Gardening is such a pleasure for me," Griffin said. "I often wonder, when I get older, will someone help me?"
About the author: Rebecca Goldfine is a journalist who grew up in Maine and has written for several newspapers in the state. She wrote about Eldertide Farm for the Dec. 2009-Feb. 2010 issue of The MOF&G.