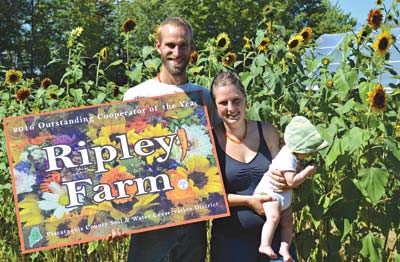 Gene and Mary Margaret Ripley, pictured with their daughter, Harriet, are the Piscataquis County Soil and Water Conservation District 2016 Outstanding Cooperators of the Year.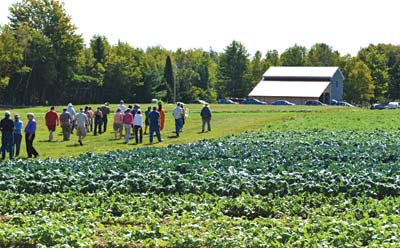 The Ripleys rotate four categories or crops – summer crops, salad crops, carrots and fall brassicas – and try to leave at least four years before putting the same block back where it has been before.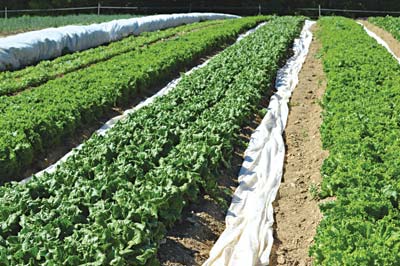 Neat beds of greens at Ripley Farm. Row covers are one of the primary means of pest control here.
By Jean English
Photos by the author
In just seven years, Ripley Farm has become an important source of MOFGA-certified organic vegetables, herbs, flowers and pork as well as a leader in serving the local community of Dover-Foxcroft, Maine.
Mary Margaret Ripley, originally from Austin, Texas, met Eugene, from Washington County, Maine, when both attended Bates College in Lewiston. Gene, whose parents were among the previous generation of back-to-the-landers, had worked for many summers at Rebel Hill Farm in Clifton (now in Liberty), growing and harvesting MOFGA-certified organic perennial plants during high school. While at Bates he learned first-hand about community farming cooperative business models that sustain rural communities on farms while studying abroad in Thailand and New Zealand. In 2004 he left Bates and interned for a summer at College of the Atlantic's Beech Hill Farm. He also worked as a timber frame builder, garnering the skills to build barns, outbuildings and storage areas for Ripley Farm.
Mary Margaret got her first experience with the soil while at Bates doing a workshare CSA membership at Willow Pond Farm in Sabattus. Then she and Gene apprenticed for two seasons and worked for a third season part-time at MOFGA-certified organic Fisher Farm in Winterport. They were MOFGA journeypersons while starting Ripley Farm – first for a year on leased land in Troy and then, in 2009, on their own land in Dover-Foxcroft.
"We chose Dover-Foxcroft for the prime farmland and affordable real estate," says Mary Margaret. "We also love the Piscataquis County area, including the lakes and hiking that are very accessible. We love the welcoming people and small-town feel of Dover-Foxcroft and the business resources the town offers, including hardware stores, banks, etc. Even though Dover-Foxcroft is off the beaten track, we are located only one hour from Bangor, Waterville and Unity and two hours from Portland."
Crops and Philosophy
Ripley Farm is known for its picture-perfect produce and popular community supported agriculture (CSA) farm share program. The Ripleys grow over 50 kinds of vegetables, flowers, perennials and herbs as well as cover crops on 5 of their 38 acres and in a hoophouse.
"We try to have at least one-third of our acreage in full season cover crops, including clover, every year," says Mary Margaret. "We organize our crops into blocks, which we rotate around the farm. The categories we use are early crops, summer crops, salad crops, carrots, and fall brassicas. We try to leave at least four years before putting the same block back where it has been before."
The Ripleys say, "We run our organic vegetable farm with one goal in mind: growing the best vegetables for our local customers and CSA members. Everything we sell is 100 percent organic and 100 percent grown by us."
They transplant some crops and direct seed others with an Earthway seeder, setting the seed density for crops such as carrots before the harvest season by adjusting and running the seeder over a cloth on the floor of their home until the setting is just right. Thus they do not have to thin carrots (their biggest crop).
The stale seedbed technique provides early weed control in such delicate crops as carrots. They prepare the beds ahead of time and let them rest for at least seven days before they sow carrots, then seed the crop, and then flame weed when the carrots are almost up. Once crops are established, they use mechanical weed control.
Crop rotation, row crops and healthy soils are the primary methods of pest control. "We also try to have beneficial insect habitat by planting cover crops around the farm that include flowering plants such as vetch and buckwheat," says Mary Margaret.
Organic pastured pork is another Ripley Farm specialty. They get 8-week-old heritage Tamworth piglets and Tamworths crossed with Gloucestershire Old Spots from MOFGA-certified organic Misty Brook Farm in Albion. The pigs enjoy as much green grass as they can eat, get certified organic grain, break new ground and enjoy any extra organic vegetables. Each November the Ripleys sell half pigs.
"We've raised pigs for several years while we were working on clearing additional land from trees into cropland," says Mary Margaret. "They helped us get the roots and stumps out of the land, which is now in cover crops waiting to be cropped in coming years. This year we rotated our pigs in paddocks in our mixed woods."
Ripley Farm also grows MOFGA-certified organic perennial plants from seed, transplants them into fields, and digs and sells them in the fall to Fedco Trees. In 2016 they grew butterfly milkweed, rose milkweed, nettles, 'Panorama Red' bee balm, wild bergamot, alpine strawberry, marshmallow, astragalus, lovage, licorice, yarrow (white), Russian comfrey, chives, wormwood, Lobelia cardinalis (cardinal flower) and Campanula glamorata. While the plants grow they support countless beneficial insects, and CSA members who come to the farm get to pick flower bouquets (and herbs) as well.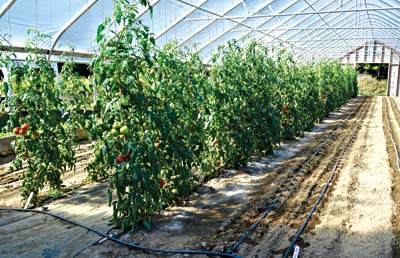 Tomatoes in the hoophouse.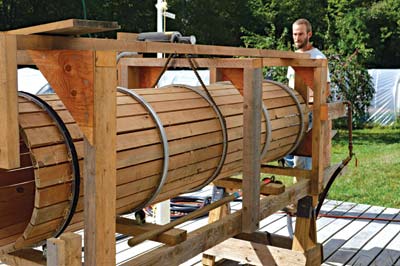 A root washer.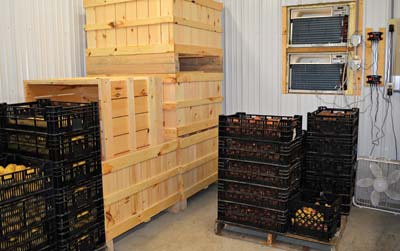 The storage room, with stackable crates.
In 2015 Carmen Allen became Ripley Farm's first assistant manager and, in 2016, took charge of seedling production and harvest washing as well. Another farm worker, Sara Moody, was hired in 2016.
Markets
The Ripleys started their CSA in 2011 with 16 members. Today they have over 130 summer CSA members receiving over 30 types of vegetables, and 40 winter members receiving over 15 types of vegetables.
Their 16-week summer CSA runs from July through October, with weekly pick-ups in Dover-Foxcroft, Guilford or Bangor. Their winter CSA offers root-cellared vegetables every other week from November to March. All CSA customers enjoy a newsletter and recipes.
Ripley Farm's Vegetable Gallery shows each product they grow, from acorn squash and arugula to watermelon and zucchini. Click on one of the produce photos, and you get information on when the crop is available, how to store it and how to use it in the kitchen.
"Our members tell us that their subscription to Ripley Farm's CSA helps them eat more vegetables!" say the farmers.
One way they have grown their CSA is by rewarding members who refer friends. A successful referral earns a free week's share at the end of the season, reinvestment of the value of that share in their following year's CSA membership, the equivalent in cash back, or donation of the extra vegetables to a food pantry.
In addition to the CSAs, Ripley Farm takes veggie pre-orders by phone or email from July through March for customers who prefer to choose their weekly mix, such as summer visitors and home gardeners, and for CSA members who might want additional items. This option has no minimum pre-order, no season-long commitment and no pre-payment. Customers simply place their orders by Sunday and pick them up at the farm on Wednesday.
The Ripleys attended the Orono Farmers' Market for seven years but stopped in 2016 in order to focus on their CSA program and wholesale accounts. In addition to their Fedco sales, "we wholesale fall and winter veggies to the Crown of Maine Organic Coop (COMOC) and to Food and Medicine for its solidarity harvest," says Mary Margaret.
Teaching – and Parenting
Mary Margaret has learned to ferment over 100 kinds of vegetables, condiments and beverages, including jalapeño sauerkraut, salsa and flavored kefir. She taught lacto-fermentation and cooking with animal fats until Harriet was born in early 2016. She hopes to resume classes this winter. On the farm she traded her position as fastest harvester and veggie wash-up queen in order to spend her time with Harriet and help manage the farm from behind the scenes.
Valued in the Community
In September 2016 the Piscataquis County Soil and Water Conservation District proclaimed Gene and Mary Margaret its 2016 Outstanding Cooperators of the Year, an annual award that celebrates a county landowner's sustainable conservation practices. The award also acknowledged the role the farm has played in bringing fresh, quality, local produce to the Dover-Foxcroft region. After that award presentation, State Senator Paul Davis delivered an official sentiment from the Maine Legislature, and Ben Tucker III, a representative from U.S. Senator Angus King's office, presented an official sentiment from the U.S. Senate signed by Senator Angus King.
"OMG!" said Mary Margaret.