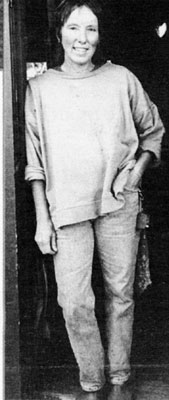 Suzy Verrier and her partner Kai Jacob have built up North Creek Farm in Sebasco, where they raise vegetables, perennials and nursery stock. Jane Lamb photo.
By Jane Lamb
Need proof of the efficacy of compost? Look no further than North Creek Farm, Suzy Verrier's homestead, retail nursery, garden store and vegetable stand in Sebasco. "Believe me, there were no gardens here when we came. It was mowed right to the foundation," said Suzy, standing among tables heaped with glorious squashes and tomatoes, potted perennials and roses, when I visited last September: Nearby, free-form beds burst with well-established perennials in fall bloom. Bizarre 'Cavalo Palmizio' kale and the sunny faces of 8-foot Jerusalem artichokes stood out among the colorful mix of flowers and vegetables that stretched in rows and raised beds down the gentle slope toward the aster-filled meadow and the creek beyond. My amazement doubled when she added, "This is our second summer here."
Of course, Suzy Verrier is no amateur gardener. She established Forevergreen Farm and Nursery in North Yarmouth, specializing in old fashioned roses and unusual perennials, renamed Royall River Roses by its current owner. In her 10 years there, the business became so successful that she didn't have time for her first love, gardening. During a "retirement" interlude in Portland, where she hoped to return to an earlier career as an author and illustrator of children's books, she realized she couldn't make a living writing. "And you can't garden on Munjoy Hill," she says. "I just had to get a farm." She and her partner, Kai Jacob, bought the old farm on the Phippsburg Peninsula, moved there in October of 1996, and began the inevitable fixing-up and the gardening they both love.
But Suzy doesn't give all the credit to their past gardening experience or even to their intensive composting. "I really did want a good warm climate to start a nursery again. We looked forever to find the right place. This is due south, really perfect. When the tide's in, the creek comes right up [into the meadow]. Just over that line of woods is Hermit Island and the ocean." Being so close to the ocean seems to put them in a warmer climate zone. "It was so cold in North Yarmouth, I had to plant for Zone 4. I can remember stretches of 30 below. Then I went to Portland, where I was in the Banana Belt, probably Zone 6. Here I think it's just a warm Zone 5.
Another benefit of being practically surrounded by water – the mouth of the Kennebec over the ridge to the east, the New Meadows estuary to the west, the Atlantic to the south – is the relatively high humidity. "Even in summer when it was really dry, things didn't look like there was a drought. The dews are so heavy here," Suzy notes. North Creek Farm enjoys a further remarkable asset, considering that the peninsula, like all those ancient mountain tops that make up Maine's rugged coastline, is all ledge. As they began planting, they found hardly any ledge in the old fields but a surprising, thick layer of topsoil over a deep, gravel base.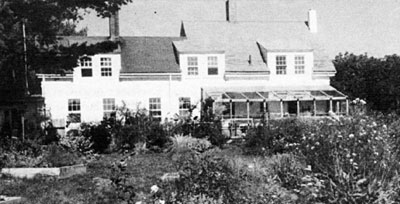 At North Creek Farm, a variety of plantings extends from the farmhouse toward the shore. Jane Lamb photo.
Creating Optimum Soil
Careful site selection and good luck were a propitious beginning, but intensive composting is the moving force in the North Creek success story. The land had been cultivated right down to the water's edge in its old farming days, but although the soil had a nice tilth, its nutrient content was badly depleted. "Compost has made a tremendous difference between this year and last year," Suzy says. "You can't always tell. We had areas of the garden we didn't put much compost and manure on because the soil looked good and they were terrible, even though the soil was dark and fluffy. So we've become much more diligent." Their flock of pet laying hens turns loads of garden waste and misshapen vegetables into manure, but that only meets a small portion of their needs. A huge pile of horse manure from a local stable adds to the supply, along with anything they can get hold of to add to the manure-compost program. They collect seaweed, buy fish waste from the Stinson Cannery in Bath and leaf-waste compost from Francis Woodman in Yarmouth for their organically-grown vegetables. For their ornamental gardens and the non-organic nursery stock they buy in, Suzy feels it's safe to use processed sludge from Blue Rock which comes from the Lewiston water treatment plant and is constantly monitored for heavy metals. "We don't have to worry about pathogens," she says. "It's steaming hot when we get it." Because of the mix of organic produce and non-organic ornamentals growing in such close proximity, North Creek Farm can't be MOFGA certified, but Suzy's dedication to organically grown vegetables and flowers (non-organic only in origin) is unswerving.
Turning an empty 2 to 3 acres of old hayfields and lawn into an attractive landscape pleasing to eye and palate is quite a feat. Suzy and Kai's method is simple but expeditious. Rather than removing sod and its useful organic content, they just till it, then plant it. To conserve moisture, integral to the composting program, they spread heavy layers of newspaper around the plants. Whole sections, about 16 sheets, are folded and closely overlapped. The newspaper is wet thoroughly, and a deep layer of compost is added. The newspaper breaks down the grass into fine soil and keeps anything underneath it from sprouting. Most importantly, it conserves moisture. "This little garden went in late last fall," Suzy says, pointing to an exuberance of waist-high perennials. "You can see how much growth there's been. With newspaper, you have a constant moisture level. It really conserves it. If you look now [the paper is] still there underneath. The compost serves as mulch." More compost is added constantly. The newspaper lasts through the growing season. A new application goes on after the next tilling and planting.
Beyond Compost
Compost isn't the only ingredient that goes into North Creek's vigorous production scheme. Suzy swears by products from Saltwater Farms in South Freeport. "They're really fun to work with," she says, "They'll even make up stuff for us. There's a thing called Sea-Start, full of hormones and vitamins, that's really neat. There's no nitrogen [in it]. If you've just moved a plant, you don't want to give It nitrogen." This is important In the early spring or late summer, she says, especially in the case of roses and other shrub, which will put on new, tender growth that is susceptible to winter-kill if given nitrogen after mid-August. She also likes Sea-Rose, a fish-seaweed concentrate containing sulfur, which helps control the fungi that attack roses. To apply the liquid concentrates, Suzy favors foliar feeding. They use a battery-operated sprayer mounted on the back of an ATV. "It has a 25-foot hose, so you can get under leaves and into cracks. It works so much better [than other methods]. It goes much further, too. Kai goes around all the gardens in the evening because it stinks. We hope it will wear off by the time people come the next day."
Suzy heartily endorses Saltwater Farms' soil conditioner. "It's the first thing that goes into every garden we do," she says. "It has microorganisms in it that get everything cooking. It's a powder you sprinkle on and It goes a long way." Microorganisms break down other nutrients and make them accessible to plants, she explains. "You can actually have soil that tests pretty good but may not really work because there's not enough activity in the soil. I always tell people that the soil has to be as alive as the plants. If the soil is working, it has to have all these little creatures in it or it's dead and not going to do anything."
Hard-Working Greenhouses
Kai learned the boat-building trade in his native Germany and applied his skills to woodworking and toymaking when he came to this country 20 years ago. He's found plenty of creative carpentry projects around the 19th-century farm. Their first winter there he built the greenhouse on the back of the house that "heats the house like crazy," says Suzy, as well as performing its prime function, propagating annual flower and vegetable seeds. Tender perennials also come in from the garden to shelter for the winter. Huge barrels of water hold heat, and a rarely-used gas heater helps on the coldest nights. Cold frames in front of the greenhouse provide fresh greens all winter. "It's amazing how they hold the heat," Suzy says, citing the sunny, sheltered location, heat coming through the greenhouse wall and a deep layer of manure and compost underneath the bed. "We had cilantro all winter. It was cold enough so it never bolted. Chard and mustard greens did well, too." The coming winter's greens were just sprouting in September. Another of Kai's inventions is the modular greenhouse that's hooked onto the side of his barn workshop. The sides can be raised for ventilation, or the sections can be taken down and turned into low A-frame "greenhouses" wherever they're needed. Annuals and tomatoes move to this structure as spring comes, to make room for more seedlings in the main greenhouse. Opened in the summer, the modular greenhouse overflows with flowers for the retail trade. Suzy is also experimenting there with tomatoes, hoping to push the fall season a little longer.
Roses and Their Friends
While Suzy gave up the large-scale rose business – and the endless paperwork that kept her out of the garden – when she sold Forevergreen Farm, she has hardly given up on roses. At North Creek she no longer deals in wholesale or mail order, but roses have an important place along with all the other plant material she can now give more attention. So far, she has bought most of the roses she offers for sale from suppliers all over the country, but she's starting to propagate some on her own. "I'd like to get more into that," she says. "I'm trying to build a really good collection so I have stuff to work from that nobody else has. I've had pretty good luck with cuttings in the greenhouse. I figure it can give me a lot of latitude if I can do that with roses." She raises a few "weird" perennials from seed, but mostly she purchases small plugs, unfortunately not organic, from a variety of sources. Full-grown plants are too costly, organically raised even more expensive and hard to find as well. "We find people really like different things, so we've been ordering from the West Coast. I'm thrilled with the material they have, things I've been dying for for years. We try to do a little bit of everything to feel our way and find out what people want. We have a very eclectic group down here, a lot of retirees, summer people, artistic types, local lobstermen, fishermen. They're here because they really want to be here. That's what we like about it."
There's no better proof of the charm of "a little bit of everything" than the gardens at North Creek Farm. Planting beds take many forms. Suzy likes raised beds because they're easy to pick from, but her plantings are quite varied. "Mostly I did all my vegetables in raised beds last year. The flowers were in a separate plot, but I missed the color. I like to break it up. Visually it's more fun. Last year people weren't wandering in the vegetable gardens, but this year people wander all through them because the flowers and colors are so gorgeous. Some of the flowers are great companion stuff. They get the bees into the garden and help pollination, too." Suzy plants chrysanthemums for cut flowers. Set at random among the vegetables, they're an excellent bug repellent, she believes. She also uses a lot of holy basil, which is very aromatic. "I find I'm having good luck with it as a repellent, interplanted with the tomatoes. It also helps with flea beetles and other things that attack cabbage. It has a funny. fetnd of smell. It's hot a culinary herb. It's too strong."
No pungent herb deters a garden's larger enemies, however. After deer devastated 200 Asiatic and Oriental lilies the first year, Suzy and Kai moved the plants right next to the house, thinking the critters would never venture that close to humanity. "In one night they wiped out all the big fat buds that were just about to bloom. I was so furious, we went out the next day and got ourselves some fence." Now a 6-foot electric deer fence borders the growing area on three sides, the fourth side being the road. A second fence, 5 feet inside the one bordering the meadow, seems to deter the ravaging beasts, which supposedly can't jump a 5-foot wide gap. As further precaution, Suzy planted a double row of pumpkins along that edge. Deer hate pumpkins, she says, but they still come out and graze in the field. "We can jump up and down and yell at them, and they don't go anywhere." Three active little terriers, two Cairns and a West Highland, are no deterrent to the deer, but they keep down the mouse population that threatens gourds and pumpkins. Being so small, they can't hurt the plants as they hunt. "They love it here," says Suzy. "They can show off all the time. We train them not to go out on the front side of the house [near the road]. What they're interested in is the mice, foxes and woodchucks out back."
Luckily, the deer do no harm to the meadow, which is covered with wild asters in September. Suzy says she's never seen so many kinds of wildflowers in one field. "Earlier, it was full of huge drifts of red wood lilies. There are all these little orchid-like things, too, and underneath it's all blueberries." To perpetuate such bounty, Kai sets the mower high and mows the field in late October or early November when all the seeds have set and sown themselves.
Back inside the fence, where the wild things aren't, there's no doubt that variety is the spice of North Creek Farm. Besides the tantalizing patchwork of bright flora among the vegetables, whole beds are planted solely to elegant groupings of perennials and shrubs. Roses of all sorts, which Suzy is testing for hardiness – species roses, gallicas, rugosas, David Austins, climbers, miniatures – grow among them. The butterfly garden is a symphony of lavenders and blues – fall asters, centaurea, buddleia (butterfly bush) in several shades of purple. Buddlia alternifolia is a hardy variety that, unlike some of its relatives, usually survives in Maine. "They'll die to the ground," Suzy says, "but I think they'll be root hardy. If they're not, I'll just plant them again. The butterflies just love them. Here's another butterfly plant, veronia – ironweed. This garden has very muted colors, a lot of yellows, apricots, pale lavenders, not like I usually do." Suzy has a penchant for vivid contrasts.
Fascinated by the tremendous variety now available from seed houses and nurseries all over the country, Suzy is always experimenting to see what will grow in Sebasco. She's working with a whole range of salvias as well as some intriguing ornamental grasses. "I grow so much, it's kind of a jungle, but it's fun," she says. "Fun" is a word that comes up often in a conversation with Suzy, whose enthusiasm is well-matched with her capacity for hard work. She and Kai have built a pool near the house where Iris pseudacorus (yellow flag) and other moisture-loving plants grow. It's also home to huge goldfish she's had for 15 years. They come into the house for the winter to live in a "pond" made of a huge packing crate lined with pond-liner. Plumes of millet ornament flower beds but also feed a pet dove, among other fauna in the Verrier-Jacob household.
The Practical Side of Fun
Just about everything that grows at North Creek Farm contributes to the owners' livelihood. Sale of plant material starts in the spring with roses and perennials and a few annual bedding plants. As well as home gardeners, Suzy supplies a lot of landscapes and occasionally gives advice on design and planting, working with the well-known local landscape designer, Deirdre Whitehead. "That's fun because she's so knowledgeable. She helps me find stuff we can grow here," Suzy says. By early summer vegetables take over the marketing scene, but people who come for table fare often take home something for their flower gardens as well. "We get a pretty sophisticated crowd down here, so they appreciate the unusual stuff, like heirloom vegetables and odd eggplants. I'm always trying something strange and new." Choice vegetables are displayed invitingly on the front steps of the garden store – baskets of perfect tomatoes; squashes in all sizes and colors: a Long Island Cheese (squash) looking like a big wheel of cheese, Jarrahdale, gray and heavily ribbed, a zucchini that can be hollowed out and used like a bowl for salsa. Suzy is a great fan of squashes. "These are fun," she says. "I really go for color, like you see in seed catalogs." Hers really look like those seed catalog specimens, unattainable for most of us. "The ones that don't look so good go to the chickens," she adds. Produce and plants in far greater quantity are displayed behind the building.
Business is good, Suzy says. "Being so far down the peninsula, we're convenient to the local people. If you're here and have what they want, you're going to sell it to them because they don't want to make a 25-mile round trip to get it." With that as incentive, Suzy and Kai are expanding into the food and gardening supplies area. Kai turned an old shed attached to the house into a rustic shop, putting in a missing floor and windows and finishing interior walls and shelves with old boards. "We got into the food thing last fall," Suzy relates. "People loved it! We weren't expecting it. It's just kind of gone along." The merchandise runs from Borealis bread, goat cheese, organic garlic, locally bottled sodas and smoked chickens to gardening books, clogs and Liberty Graphics tee shirts (including a ravishing Rosa rugosa number). They purchase meats and dairy products from local producers and store them in the freezer. "We're going to start selling unusual canning supplies, really neat jars, fruit steamers, all the kind of stuff I like, " Suzy says. "I don't like to buy through catalogs. I like to put my hands on things, but sometimes that's the only place you can find them. Kai is very familiar with preserving. His family always did that. He knows the European products and methods." Next year Kai plans to finish the upstairs to hold Suzy's plant library and works by a local artist. It will be a place for her to work on her third garden book, about species roses. Her first two, Rosa Gallica and Rosa Rugosa, which have gone through multiple printings, are available in the store.
Suzy readily admits to having lots of fun at North Creek Farm, so much more rewarding than the demanding routine at Forevergreen. "It all kind of knits together, it all works out. We're still learning, modifying. It's a really interesting process."
About the author: Jane Lamb writes features for each MOF&G issue. She lives in Brunswick.