Community Supported Forestry
By Rebecca Goldfine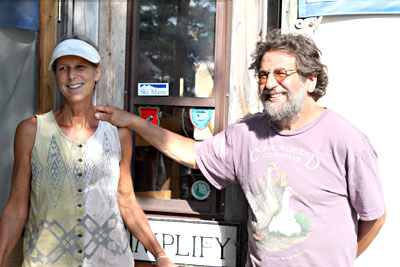 Longtime MOFGA members Bambi Jones and Tracy Moskovitz have gone from cultivating a 120-family CSA farm to grooming a 1,750-acre nature preserve – also community supported – in and around Whitefield, Maine. Rebecca Goldfine photo.
The miles of woods that encircle Bambi Jones and Tracy Moskovitz's farm, located in a small valley in Whitefield, Maine, reinforce their home's tranquility and remote feel. But the forest is far from an impassable buffer shielding them from the outside world. Instead, it's more like an extension of their farm. Throughout the year the couple heads into the forest with pruners, chainsaws and a low-impact bulldozer to cultivate quality crops from the white pines growing abundantly there. While they're working, they're likely to run into at least a handful of neighbors and friends, as well as strangers. Following the model of their former community supported agriculture farm, they have invited the public in, enticing them with miles of trails for hiking, cross-country skiing and mountain bike riding.
"One of our goals is to make [our woodlot] an economically viable community asset," Moskovitz said, sitting at his kitchen table with Jones and their friends Gary and Connie Hayward, sharing banana cake and coffee on a wintery morning. Jones followed, "It's both a demonstration of an economically viable way to use your land, and a sharp contrast and different way of treating the land."
Twenty-six years after starting their organic farm, Moskovitz and Jones in 2004 bought 850 acres of forest abutting their property, bringing their total land holdings to 1,750 acres in Whitefield, Alna and Jefferson. In 2009, they founded their nonprofit, the Hidden Valley Nature Center, as a model of sustainable forestry. At the same time, they wanted to create a recreational and educational center.
Since then Moskovitz and Jones have carved 25 miles of trails, built three overnight lodges and two campsites, and attracted 275 paying members. In 2010, they counted a record 2,000 visits to the center. They have enlisted experts, from ecologists to carpenters, to offer nature walks and workshops. People can sign up for timber-framing classes, moonlit excursions, chainsaw classes, cross-country ski clinics and other activities in every season.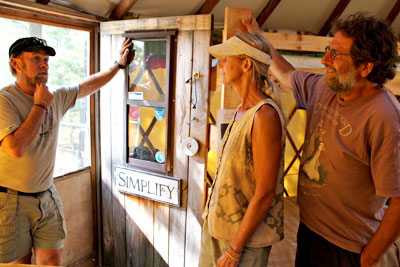 Gary Hayward, left, is the Hidden Valley Nature Center director. Rebecca Goldfine photo.
Creating an economically viable community asset is a big undertaking for the small team of Jones, Moskovitz and Gary Hayward, who joke about being an "old crew." Moskovitz is 60, and Jones is 62. Hayward, 57, works part-time as the center's director. They also elicit the help of volunteers – often retirees who receive a membership discount – in a program they call RBNT, for "retired but not tired." They are considering hiring a forestry apprentice.
Despite their hard work and accomplishments, the team's ultimate goal has not yet been achieved. But that's fine with them; they're committed to investing in a far-off future. The full effects of their investment will not be seen for at least 20 or 30 years. "We wanted to do something with a greater purpose for the land. We knew it was more than we could do in a lifetime," Jones said, adding later, "We're growing the forest for the grandchildren we never had."
"Our intention, our plan is it will go on after we go on," Moskovitz said. "The stewardship of the land will not be dependent on our personalities."
Creating a Forest for the Future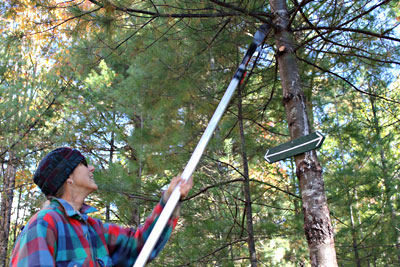 Jones uses a 21-foot Hayauchi pole saw to prune the lower branches of white pine trees, to increase the value of the lumber. Rebecca Goldfine photo.
When Moskovitz and Jones first acquired what was to become Hidden Valley Nature Center, they found the woods in sorry shape. Previous owners had harvested the forest for the priciest lumber without thinking of the long-term health and profitability of the forest.
To begin rehabilitating the beat-up woodland, Jones and Moskovitz certified the center through the Forest Stewardship Council, an independent nonprofit with the highest standards for sustainable forestry, according to Jones. And they put into place a forest management plan with the help of two consultants: Andy Shultz, who now works for the Maine Forest Service, and Barrie Brusila of Mid-Maine Forestry, who is also MOFGA's forester. Harold Burnett of Two Trees Forestry also consults on part of the land.
Shultz, crunching through the woods last fall, took a few minutes to explain the land's history. Unlike much of the forest in Maine that is recovering from an agricultural past, Hidden Valley was most likely never farmed. It shows none of the telltale signs of grown-over pastures or gardens, such as crumbling foundations or stonewalls. Plus, the terrain, marked by a series of ridges and valleys, is too uneven to easily till. But it has its own hard history to overcome. Shultz said, "The previous landowner took the biggest, best trees first," working up to 1999.
Now, Jones and Moskovitz are going at this job in reverse, removing the smallest trees first. Under the guidance of their forestry consultants, Jones and Moskovitz segmented the forest into 15-acre blocks. Acre by acre, they have been marking the shorter, suppressed trees for initial thinning. "They're not younger," Shultz said of the little ones, "they're just losing." Hardier trees edge out weaker ones, claiming their coveted spot in the forest canopy.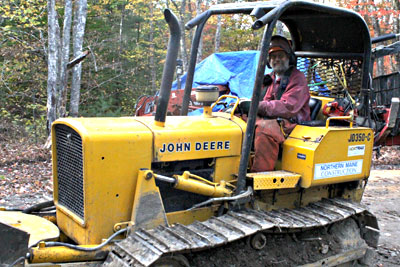 Moskovitz maneuvers his John Deere 350 low-impact bulldozer to gather felled trees. Rebecca Goldfine photos.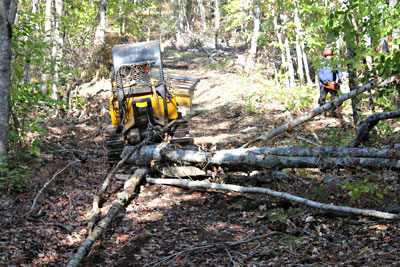 "The market will pay more for tall, big, straight trees with fewer knots," Shultz said. "What we're trying to do as managers is remove the competition of the more desirable trees."
Moskovitz is adamant that to call this clear-cutting is akin to uttering a dirty word. "The only thing we clear around here is our throats," he admonished, causing Shultz and Jones to smile ruefully. "The traditional way people logged this land was to come in every now and then and take out the nice trees and make money. We do the opposite; we take out the damaged trees and weed. We grow for the long term," he said.
Moskovitz, protected with bulky earmuffs, was riding his small John Deere 350 low-impact bulldozer, working with Hayward to gather felled trees that had already been trimmed of their branches. They use the bulldozer and winch to drag the trees a short distance for pick-up by a bigger farm tractor and forwarder, which brings the logs to a landing spot at the center to be milled or processed into firewood.
The tractor is less invasive than the bulldozer, Moskovitz said. "You use the tractor and forwarder to avoid damaging the roads and trails, to minimize soil erosion. It's a much gentler way to take out the wood. I can drag it out with the bulldozer, but imagine all the earthworms I would be killing."
Shultz, watching the two men work, explained that a tree should be cut in such a way that it lands in a controlled direction, aligned with others, to prepare for removal. "You also try to avoid damaging the trees you're not cutting," he said, avoiding crumpled crowns, broken branches.
In each 15-acre block, Moskovitz estimates they pull out 40 cords of firewood, 50 cords of pulpwood and 5,000 to 6,000 feet of lumber, mostly pine. These days, they're selling their low-quality trees, but even these carry heft in the market. Left on its own, a knotty tree with a 6-inch diameter will grow to 16 inches in 30 to 40 years, and sell for between $75 and $80. But that's nothing compared with the price of a tall, wide, straight tree with few knots, which can sell for more than $200.
Jones, taking a rest, had propped up her pruner beside her, looking as if she were holding a long scythe for a giant. To grow quality lumber, it's important not only to thin out weaker trees, but also to nurture knot-free wood by cutting off lower branches. With her 21-foot Hayauchi pole saw, Jones works mostly on slender white pines. This species makes up about 60 percent of the woodlot (the remainder is a smattering of red oak, white oak, red maple, sugar maple and beech), and white pine is relatively soft, so is easier to cut.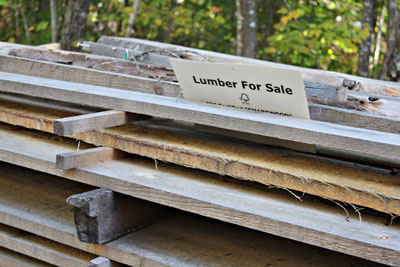 Milled lumber, ready for sale. Rebecca Goldfine photo.
To demonstrate her pruning method, Jones hoisted her Hayauchi into the air to saw off a branch the width of a wrist. She can do as many as 30 trees in a day, and since 2007, has pruned about 2,500 at Hidden Valley Nature Center. Looking up at the tree, she said, "In 20 to 30 years, these trees will be good. But we could harvest some of the good trees in 10 years."
With their smaller competitors conveniently displaced, the pruned trees will grow and thicken to marketable sizes 10 years faster than if they had been left untouched, Jones said. She prunes on average 50 trees per acre on her woodlot. Shultz recommends that loggers prune no more than 100 quality trees per acre. Not only does Jones enjoy this work, she said, but for every tree she completes, she is paid $3.50 by the Natural Resources Conservation Service, which also pays $368 per acre of thinning.
Foresters can apply to the NRCS forest-incentive program to support the thinning of trees that don't sell for high enough prices to pay for the work that entails. "It's not a money-making thing so they help support it," Moskovitz said.
When they're finished for the day, Hayward, Jones and Moskovitz leave behind many of the small trees they have cut down, as well as some leftover brush, for insects and animals. Mice, snowshoe hares and raccoons can use these piles for shelter or food. Shultz said, "When trees fall, they become good for salamanders and mushrooms. Everything that breaks down wood is beneficial. The wood decomposes and helps build up soil, so it is equal or better value than letting it go to the wood mill."
A CSA forest
Making a living from the forest requires a year-round commitment, but Jones said it's no hardship to work in the winter. Standing on snow banks allows her to extend her pruner higher up the tree, and the hard physical work of snapping off branches keeps her warm, while the silence of the snow-covered forest is soothing, she said.
Winter is also the most popular season at the center for visitors, and this past year's generous snowfall drew many new and repeat guests to Hidden Valley. "It has been a watershed year," Moskovitz said. "This winter was a huge bump for us, a 300 percent increase in use, and we doubled membership."
At last count, the organization had 275 members, with 40 new ones signing up this past January and February. The small, unpaved parking lot at the center's entrance was often packed with cars on weekends, and during a nice day, about 100 people were often out skiing or snowshoeing, Moskovitz said. People can use the center for $5 a day (left in a box at the center in an honor system), or $10 if they're on horseback. An annual family membership is $75; an individual membership is $50. Along with miles of trails – many of which were once old logging roads – the nature center has a yurt, two cabins and two campsites that can be rented by the night. Canoes are also available for day rates by Little Dyer Pond, which forms the northeast border of the center and is a good spot for ice fishing and skating.
Regarding the nature center and its forest, "We built it along the CSA model we know something about," Moskovitz said. The couple, originally from Cleveland, met in Chicago where they worked and trained as lawyers. They bought their farm in 1978, and in 1992, started a CSA, which at its largest had 120 families. For years, they held down other professional jobs while they also farmed – Jones as a lawyer and Moskovitz as a state public utilities lawyer and commissioner.
In 1992, Moskovitz and two others started the Regulatory Assistance Project, a nonprofit energy and environmental-policy consulting firm. He has focused his work on China for the last decade, and most years takes two long trips there, in hunting and mud seasons, often with Jones, who has studied Mandarin. The demands of this job reduced the amount of time they could farm, and they've downsized their garden from 4 acres to 1/2 acre.
Moskovitz said shifting from gardening to low-impact forestry suits their lifestyles and travel schedules. Plus, he joked, "We have a lot more woods than fields." It is also a way for them to contribute to a shift in forestry management, to exemplify a different way landowners can relate to their land and loggers can relate to landowners.
"A logger talks to a landowner, cuts the trees, gives him money and is gone," Moskovitz said. "We'd like to see more long-term relationships between loggers and landowners to improve the health and productivity of the forest."
With the Hidden Valley Nature Center, Jones and Moskovitz say they have built a new model for a multi-purpose forest ecosystem. And, in his customary wry manner, Moskovitz added, "It takes a village to raise a nature center."
Hidden Valley Nature Center is located at 131 Egypt Rd. Jefferson. From Rt. 194 in Alna, go north on Egypt Rd. 3.4 miles. From Rt. 215 in Jefferson, go south on Egypt Rd. 0.5 miles. Park outside the gate.
For more information, a trail map, and to join Hidden Valley Nature Center, visit www.hvnc.org.
About the author: Rebecca Goldfine writes for Mainebiz and lives in Dresden.
---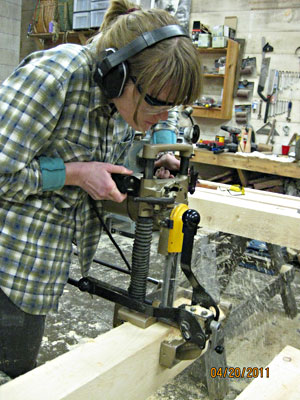 Marnie Briggs, former apprentice on Goranson Farm, works on a timberframe building during a workshop at Hidden Valley Nature Center. Photo courtesy of HVNC.

Timber Framing at Hidden Valley Nature Center, with a little help from our friends at MOFGA
At Hidden Valley Nature Center's fourth timber framing class, held recently, six enthusiastic students learned the basics of post and beam construction under the guidance of instructor Bob Lear. They started in the woods where a forester explained how the forest is managed and why certain trees are selected for harvest. A portable saw mill cut the timbers on site. Students learned the proper use of the appropriate tools and how to lay out, cut and assemble the timbers. A sturdy frame was constructed during the four-day course, giving participants the satisfaction of seeing the project through from start to completion.
Three of these students participated thanks to the generous support of the Maine Organic Farmers and Gardeners Association, which offers some partial scholarships. The next class is scheduled for July 16, 17, 23 and 24. Another class will be held in conjunction with the Common Ground Fair. Look for HVNC at the Low Impact Forestry area at the fair. www.hvnc.org
– Bambi Jones