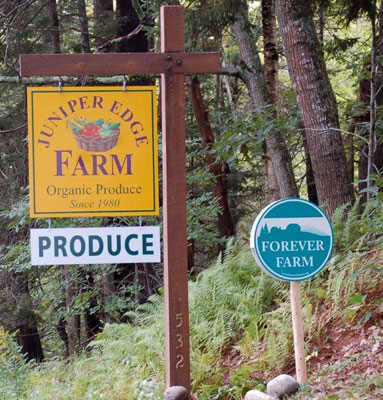 Juniper Edge Farm in Brunswick is a Forever Farm.

By Jo Anne Bander
Driving by the pastures, farms and orchards of rural Maine or along the more urban Route 90 in Rockport, a simple green and white round sign saying "Forever Farm" catches the eye. A program of Maine Farmland Trust (MFT), each sign designates one of more than 100 farms in Maine that has permanently protected its land.
Diverse as Lakeside Orchard in Manchester, Johnny's Selected Seeds in Albion and Old Crow Ranch in Durham are, each had an owner who conserved property for agricultural purposes through a conservation easement. Creating an easement – a voluntary legal agreement between a landowner and a nonprofit land trust that conserves land for purposes such as agricultural production, wildlife habitat, recreation, etc. – is a collaboration between a landowner and a land trust. An easement comes about when a conservation organization purchases one, when the landowner donates one, or through a partial purchase combined with a partial donation (a so-called "bargain sale"). Funds for the easements may be raised by land trusts from private sources or possibly from the Land for Maine's Future Program (LMF) or USDA's Farm and Ranch Land Protection Program (FRPP, for which MFT is Maine's conduit).
Maine Farmland Trust, founded in 1999, is the only statewide land trust dedicated to farming. "MFT was organized at a time when the conventional wisdom was that you didn't need to worry about preserving the land base; the land would be fine as long as farms stayed profitable," says John Piotti, a founder and now MFT executive director.
"This overlooked the fact that a once profitable farm could become unprofitable when ownership changes. If the farm sells at market price, determined by its development value, the new owners may not be able to make enough from farming to cover the mortgage. But a farm preserved with an easement sells at its 'farmland value.' We saw that we had to preserve farmland in order to make it more affordable for the next generation of farmers."
The numbers speak to the challenge. Of Maine's 19.7 million acres, the 2007 USDA census of agriculture counts 1.3 million as agricultural land, with 529,000 cropland and 62,000 pastureland. The average age of the farmer/operator was 56.4. The goal of MFT is to protect 100,000 acres of farmland by 2014. It has helped preserved more than 30,000 acres to date, and 25,000 to 30,000 more are in its current pipeline.
To accomplish that, MFT is in the middle of a $10 million campaign that ultimately will need to be $50 million. Its funds leverage others, such as a mean of $1 million annually from USDA and, from LMF, $1.65 million from a 2010 state bond issue.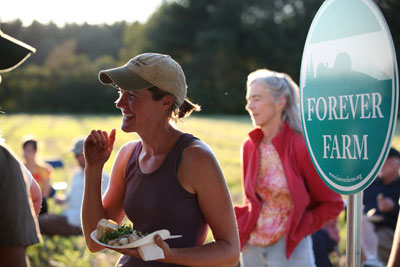 Six River Farm in Bowdoinham is a MOFGA-certified organic farm that is a Forever Farm. Shown here is Gabrielle Gosselin who cultivates Six River with Nate Drummond.
Maine's historic land conservation movement escalated in 1970 with creation of the statewide Maine Coast Heritage Trust (MCHT), which has helped create and develop Maine's local land trust movement largely by organizing the Maine Land Trust Network, now with 80 member trusts. Through its Land Trust Program, MCHT serves the network with skill building programs, conferences, networking opportunities and education.
MCHT itself has been active in farmland conservation, running Aldermere Farm in Rockport since 1999 and partnering to conserve working farms elsewhere.
"It is extremely important that the trusts pay attention to the agricultural lands because of the heritage of agriculture and the opportunity for land trusts to foster the growing local food movement," says Warren Whitney, MCHT Land Trust Program manager. "The trusts have the tools to conserve agricultural lands, working with willing landowners in voluntary transactions, to make it more affordable for a farmer to stay on the land."
Local trusts are critical to MFT, which prefers not to manage easements on farmlands; stewardship is easier and more cost-effective at a more local level. Maine Farmland Trust partners with the local trusts in the conservation process and in easement management, although it also holds easements (some 70 now) when that is the only way to preserve the farmland.
When the goal is farmland preservation, an easement is usually crafted with a high degree of flexibility uncommon to other conservation easements, such as provisions for fencing and agricultural buildings – true for Old Crow Ranch in Durham, a collaboration among Royal River Conservation Trust (RRCT) of Yarmouth, LMF and farmer Steve Sinisi to re-establish a working farm adjacent to the Royal River watershed. This is RRCT's first farm project. Sinisi worked with the trust to assure that a 5-acre homestead area for a barn and house was part of the easement.
Sinisi came to Maine for MOFGA's apprenticeship program and began working in 2000 at New Leaf Farm. He learned in 2006 that Bob Marstaller, owner of the former Davis Farm, wanted to sell and preferred to keep the land in agriculture. Sinisi started the process of purchasing the 70 acres following the conservation route to make it more affordable for a farm family.
Marstaller was paid for the development rights through a blend of funds from LMF, RRCT and Sinisi, with one year of owner-financing replaced by a mortgage from the Finance Authority of Maine. Because the sale price was reduced to benefit conservation, Marstaller also received tax benefits. The buildings were financed by a Slow Money investor, Sinisi's funds and a line of bank credit. By 2009 Sinisi had renamed the farm Old Crow Ranch. He raises organically fed pork and grass-fed beef.
Old Crow Ranch was a departure for RRCT, but the farmland was on a tributary of the Royal River that was a focus of RRCT efforts. It led RRCT to make farmland preservation a priority and to add "agriculture" to its mission statement.
"While one farm isn't enough to change markets," says RRCT director Alan Stearns, "we are setting the stage to do more. We believe that land conservation is an important tool to support an increase in local food production."
For the Sebasticook Regional Land Trust (SRLT), founded in 2004 "and dedicated to recognizing and conserving the wild and working landscape of the Sebasticook River Watershed in Central Maine," says executive director Jennifer Irving, "preserving agricultural land is on equal footing with woodlands and wild lands." A frequent partner of MFT, which helps fund a SRLT staff position, SRLT has worked with its local community to identify farm lands that are important agriculturally and that have habitat values or buffer them.
The work is "about relationships and keeping everyone at the table. Conservation can't solve an immediate financial issue because it takes too long – two to three years," says Irving. The 100-year-old Cheeseman Farm on 192 acres in a growing corridor of conserved agricultural land in Unity was SRLT's sixth farm, conserved through an easement process begun years ago in conversations with owners Alice and Gordon Cheeseman, who wanted to preserve the farm for agriculture rather than sell it for housing lots. The deal took two years to close when they were ready.
Now SRLT is working with MFT to conserve Bull Ridge Farm in Albion, a MOFGA-certified organic farm that had been in the Perkins family for three generations. As Henry Perkins, who assumed control in 1973, approached age 60, his three children were not interested in taking over. Tired of dairy (he had sold his herd three times but always returned to milking) but ready to try other things, he decided it was time to sell. Perkins turned to MFT because it had the funds and expertise. MFT closed on the purchase of the farm in June 2011 and is now working with LMF and FRPP to purchase development rights to create conservation easement protection. The farm is under contract to sell to a young farm couple, with SRLT lined up to hold the easement. Perkins lives up the road on land he purchased, where he grows sunflowers and makes sunflower oil – without the infrastructure to tempt him back into dairy.
Now SRLT is raising money for its first farm parcel purchase, the only way to preserve farmland in Burnham with tremendous habitat value and frontage on the Sebasticook River while meeting requirements of the wetland mitigation funds managed by The Nature Conservancy (TNC). SRLT will lease the agricultural portion to a local farmer. Irving sees the mitigation funds as an increasingly important body of money for conservation – and welcomes a new partnership with TNC.
The 25-year-old Georges River Land Trust (GRLT) undertook a 2004 planning effort to determine the highest priority conservation areas within its 225-square-mile watershed. While farmland had always been a focus, consultant conservation biologist Janet McMahon's analysis, says GRLT director Gail Presley, "surfaced nine focus areas including two with significant farmlands, one the Union farm belt with about 1,000 acres of active farm near the river, and the second, South Thomaston's hayfields between the St. George and Weskeag Rivers, where GRLT works proactively with landowners to protect their farms." To date GRLT has conserved 17 farms with easements (1,262 acres) and purchased two farm easements (320 acres).
A $4,800 grant to GRLT from MFT's Farmland Conservation Grant Program will help fund transaction costs, such as title searches and environmental assessments, for its work with Union's 18th century Come Spring Farm, where owner Herbert Harriman placed 14 acres of prime farmland into permanent conservation with a donated easement. The land trust also received a grant in 2009 for work with the Paulsen Farm in South Thomaston.
"We expect to see land trusts working to protect agricultural resources where farming is an important part of the economy and sense of place – ones with rich soils, farming infrastructure and communities connected to agriculture," says Jennifer Plowden, who did her master's thesis on land trusts and is now on staff at Blue Hill Heritage Trust.
According to Plowden's University of Maine thesis advisor, associate professor Kathleen P. Bell, "Maine stands out on a national scale in terms of land trust activity. In 2010, Maine was second only to California in terms of number of acres conserved by land trusts," which she attributes to the fact that Maine has less public land than many states, relatively lower land prices, and valued natural resource lands. So land trusts fill the void and play a major role in land conservation. "They are a significant player and a very appropriate institution to conserve land," she says.
Likewise, Piotti is pleased with MFT's success to date, having "partnered with over 50 land trusts, sometimes helping a local trust understand how to write an agricultural easement and sometimes a full partnership from the fundraising effort on up." He sees the only way to accomplish all that needs to be done in the next 10 years is for all the organizations committed to agriculture to work together. The stakes are high, because, in Piotti's words, "No Farms, No Future."
For more information, see www.mainefarmlandtrust.org (Maine Farmland Trust), www.mcht.org (Maine Coast Heritage Trust) and www.mltn.org (Maine Land Trust Network).
About the author: Jo Anne Bander lives and writes in Spruce Head, Maine, and Miami, Florida, and is deeply involved in the sustainable food movement in both states.