Soup Kitchens, Apprentices, Community Benefit
By Jane Lamb
Nick Sewall, owner of the Hermit Island Camp Ground at the end of Small Point, has given him the use of almost an acre adjacent to Edgewater Farm in Phippsburg where Bill and his wife, Carol, operate a bed and breakfast. Carol manages the B&B and Bill is bookkeeper, fix-it man and as close to a full-time farmer as he can get. Farther down the road, the Small Point Summer School (a tennis, sailing and theater camp for young people) lets him plant a big field on its property, "as long as a football field and a third as wide."
In 1998, Bill grew about 3,000 pounds of organic beans, peas,. summer and winter squash, corn, beets, potatoes, cabbage, broccoli, spinach, lettuce and tomatoes for the soup kitchen. The drought last summer lowered vegetable production to about 2,800 pounds. "But this year, we're going to go wild!" he proclaimed enthusiastically in February. Next year he's planning to rig up a greenhouse around a tent frame they use for summer weddings and lobster bakes so he can grow spinach and lettuce all winter, along the lines of Eliot Coleman's operation at Four Season Farm in Harborside.
Besides the crops from its designated fields, the soup kitchen also gets the overflow from the home garden, which supplies the B&B and the family. "Carol likes to serve vegetables for breakfast," Bill says with an appreciative smile. Carol (a dedicated seed-saver) also created the exuberant perennial flower gardens, one of the inn's major attractions, which are constantly infiltrating the vegetables. Standing among a conglomeration of golden calendulas, azure balloon flowers and ripening summer squash last August, Bill observed philosophically, "We like to mix flowers in. These were our first vegetable gardens. Now they're overrun by flowers. They seed themselves. That's pretty much what happens here." No matter. He'll just dig up some more space and make more good soil for vegetables, enlarge the herb gardens, the new rose garden and the berry patches. "Last year we filled the equivalent of a big trash barrel full of strawberries," he boasts. He and Carol have started a wildflower garden and are experimenting with transplanting wild blueberries. "I haven't got too many gardens yet," he says.
Making Soil
Bill's passion for making soil is fed by large heaps of compost he builds handy to every garden. He hauls home pickup-loads of leaves from the Bath leaf collection system, seaweed from the ocean, other people's grass clippings – "I always go to the dump with my eyes wide open" – scraps from the kitchen, his own urine, and weeds. "I like weeds," says Bill. "They're another way to build soil. They make good mulch. I put them into the compost pile or a lot of times just let them lie where I pull them." All except witch grass. He's patiently digging out every last rhizome in one patch of ground and depositing the yard-long invaders in a far-away ditch. "It's the only thing an organic gardener can do," he laments. "He can't poison them."
Eventually the "good" weeds break down and become compost. If they've gone to seed, there's a problem, but one which Bill solves by mulching with hay everywhere possible, to keep the weeds down and the moisture in. He rakes up hay that home owners in the area cut to keep down brush. He uses horse and cow manure, layering it into the compost. He used to spread it directly on the gardens but has found that horse manure has a lot of grass seed that is especially hard to eliminate. He's hoping that the heat of the compost pile will kill the seeds.
In the spring Bill spreads the compost on his raised beds before planting. Compost plus good soil account for the abundant crops. At one time, pigs were raised on part of the Sewall field. "We get some wonderful food out of that one," he says. Coping with drought became a serious problem for the first time last summer. A cistern near the house collects rain water, which can be pumped to nearby gardens. The big soup-kitchen field a mile down the road has to survive on mist from the sea, which can be heard breaking on the not-too-distant shore.
Bill just can't seem to stop making more gardens and growing more vegetables. If they get too many greens, the Bath Soup Kitchen bags the surplus and gives it to people to take home. "One of my goals," Bill says, "is to get too much food to them so they can take it to the Lewiston Food Bank and barter fresh vegetables for the food they purchase there." The Bath Soup Kitchen feeds about 100 people a meal, three days a week. Bill is their only regular supplier of fresh produce. Other farmers drop off surplus from time to time, though they haven't made the same commitment he has. But Bill couldn't do it all without the help of interns and apprentices.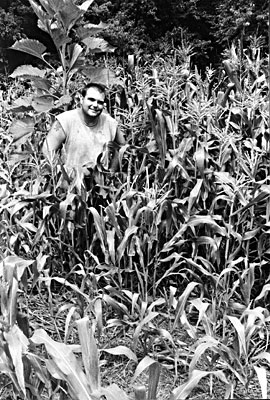 Jaymie Scheult works in the corn, backed by a giant sunflower. Jane Lamb photo.
Apprentices, MOFGA and Otherwise
"You see some wonderful young people through intern programs," he says. In 1998 he had an intern from another program from April to August who was a great help. Last year Jaymie Scheult, a MOFGA apprentice, was with him from April until November. Jaymie found out about the program from a former MOFGA apprentice, Tony Smith, who was working with him on a flower farm in Tacoma, Washington. "I had expressed my interest in organic farming and he said, 'You need to check out Maine and the MOFGA organization.' So through him I got in touch with Rosie Guest and through her, here," he relates, taking a break from weeding the corn. Julie Handelsman of Portland was also a MOFGA apprentice last year.
This year one of the MOFGA apprentices is 66-year-old June Hughes, a native of England. She's been living in this country for a number of years to be close to family members and is delighted to find a way to put her lifelong love of gardening to use. Yuko Ishizi is spending a year with the Emersons through a Japanese program, to learn organic cooking and farming. Last year a Russian student lived with them so that she could attend Morse High School in Bath, and while she wasn't an apprentice, she helped a lot, Bill says. "Sometimes you get disillusioned with today's youth, but in my experience they've been great."
Nutrition, Health and Conservation
The Emersons began running the Edgewater Farm B&B six years ago. As so often happens, it was the last place they looked at before abandoning a search for their chosen "retirement" career – innkeeping and gardening. Organic gardening. The Emersons are MOFGA members, but the farm is not certified, since they don't sell any of their produce. "I've always been interested in optimal health," says Bill, who was in the nutritional supplement business in Massachusetts with his brother. Semi-retired when they moved to Maine, he later sold his brother his share of the business. "I started reading about nutrition a long time ago, with the idea of growing old healthy," he says. As time went on he began to study it seriously. The Emersons always had a backyard garden at their home in Acton. Mass., where they lived for 25 years. "I love the work, being outside, working in the soil, trying to do everything the way it was done for hundreds of years."
Bill uses no machinery, except for a rototiller on rare occasions and his big pickup, essential to gathering compost material and deliver vegetables to the soup kitchen. "I don't like to use machinery," he says. "Basically I want to do everything with a shovel and pitchfork. I feel great out there with the quiet of nature. Being away from noise is such a pleasure." Cars do go by in summer to the beach at Hermit Island, but winter on the Small Point Road is extremely peaceful.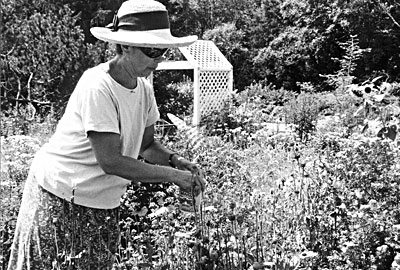 Carol Emerson is a dedicated seed saver. Jane Lamb photo.
But Bill is by no means a recluse. He's active in the Phippsburg community, serving on the town Conservation Commission and the Land Trust Board. A quiet man, he can be pretty fierce when it comes to battling purple loosestrife. "I used to drive past it going to work in Massachusetts. Along the way huge swamps were completely overrun by it and it was absolutely beautiful. But later I realized how terrible it was." He'd spent the morning of our interview with fellow conservationists digging up one more clump by the roots and taking it to the brush dump to burn. "I'm sure we're leaving root particles in there, but if we can keep ahead of it we can at least keep it from expanding." As a member of both the Conservation Commission and the Land Trust, Bill is particularly concerned with creating hiking and nature trails through town lands and land trust lands. "We have some really nice trail systems now, one all the way from Center Pond in the middle of Phippsburg to Spirit Pond, that flows into the ocean." Another trail goes through Bates College property to Morse Mountain and Seawall Beach.
B&B and the Community
The 4-acre Edgewater Farm is part of what was once a big estate that ran all the the way to the ocean, the summer home of Governor Edge of New Jersey. The main house is what remains of the original 1800s farmhouse. Newer construction replaces a section that burned about 25 years ago. Other relics of the extensive Edge estate include a swimming pool into which water was pumped from the ocean, now a brush dump, and the foundation of a once-grand master bedroom, now an herb garden. The Emersons purchased their property from a woman who had operated it as a bed and breakfast for 15 years. They have since made their own improvements, which include a large new breakfast room and a heated indoor pool in space once occupied by a big barn where the 1930s set held dances and social gatherings. "Carol wanted the pool for us to enjoy, but also something the community could use," Bill explains. "We just charge for operating expenses. There's a group that comes in for aerobics three times a week, people come here for birthday parties, or just to swim. Carol grew up in Hanover, New Hampshire, where there are a lot of things like this provided for young people, and she wanted to see that happen here."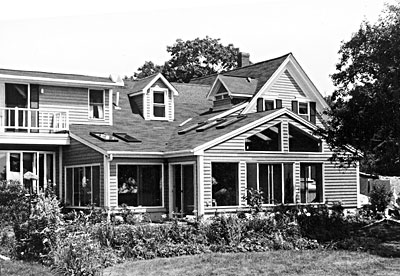 The new breakfast room at Edgewater Farm is bordered by gardens. Jane Lamb photo.
The new breakfast room has a stone fireplace and access to the kitchen for informal getaways and conferences, which can also be accommodated in a larger room over the pool. Replacing a smaller breakfast room revealed an unexpected treasure, Bill reports. Under the plywood floor workers discovered an attractive flagstone pavement, which became part of the extended new floor. Sometimes a whole family takes over the establishment, which offers seven rooms with various sleeping arrangements. The Emersons have hosted a Bates College conference of oceanographic scientists, the spring conference of Maine Media Women and, coming up in September, will host the crew of the Popham archeological dig. If the Emersons run out of rooms, they direct conference overflow to other B&Bs in the area.
If Bill is the quiet member of the couple, Carol is the dynamo. Last August she was supervising a young housekeeper, recruiting Bill for laundry duty and packing to go off for the weekend to a ladies' tournament with the Maine Pines Tennis club. Running a B&B is a very busy thing, Carol admits. "But it's definitely worthwhile. What I like best is the people. We have them from all over the world. We're now listed on Virtual Cities, in Yankee magazine, all kinds of websites. We get people calling from Europe, Asia, all over. It's very international." Things calm down a little in November, but business picks up with Valentine's Day. "People want a romantic weekend, families want reunions, we're getting more conferences."
Carol does all the cooking, with help in the kitchen and housekeeping. "That's kind of the key," she points out. "When people our age retire and want to do B&B work, they think about the glammy part of it, meeting people, wonderful meals they're going to cook. They forget the bathrooms have to be cleaned, beds changed, vacuuming. From the start I've hired local kids and it's worked out beautifully." A lot of people come to Edgewater for the gardens. "I do the flower gardens, with help from interns and hired people," she adds. "I don't claim to be Martha Stewart. I've had a lot of help putting the gardens in, a lot of digging. I couldn't have done it alone. We appreciate all the helpers we've had. They've been invaluable."
Bill concurs. Without apprentices and other helpers, he would never be able to carry out his underlying purpose: to keep the land productive and to create food to share with others. "I like to see fields being used to advantage," he says. "There are abandoned fields all over the world. People are happy to see them used for vegetables. The food soup kitchens get is often things supermarkets don't want. They serve pretty good meals, but I like to provide them with fresh organic vegetables, some good nutrition to go along with the Hostess Twinkies."
Edgewater Farms can be reached at 389-1322.
About the author: Jane Lamb writes for The MOF&G and other publications from her home in Brunswick.