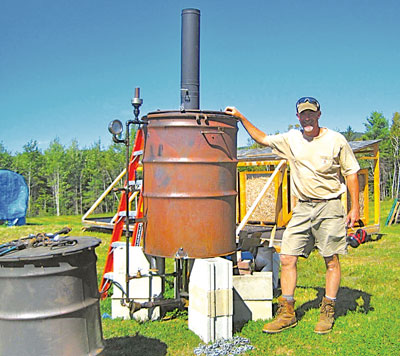 David McDaniel with the retort oven, where biochar is made. Stowell Watters photo

By Stowell P. Watters
It would do you good to drive to Jackson, out in Waldo County, where the roads go up and down forever and the silent mountains line the horizon. Somewhere between the lowland bogs and the towering hemlocks, between the sweep of untamed spruce and pine woods, you're sure to feel the lure of the quiet land; the feeling that there are things more expansive and wilder and maybe more important than you and your daily routine. I found that feeling in Jackson while walking the Earth Dharma Farm, where grapes and beautiful garlic grow.
Earth Dharma Farm is a tidy place off one of many dirt roads in Jackson. The whole operation is solar powered, and water is pumped from deep below the ledge. The owners are married and live on the farm in a house with a mushroom door (more on that later).
David McDaniel and Heather Selin's farm is nearly 200 acres, with about 8 acres in cultivation, most facing the southern sun on a birch-lined slope. Water trickles from large tanks situated at the top of the hill, piped all over the land by gravity. Walking over the farm is like taking a time out for a cup of tea, especially with the mountains just sitting there like great big cats in your lap. I am surprised the farmers get any work done at all.
But do they work. The place hums with activity.
"Sometimes we can get a crew to help us plant or harvest, but for the most part it's just Heather and me," said McDaniel.
Together the two run the whole show, with only part-time seasonal workers. They grow heirloom grains as well as a few acres of vegetables for wholesale. They make biochar using a massive retort oven that looks like something used to smoke whole pigs. They produce 3,000 pounds of seed garlic (pre-dried weight) and sell it all across the country. But above all they grow grapes for making wine and plan to bottle their own in 2016.
"Well, we have this south facing hillside, we don't have any animals, we love wine, so we thought, let's start a vineyard; heck, let's start a winery" said McDaniel.
Today the MOFGA-certified organic farm has a little over 1,200 grape vines spreading their canopy across high tensile wire and wooden trellises. They hang in the sun like pearls of sour sugar, each variety selected specifically for cold hardiness, disease resistance and flavor.
When we think of wine we think of California, Spain, Italy, France, Australia – not Maine. In 2010 the United States became the biggest consumer of wine in the world and now ranks fourth in global wine production (although only sixth in acreage of wine grapes being grown), according to the Wine Institute (https://www.wineinstitute.org/resources/statistics). But 90 percent of that U.S. wine production comes from the baked hills of California. In fact, as of last year, Maine is responsible for a minuscule 0.008 percent of U.S. wine production (https://www.ttb.gov/statistics/2014/2014wine.pdf). Why? Because it's cold here.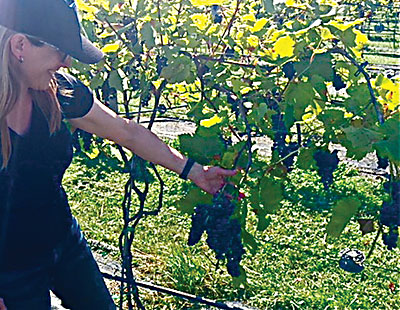 Heather Selin shows 'Frontenac Gris' grapes – one of more than 1,200 plants growing at Earth Dharma Farm. Stowell Watters photo

"A lot of cold-hardy grapes make bad wines. We wanted to make sure we could make a wine that we would want to drink," said Selin.
So before they tilled the vineyard for planting, the two set off to see if a palatable, cold-hardy wine existed. Their quest led them to a tasting in Middlebury, Vermont, at the Lincoln Peak Vineyard.
Now, Maine is known for its harsh winters, but so is Vermont. So Selin and McDaniel figured if they could find a good wine in northern Vermont, they could go forward with the dream.
"Chris Grantham, the owner, opened early for us and it was amazing. I think we stayed half the day just picking his brain," said Selin.
They found Lincoln Peak's cold-hardy wines to be particularly wonderful, and they were convinced that good wine could be made in places where it snows for half the year. For this fact, we can thank the Grape Breeding Program at the University of Minnesota (UM), where 10,000 grape vines spanning 400 varieties are studied for disease resistance and hardiness, sugar levels, flavor and more.
The UM program focuses on four French-American hybrids in particular, two of which are now growing successfully at Earth Dharma Farm. 'Marquette' is a classic deep blue grape used for making red wines, referred to as the grandson of pinot noir. Pinot noir is both a grape and a type of wine: wines are named either after the grapes used to make them or the region where they were produced, which is why Pinot noir is the exclusive red varietal grown in the French wine region of Burgundy.
McDaniel and Selin also grow 'Frontenac Gris', a white variety capable of producing even after suffering through temperatures as low as -33F. Frontenac Gris berries are small but abundant and produce a full-bodied white wine somewhat reminiscent of chardonnay.
They grow many other uniquely named varieties, including 'Petite Pearl', 'Louise Swenson', 'St. Pepin' and 'Prairie Star'. In addition to the cold, a handful of diseases and insects make growing grapes in humid Maine tricky. McDaniel said a further challenge is to raise a vineyard without using synthetic chemical sprays.

"Doing it organically is important. We don't want those chemicals in our bodies, but it is a whole new level of difficult," he said.
One big offender is anthracnose, a fungal disease that can spread easily across an entire canopy and ruin its ability to catch sun and produce fruit in the span of a few weeks. It untreated, it will kill the vines within a few years.
Good air flow helps, as does a hot south-facing slope. Through research, trial and error McDaniel learned that if he applied 12 gallons per acre of a lime-sulfur spray (permitted in organic production) while the plants were still dormant in the spring, he could keep ahead of anthracnose all year. This one spray doesn't completely rid the vineyard of the disease, but together with lighter applications of maintenance sprays and clearing end-of-the-year debris, it puts enough of a damper on the fungus to grow good grapes.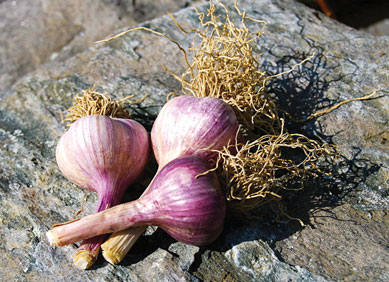 'Red Russian' garlic. Garlic and wine grapes are the two main crops grown at Earth Dharma. Stowell Watters photo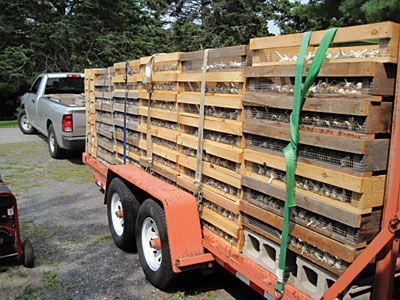 The garlic harvest from Earth Dharma Farm in transit. Photo courtesy of Earth Dharma Farm

The other main crop at Earth Dharma Farm is garlic, sold as seed through their website, https://www.earthdharmafarm.com/. Selin and McDaniel grow 21 varieties of garlic and sell them across the country. Garlic, it turns out, is another crop highly prone to disease. Before talking to them, I had no idea about white rot or bloat nematode.
"Oh, it's the worst thing imaginable for garlic," said Selin, nearly whispering.
They speak of it in hushed tones, like actors who dare mention Macbeth, a cursed word, during the run of a play. Through the testing program at the U Maine's Garlic Project, they verify that their seed is free of diseases – including the nematode, which attacks the garlic bulb and turns it to a gnarly brown mush. This vigilance has kept Earth Dharma Farm free of the pest.
In 2011 the farm received a USDA Natural Resources Conservation Service grant to produce and study biochar – carbon, found abundantly in the fertile soils of the Amazon jungle. Biochar is made by heating wood at high temperatures in the absence or near absence of oxygen and is the paradigm for carbon sequestration, locking it into brittle black strips that can be added to compost or soil.
At Earth Dharma they coppice alder trees, chopping them at ground level each year to force the roots to push out new trunks. The chipped coppice wood can be easily pre-dried and then biocharred. This goes beyond what might be considered sustainable farming, as the forest needn't be leveled to make biochar. For this couple, real sustainability is paramount.
"We got into this thing as homesteaders, so that is where our hearts are – lessening our impact on the world we live in in a major, concentrated way," Selin said.
They are dauntless in their quest to stay as sustainable as possible. They use solar power and composting toilets, and their home is built using environmentally sound materials, including what may be the world's first mushroom door – a heavy, thick door insulated by a baked sheet of fungus grown to fit, made specifically for them by Ecovative Design in Troy, New York.
The door fits the house the same way the name fits the farm. McDaniel and Selin met at a Buddhist meditation retreat and view the Dharma (Buddhist teachings) as a symbol of interconnectedness. The people, the soil, the grapes, the garlic and the carbon locked in the ground are all one thing, one energy worthy of their hard work and attention. One Earth, with all of us walking over it.
About the author: Stowell P. Watters runs Old Wells Farm with his family in Limington, Maine.