Organic dairy farmers Steve and Mia Morrison in their barn. Photo by Kate Morrison.
Second Generation Morrison Farmers Profit from Organic Dairy

By Rhonda Houston
On a clear, crisp day in January, hundreds of dairy farmers convened in Augusta to convince legislators that they cannot keep up their current way of life. They are drowning in debt as the price paid for milk hits a 20-year low. The time spent on the capitol steps was time away from their farms, away from their cows; time when their debt load was increasing and their production decreasing.
On this same day, Steve and Mia Morrison of Clovercrest Farm in Charleston, Maine, were celebrating their eighth wedding anniversary. Their daughter Kate was counting the days until her birthday, and daughter Fern was quietly folding laundry next to a toasty wood stove. Cousin Ross and friend Derek were sweeping out the barn and bringing hay to 30 or so contented Jersey milkers as folk music drifted through the still barn air.
"Well, really, they milk best with Reggae," begins Mia, with a crook to her smile. At 7 a.m. she has the coffee on, the girls out of bed, and she's pulling on her boots to begin the morning milking – with lots of help today. Steve's cousin Ross is on break from the University of Maine's Sustainable Agriculture program and is joined by the Morrisons' friend, fellow MOFGA grower, and winter help, Derek Ritchie. Morning chores typically take six to seven hours, and with four people breezing through the barn, it'll be a quick day. Which is nice, considering the anniversary. When I fumble over an apology about scheduling an interview on this special day, Steve and Mia exchange glances. "It's okay," explains Steve, "we'd be here anyway." And thus begins a day in the life of a dairy farm family.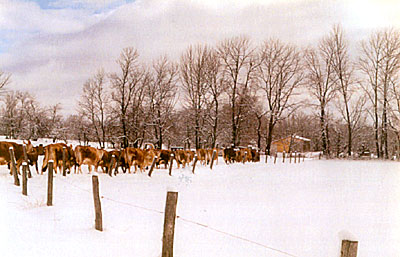 Getting the herd out in the winter is not difficult when fields are not icy. Photo by Mia Morrison.
Steve and Mia weren't on the capitol steps that January morning – not because they don't have opinions about the sorry state of dairy pricing, nor because they aren't politically active. Politics seem to run just below the surface of this sleepy farm. Steve and Mia went about this day as any other because they aren't facing the same price pressure as their friends and neighbors. In 1997, they converted the conventional dairy farm owned by Steve's parents, Robert and Joan Morrison, to organic. One of the first certified organic dairy farms in Maine, they struggled, as did many of the original farms, but their struggles have paid off, literally. While conventional farms in Maine wrestle with $12 to $13 per hundred weight prices, Steve and Mia are enjoying $20-plus per hundred weight and a consistent market. They're turning a bit of a profit, getting by on what probably seems luxury to many Maine dairy farms today.
The Professor Finds a Farm
The road to the organic farm was, of course, neither typical nor easy. It began with a college professor seeking the farm life for his family in the early '70s and ends with, well, a cozy wood fire, family close by, calves teetering on new legs outside the kitchen door, and sweet, sweet, organic milk.
In the early 1970s, Steve was a grade-schooler living outside of Lewiston, while his dad was a professor at Bates College. A geologist by trade, Robert Morrison had an idea that his family needed to farm. They spent weekends and summers looking for an old farm, and after a summer spent farming with friends in Wytopitlock, a wrong turn on the way home brought the Morrison family to Charleston, about 25 miles northwest of Bangor. On a windswept hillside stood an old farm with a large attached barn and wide open fields. Windows were boarded up, or smashed. The abandoned farm with 250 acres caught the eye of the Morrisons, and soon Robert had left his job at Bates and become a farmer. A few years in the meat market convinced Robert to convert to Jerseys and become a full-fledged dairy farmer.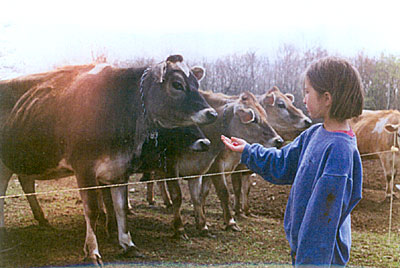 Kate visits the Jerseys. Photo by Mia Morrison.
Steve began sixth grade in Charleston, still young enough to adapt to a change in life and lifestyle. His chores often consisted of counting the cows in the pasture and replacing salt blocks and water. On one of his mornings counting cows, Steve discovered the big bull upside down. "He'd been struck by lightning," said Steve. In the hill country of Charleston, apparently this isn't such a rare occurrence. "Oh, we've lost a few to lightning." On one of Mia's early visits to the farm, while she and Steve were in college, she peeked out the window to see two other lightning casualties being carted off. This was quite an introduction to dairy farming.
Though involved in every aspect of his parents' farm, Steve left Charleston after high school to attend Wesleyan College in Connecticut. "I always thought my younger brother was going to take over the farm, so I left." He studied environmental science and met Mia at Wesleyan. Mia was raised in suburban Connecticut, and as such was not exactly a dairy farmer. Dairy farming might have been part of his life, but there was a lot of life to be lived outside of Charleston, and Steve was hungry for it. He and Mia traveled across the country, living and working here and there after college. When the wanderlust began to fade, they settled on graduate work at the University of South Florida in Tampa. Both received master's degrees in hydrology and worked in that industry while completing school.
Back to Farm and Family
Steve and Mia were contemplating leaving Florida to start a family, either in Maine or Alaska. When Steve realized his brother was not interested in taking over the family farm, he knew what they would do. "For me, it's a responsibility to keep the farm in the family," said Steve. "Every family should have a farm somewhere in their extended family." They moved into the family home while Steve's parents moved into a smaller cabin on the property, and they began farming on their first day home. With two daughters in tow, this family may continue to farm for another generation. Though eight-year-old Kate says she doesn't know what she wants to do, but does know it isn't farming, five-year-old Fern is saving up for a farm. "When we tell her she can have this one, she'll probably start buying candy," laughs Steve.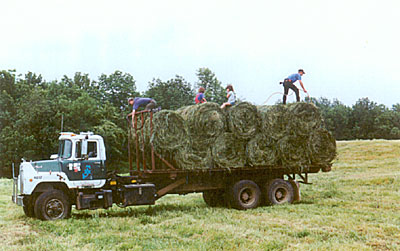 Steve, Kate, Fern and Ross bring in the hay. Photo by Mia Morrison.
Steve's parents were ready to leave the dairy farm, but their current, successful, MOFGA-certified vegetable garden is a testament to the fact that they were far from done with farming. Only a stone's throw away from their former farm, they were available to help guide and mentor Steve and Mia.
Becoming Organic
The transition of ownership was quickly followed by a transition to organic. After hearing Peter Flynt from The Organic Cow speak in several locations, Steve invited him to Charleston. Philosophically, raising their cows organically made sense to the Morrisons. A few logistical changes would be needed to receive certification: switching to organic grain; supplementing hay fields with manure; and no longer giving antibiotics to cows with chronic mastitis. The most difficult task, however, was finding a market. The Morrisons were considered quite far north, so in order to convince The Organic Cow to send a truck to their farm, they would need neighbors to convert to organic to ensure sufficient milk for the truck. Steve called fellow dairy farmers in his area and convinced one to convert, and that was enough for Flynt.
Steve and Mia changed the cows' diet from one that included corn silage to their own baleage and organic grain. When they first started, grain was a limiting factor, with the Morrisons mixing organic grains from small, local producers. The herd's milk production decreased for a few years, while the Morrisons tried to develop a suitable organic grain mix. After a few years, P. A. Lessard began producing quality mixes of organic grain from Canada, so that limiting factor disappeared. The Morrisons do add minerals when they believe that their cows need them.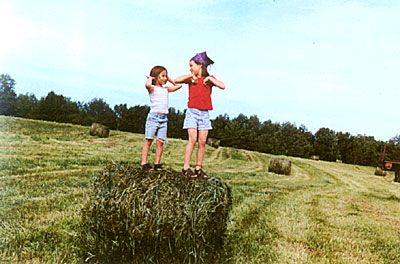 Round bales aren't just good feed, as Fern (left) and Kate know. Photo by Mia Morrison.
During the transition years, a few cows had to be culled from the herd when antibiotics were stopped, in order to shift the genetics of the herd so that it was more disease-resistant.
The elder Morrisons' philosophy of low overhead settled into Steve. Their operation, consisting of about 30 milkers and about 100 total, is on the same scale as his parents' operation was. When Steve and Mia took over, they experimented with different feed combinations, but say they have finally found a system that works for them. Cows are pastured for much of the year in an intensive rotational grazing system. The 100 acres of pasture are amended with yearly applications of compost, made continuously in a windrow system from the Morrisons' cow manure and bedding, as well as manure from surrounding farms. When the cows aren't pastured, they dine on baleage and purchased organic grain. Baleage is hay that is baled wet and left in the field, in this case, covered with plastic. During the winter, the milkers go through three to four bales a day. Steve sees two advantages to baleage: It requires minimal handling, saving a lot of time compared with the huge effort his parents spent haying; and it is healthier for the cow. By consuming unchopped hay, cows are forced to ruminate more, producing more saliva. This saliva works as its own pH buffer.
Though they're happy with their feeding program, the Morrisons are improving several sections of their operation, such as getting the cows outside more in the winter. Their hillside farm provides an amazing backdrop for sunrises and family photos but wreaks havoc with moving the cows during icy winters. "A nice, flat, gravel, well-drained feed lot would be ideal," muses Steve. The new organic certification standards require time outside year round, which is not difficult during a mild winter but can be a problem in very snowy or icy times.
In addition, Steve and his friend Mark Guzzi are putting down rubber mats for the cows to stand on while in their stanchions. The mats ease the pressure on the cows' legs, making their winter stay inside more enjoyable. Guzzi, a MOFGA Board member and certified vegetable grower, helps the Morrisons during the winter. "We sit around the barn talking politics and farming; it's a nice sense of community," says Mia.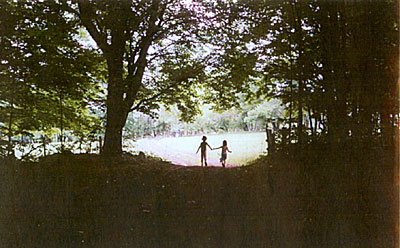 Steve Morrison believes that some members of every family should have a farm. Here are two good reasons why. Photo by Mia Morrison.
A Statewide Community
Community is important to Mia and Steve. Dairy farming can lead to an isolated life, with a commitment on the farm every 12 hours and few people trained or willing to pinch hit. When they became organic, however, the Morrisons realized that their community had become statewide. Steve quickly pointed out Mia's crucial involvement with the Maine Organic Milk Producers (MOMP), while Mia was equally quick to point out that Steve happened to be President of the Northeast Organic Dairy Producers Association (NODPA). The true passion of the Morrisons is that they want more organic dairy producers. In fact, they spend a remarkable amount of their free time recruiting potential farmers. Not wanting to fool them into an idyllic life, they point out the difficulties in transitioning. "Getting through the first year of buying grain, paying bills, and letting good cows go because you can't treat them with antibiotics" can be difficult, according to Steve. But if you can hang on, your price premiums may almost double. Another key for new producers, according to Mia, is to band together. In order to convince large corporations like Horizon or Organic Valley to purchase your milk, you have to present a group of farms with a substantial amount of milk. Once you've established this relationship, the benefits to organic far exceed any of the costs – at least for the Morrisons and the 49 other organic milk producers in the state.
All 50 of the organic dairy farmers gather three to four times a year to discuss concerns. "It started mainly with the transition of The Organic Cow to Horizon," explains Mia. Farmers were confused, and management at Horizon was equally confused about how to communicate with Maine farmers. "We got together so we wouldn't feel so isolated," says Mia, and together they worked out the bugs with Horizon. The Maine Organic Milk Producers makes negotiations easier for the producers as well as the buyers.
The Morrisons aren't contemplating any big expansions or changes. Right now they are one of the few farms functioning without an outside income; Mia and Steve are able to raise cows and home-school their children without having to work off-farm. Steve doesn't know if it will always be that way, not for financial reasons, but because they may want new challenges. For now, however, they are focused on one spot in the organic dairy business that they feel is lacking: local. Steve wants local sources of grain, hay and fuel. They want to sell some of their milk locally rather than seeing it all disappear in the back of a tractor-trailer for upstate New York and ultrapasteurization.
"We, as dairymen, need to go up to the grain growers in the county and show we are a viable market," says Steve. "We could support quite a few acres of barley, soy and oats." He believes with a certain amount of organization, the organic dairy farmers could form a co-op and give the county growers cash, up-front, to grow enough organic grain to supply them all. This would benefit everyone involved. "I'd love to be able to feed my cows Maine, organic grain," he says, and if any entrepreneurial souls could advance the technology of biodiesel fuel, he'd be equally happy putting Maine grown fuel in his tractor.
Selling locally is also a dream of the Morrisons. "If people have enough interest in buying locally, then I think farmers will make it happen," explains Steve. For now, they encourage anyone looking for farm-fresh milk to stop by the closest dairy and strike a deal. The Morrisons sell bottled milk to a few neighbors but are open to more local connections. In a sentiment echoed by so many in the MOFGA community, they see a brighter future for themselves and their community. "If people could only learn to appreciate food locally…," begins Steve. The dairy farmers from Charleston, Maine, are far from settled in with their cows. Though tethered to their hillside by the flow of milk, they are successfully moving the organic dairy market further into the mainstream and keeping the family farm moving with it.
About the author: Rhonda works as a journalist and is dabbling in the art of goat rearing.