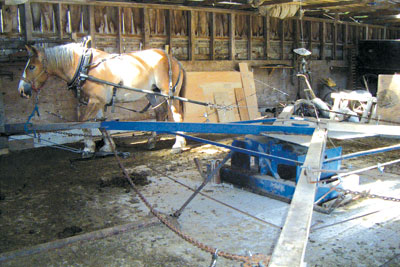 Horses power woodworking tools and a grain mill at the Copps' family farm in Thorndike. Holli Cederholm photo.
Living Grains Bakery and Locust Grove Woodworks
By Holli Cederholm
Kenneth and Katie Copp moved their Old Order Amish Mennonite family, and their family business, to Thorndike, Maine, just over a year after Amish families started settling in the Unity area during the summer of 2009. Since moving to Maine the Copps have established a small bakery specializing in products made from freshly ground grains, and a home-scale woodworking business crafting traditional furniture.
The Copps were living in western Missouri, where their family produced vegetables for sale as part of a growers' collaboration with 20 or so other Amish families. Each family would cultivate 12 to 14 acres of produce for sale through local market outlets and large supermarkets.
In their last growing season in Missouri, Kenneth and Katie raised some 7 acres of watermelons, 4 of cantaloupes, and 5,000 tomato plants. In peak melon season, the families would grade and wash an average of 20,000 to 25,000 cantaloupes a day, using gravity-fed water and produce washers powered by horses. Kenneth said that vegetable production on such a tremendous scale required the application of pesticides. He attributes this, in part, to their close proximity to Monsanto's headquarters in St. Louis. "Many people were married to Monsanto," said Kenneth. "I had plans to get out of produce completely and move to woodworking because I was so disenchanted with the pesticides."
Though the Amish concept of living simply is derived from scripture, Kenneth feels that many Amish families have become organic by default. "I consider myself an environmental Christian," he said. "Adam and Eve were placed in the garden to take care of it, rather than destroy it."
The Copps acknowledge that pesticides and genetically modified organisms affect beneficial insects and other systems within "creation." Kenneth also notes that in order to survive as small family farms, the Amish must find a niche – which often means organic marketing. "Small farming as a whole has been more profitable as organic," he said.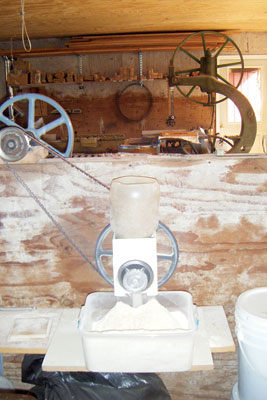 Fresh grains are ground for Living Grains Bakery – the business domain of Katie Copp and her daughters. Holli Cederholm photo.
Living Grains Bakery
While not certified organic, Living Grains Bakery offers an array of products made from whole grains freshly ground on site. Katie was initially interested in licensing their kitchen for home production and sale of baked goods as a way to keep the family busy. She and her daughters, Lydia and Tabitha, bake three days a week, using an Amish-made Kitchen Queen wood cook-stove, in preparation for Friday and Saturday sales from their home and for distribution to The Community Market on Route 220/139 in Unity.
Katie started out making and selling pasta in Missouri, using a hand-crank roller and a drying screen over the woodstove. Living Grains Bakery's product line has since expanded to include a selection of yeasted breads, sweet breads, granola, cookies and pies – all mixed by hand. Katie and Kenneth make deliberate decisions as to what kind of ingredients to include in their baked goods, as well as where to source them, based on personal values. The Copps raise a large organic garden and feed their layer hens and goats organic grain. They won't include ingredients in their products that they wouldn't feel good about consuming themselves.
The Copps purchase whole-wheat berries of 'Golden 86,' a white wheat cultivar grown in Montana, to grind and use in their products. If they mix in white flour, it is always unbleached and unbromated. They also opt to bake with organic evaporated cane juice over white sugar and choose coconut oil or butter over hydrogenated oils. Eggs come from their own hens. "We bake things to sell that promote healthful eating," said Katie, who adds that she is surprised that her whole wheat bread sells better than the half-wheat loaf.
Handcrafted and Horse-Powered Furniture
Kenneth has followed his plan to shift his family enterprise away from produce, toward woodworking. Though he never formally apprenticed with another woodworker, he has honed his skills with more than 25 years of practice accompanied by lessons gleaned from Fine Woodworking magazine. His family's business, Locust Grove Woodworks, focuses on crafting traditional furniture in the Shaker and Colonial styles through a combination of horse and hand power.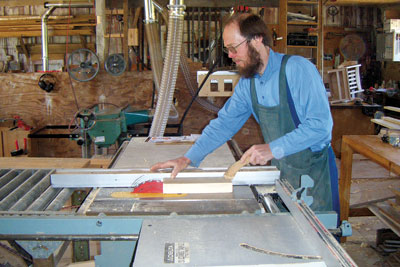 Kenneth Copp makes Shaker- and Colonial-style furniture for his Locust Grove Woodworks family business. Holli Cederholm photo.
Adjacent to the farmhouse that contains Living Grains Bakery is an old barn that the Copps have partially converted into a horse-powered wood shop. They are working on an addition to this building, which will hold a larger shop and finishing room and a split level show room.
The woodshop obtains its power through a system Kenneth calls a "horse-power unit." The unit consists of a gear that once turned the large drum on a cement truck and is now fashioned to a long shaft rigged up to a set of pulleys (one large and one small). Kenneth's draft horses are hitched to the drum and, on voice command, begin to walk in a slow, steady circle.
The two horses walk at an average rate of three revolutions per minute (rpm). The horse-power unit transfers the horses' actual rpm at a ratio of 100 to 1, allowing the shaft to operate at 300 rpm. "The pulley system increases the speed further, much like a bicycle," said Kenneth, noting the final transfer of rpm from his horses to the woodshop at 7,000 rpm.
Using the horse-power unit and a system of continuously running belts, Kenneth can operate a number of standard woodworking power tools. His shop contains, among other tools, a modern band saw and planer, and even a vacuum dust collection system. The horse-power unit when powered down, again through a pulley system, can also drive their grain grinder.
Despite the time saved with real horse power, Kenneth takes pride in doing much of his woodwork by hand. For instance, he turns the knobs by hand and hand cuts the dovetail joints rather than using a router. "I enjoy using hand tools as much as I possibly can," said Kenneth.
A temporary showroom, which is really the Copps' enclosed front porch, displays a modest selection of their beautiful yet functional offerings: cradles, dressers, chests, wall clocks, tables, chairs, rockers and coffins. All are constructed from American native woods, including cherry, oak, ash, maple, pine, poplar, cypress and walnut, and then hand rubbed with linseed oil followed by wax, a time-honored and nontoxic finish.
"I would like to say that I do everything, starting from our own woodlots," said Kenneth. However, the parcel of property the Copp family purchased in Thorndike does not include a large woodlot. Instead Kenneth purchases wood for his projects from a Washington, Maine, lumber dealer who sources a lot of the hardwoods from Pennsylvania. "I hope that the wide pine boards for the coffins come from Maine," Kenneth said.
Even as the Copp family expands its shop and showroom, Kenneth keeps his focus on small, family-scale production. Some decisions are dictated by his sons' interests in the woodworking business. "Our children are taught from youth on up to be industrious," said Kenneth. He attributes the success or failure of a business enterprise to work ethic. "Work is something that we do because we want to do it."
Locust Grove Woodworks is open by chance or by appointment; call 948-9663. Living Grains Bakery is open from 1 to 7 p.m. on Friday and and from 8 to 6 on Saturday.
About the author: Holli Cederholm and her partner, Brian St. Laurent, are MOFGA's Farmers in Residence. Both are graduates of Unity College in Unity, Maine.