The Maine Heritage Orchard has a new website.
Please visit maineheritageorchard.org for updates and varietal listings.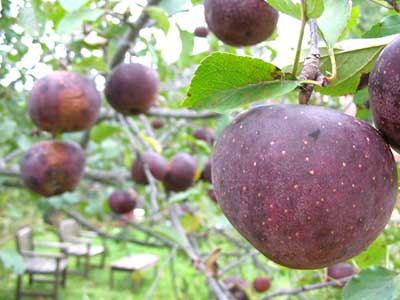 Black Oxford apples
The Maine Heritage Orchard is a ten-acre preservation orchard on the MOFGA grounds in Unity. Unlike any other orchard in the state, it will be home to over 500 different apple and pear varieties traditionally grown in Maine. We planted the first 100 trees in April of 2014 and will plant about 100 more each spring until we reach our goal. The varieties included in the collection date back to a time when most Mainers lived on farms and every farm had a small orchard of locally adapted selections. Many of these varieties are now on the verge of extinction.
The Maine Heritage Orchard is under the direction of MOFGA's John Bunker, a nationally recognized expert in historic fruit. With the help of other agricultural historians, numerous "old timers" and hundreds of apple enthusiasts from around the state, John has assembled a unique collection of heritage fruit over the past thirty years. In an ongoing, state-wide treasure hunt for Maine's ancient fruit trees, well over two hundred varieties have been identified and saved.
As the trees mature, fruit and grafting scions will be available for generations to come. Historical and cultural information on each variety will be widely accessible for the first time in over a century. The orchard is managed using innovative, organic orchard practices. It is planted on a terraced reclaimed gravel pit. Beds of beneficial perennial plants are interspersed with the trees. It is a learning laboratory that will be a model for backyard growers, orchardists, and agricultural educators.
There are numerous ways to get involved with the Maine Heritage Orchard. Volunteer work days are held throughout the growing season. Stayed tuned to the MOFGA website for dates or contact us at [email protected].