Top Working Workshop (Damariscotta)
May 21 @ 9:00 am

-

12:30 pm

$35 – $50
Hosted in partnership with Coastal Rivers Conservation Trust. [This class is also being offered in Bethel on May 13th; more information on that workshop here.]
Learn to topwork (graft) new disease-resistant, cider, dessert or heritage varieties onto your existing trees! Top working is the type of grafting that is done when you have an established tree and you'd like it to produce a different variety of fruit. This is an incredible way to expand the type of fruit you grow and improve the quality of your orchard (or backyard fruit trees) over time. Learn about how to top work scions (sticks of 1-year old wood of your new variety) onto your existing trees. We'll talk about the tools and supplies you'll need and delve into the most effective ways to top work fruit trees. We will also take a look at the grafts top worked during this class at this location last year and discuss next steps in the multi-year process of top working trees.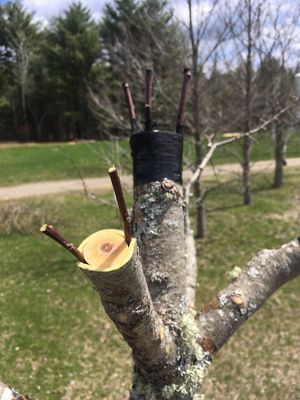 $50; $35 for MOFGA & Coastal Rivers Conservation Trust members. Participants in MOFGA's Journeyperson program and BIPOC (Black, Indigenous, People of Color) community members can register at no cost.
This class will be held in-person at Round Top Farm and Whaleback Midden State Historic Site, properties owned by the Coastal Rivers Conservation Trust. Their mission is to care for the lands and waters of the Damariscotta-Pemaquid Region by conserving special places, protecting water quality, creating trails and public access, and deepening connections to nature.
The workshop will be led by MOFGA's Orchard Coordinator Laura Sieger and nurseryman Jacob Mentlik from After The Fall Farm.
Please bring a grafting knife if you have one. We will also have many to lend out and will provide all the other necessary supplies.
Questions? Email [email protected]
Related Events