Maine Apple Camp
August 19 @ 4:00 pm

-

August 21 @ 1:00 pm

$150 – $400
Calling all cider makers, orchardists, fruit enthusiasts & apple nerds! Come learn about innovative orcharding methods, identifying and preserving heritage varieties, foraging wild fruit, cider making and lots more. Meet other orchard and apple enthusiasts while spending the weekend on a beautiful lake in mid coast Maine!
Camp will take place in a new location this year: Pilgrim Lodge in West Gardiner. We're excited to spend a summer weekend at this beautiful & comfortable camp.
Register by July 30th, please!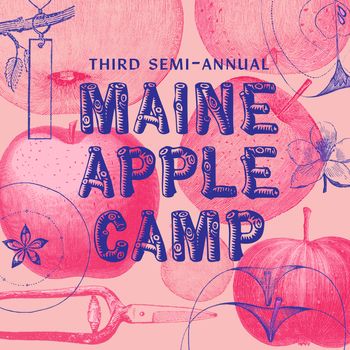 Fees:
Apple camp fees include room and board and all workshop sessions. We  are offering payment on a sliding scale this year. Please pay what you can afford; we want to open this opportunity to as many people as possible. Please also keep in mind our need to cover our rental costs for this facility, and
Sliding scale from $150-$400 for the weekend
     ($225 is the recommended MOFGA member price; $275 is the recommended general admission price)
Saturday only (adults): $100
Children (ages 8-15): $75
Children under age 8: Free
Participants in MOFGA's Journeyperson program & Black Indigenous People of Color: Free
Also, anyone may apply for a scholarship; application available
here
. [Application deadline: July 30.]
Accommodation:
Pilgrim Lodge is a traditional summer camp set-up with cabins with roughly 8 bunk beds in each and a bathroom (including shower). When registering please let us know your accommodation preferences – all gender cabin; single gender cabin; or, you can request a cabin shared only by your party (family/friends) for those attending in groups of 3+. (*We can't guarantee this last option to everyone who requests it; we'll assign cabins on a first-come, first-serve basis.)
If you would like to have your own space we recommend camping in your own tent. There are lovely camp sites, some with car access and some without.
There are two swimming areas at camp as well as canoes & kayaks for our use.
Food:
Meals are included in registration costs and will be cooked on site for our group. Please let us know in your registration form whether you have any specific dietary needs.
Workshop Highlights
Apple Camp weekend will feature panel discussions from orchard & fruit explorer friends from across the continent. We're very excited to welcome:
Melissa Madden (Open Space Cider) and Sam Bonney (Quivering Twig Horticulture) & others to talk about foraging for fruit;
Eric Shatt (of Redbyrd Cider Biodynamic Orchard) and Kevin Clark (of Rose Hill Farm) to talk about holistic fruit growing;
Jason Bowen (of the Southern Heritage Apple Orchard at Horne Creek Farm), Dan Bussey (author of Illustrated Apples of Canada & North America), Dan Newman (expert on Maine pears) and Addie & Jude Schuenemeyer (of the Montezuma Orchard Restoration Project) to talk about historical varieties & preservation efforts;
Eliza Goodman of Hogtree Orchard Pork (and wearer of many hats) to give a keynote talk on Pear Breeding;
William Mullan (@pomme_queen and author of Odd Apples) & Sean Turley (@therightousrusset) for a discussion on "Apples as Object";
And Dan Pucci (co-author of American Cider: A Modern Guide to a Historic Beverage) to lead us through a cider tasting!
And more! Stay tuned …
Related Events