Maine Apple Camp
August 19, 2022 @ 4:00 pm

-

August 21, 2022 @ 1:00 pm

$150 – $400
Calling all cider makers, orchardists, fruit enthusiasts and apple nerds! Come learn about innovative orcharding methods, identifying and preserving heritage varieties, foraging wild fruit, cider making and lots more. Meet other orchard and apple enthusiasts while spending the weekend on a beautiful lake in Midcoast Maine!
Camp will take place in a new location this year: Pilgrim Lodge in West Gardiner. We're excited to spend a summer weekend at this beautiful and comfortable camp.
Registration is now closed. If you'd like to be added to the waitlist please email [email protected].
View the schedule here.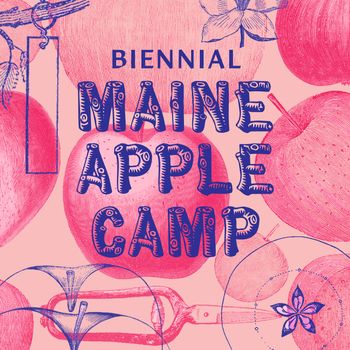 Fees:
Apple camp fees include room and board and all workshop sessions. We  are offering payment on a sliding scale this year. Please pay what you can afford; we want to open this opportunity to as many people as possible. Please also keep in mind our need to cover our rental costs for this facility, and
Sliding scale from $150-$400 for the weekend
     ($225 is the recommended MOFGA member price; $275 is the recommended general admission price)
Saturday only (adults): $100
Children (ages 8-15): $75
Children under age 8: Free
Participants in MOFGA's Journeyperson program and BIPOC (Black, Indigenous, people of color): Free
Also, anyone may apply for a scholarship; application available
here
. The application deadline is July 28.
Accommodation:
Pilgrim Lodge is a traditional summer camp set-up with cabins with roughly eight bunk beds in each and a bathroom (including shower). When registering please let us know your accommodation preferences — all-gender cabin; single-gender cabin; or, you can request a cabin shared only by your party (family/friends) for those attending in groups of 3-plus. (We can't guarantee this last option to everyone who requests it; we'll assign cabins on a first-come, first-serve basis.)
If you would like to have your own space we recommend camping in your own tent. There are lovely camp sites, some with car access and some without.
Other Activities:
There are two swimming areas at camp as well as canoes and kayaks available for our use.
There will also be ongoing kids activities throughout the weekend! There will be silk screening for kids (and adults) and an apple printing station for the little ones.
Plus:
Tree Time for Families and Kids – forest walks, journaling & games – with Melissa Madden, Open Spaces Cider (Gayogo̱hó꞉nǫ' land, Finger Lakes, Trumansburg NY)
This session is adapted from Melissa's Orchard Ecology curriculum (Enfield, NY) and based on the Bosque Environmental Monitoring Project (BEMP) along the middle Rio Grande in New Mexico. Join Melissa for a series of forest and field walks. We'll investigate bugs, plants, and the sky! We'll touch and taste, leave little and no trace, and spend time together outside sharing our impressions. We'll do some quiet nature journaling. This is 100% family- and kid- friendly. The full program will adapt to the needs of the group.
Food:
Meals are included in registration costs and will be cooked on site for our group. Please let us know in your registration form whether you have any specific dietary needs.
Workshop Highlights
Apple Camp weekend will feature panel discussions from orchard & fruit explorer friends from across the continent. You can view the full schedule here. We're very excited to welcome:
​​

Melissa Madden (Open Spaces Cider), Sam Bonney (Quivering Twig Horticulture) and others to talk about foraging.

Eric Shatt (of Redbyrd Orchard Cider), Jason Mannka (of Know Your Roots) and Kevin Clark (of Rose Hill Farm) to talk about holistic fruit growing.

Jason Bowen (of the Southern Heritage Apple Orchard at Horne Creek Farm), Dan Bussey (author of "The Illustrated History of Apples in the United States and Canada") and Dan Newman (historian of the apples and pears of Maine) will talk about historical varieties and preservation efforts.

William Mullan (@pomme_queen and author of "Odd Apples"), Sean Turley (@therighteousrusset) and Ria Windcaller (Producer/MC of the Cider Chat podcast) will lead a discussion on apple art called "Apples As Object."

Zack Kaiser (Absolem Cider), David Buchanan (Portersfield Cider), Jared Carr (Cornish Ciderhouse) and Jon Stein (Fogtown Brewing Company) will talk cider making.

Dan Pucci (co-author of "American Cider: A Modern Guide to a Historic Beverage") will lead us through a cider tasting on Saturday evening.
Keynote: Orchard Restoration & Pear Breeding
With Eliza Greeman
Eliza has been working on restoring a nearly-forgotten orchard in CT since 2020 and will share some exciting developments in this journey, including a pear breeding project that emerged from this seedling orchard. After clearing out the orchard, Eliza began to notice that some hybrids of Pyrus calleryana ("Bradford Pear") showed incredible disease resistance, along with fruit qualities that cider makers seek out. She began to get excited about what P. calleryana might be able to offer in terms of organic/ethical cider production, and embarked on an exciting breeding project. 
Eliza is a fruit explorer, horticultural historian, and designer/implementer of agroforestry plans that integrate livestock (and humans) into tree crop systems & orchards. 
Related Events