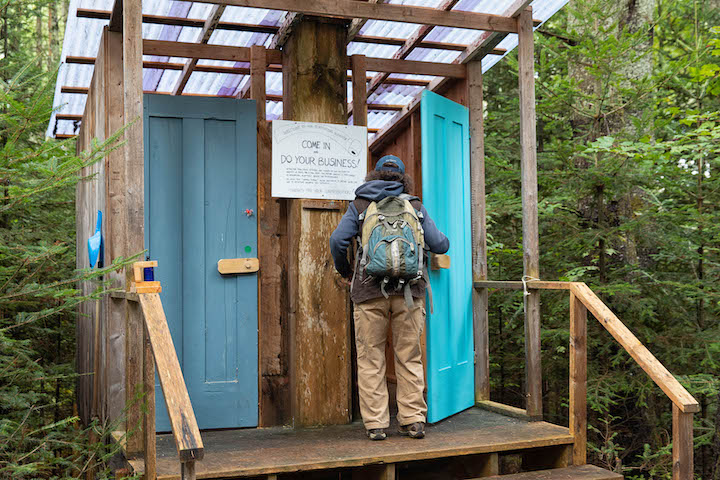 Meet MOFGA Volunteers Angela Stevens and Travis Perez
Spring 2023
By Betsy Garrold

Photo credit: John Williams

Community spirit is the theme that comes to mind when you talk to Angela Stevens about the volunteer work that she and her partner Travis Perez are involved in. In fact, the pair is so well known in their community of Washington, Maine, where they run a small contracting business, that they received the Spirit of America tribute award in 2021.

Their work making the composting toilets, called the Common Thrones, at MOFGA's Common Ground Education Center in Unity the gracious accommodations that they are is much appreciated by Common Ground Country Fair staff and fairgoers alike. Perez is a skilled carpenter and it is through his work that they have been able to collect all the lovely little decorative touches they have added to the Common Thrones to make them welcoming — even to folks who are not used to the outhouse lifestyle. There is a donated toilet seat with a dragonfly on it that Stevens challenges folks to find, and repurposed neckties fill the cracks in the walls to insure privacy.

Nancy Rosalie, volunteer coordinator for the Common Thrones project, has this to say about the pair: "I do not mind working with poop, but I abhor cleaning so I was delighted when Angela and Travis offered to be the ones who opened up and cleaned the thrones, sweeping, de-cobwebbing, making repairs. They joined in the spirit of 'Recovering Resource from the Waste Stream' from the start, requisitioning discarded doors, decorating with odds and ends to ensure privacy. Invaluable is the word to describe them. They have pitched in with building new thrones, have brightened up the others with colorful doors, and they are so much fun to work with!"

Everyone finding their own special niche in the volunteer pool is one of the things that the Common Ground Country Fair is all about.

When not volunteering with MOFGA, Stevens is in private practice as a hospice/palliative caregiver. She says that she has been very fortunate in the families she has met through this important work. She also helps Perez with any job that is too big for him to do alone.

Stevens and Perez have been coming to the Fair for many years. One of the earliest they attended was in 1998, with their infant daughter. Stevens says that returning since COVID was a little weird but it was good to see everyone again. One of her favorite parts of volunteering at the Fair is when all the volunteers gather to eat together at the Common Kitchen. Stevens says, "I really like sitting down and having a meal with folks you usually wouldn't eat with. It adds to the sense of community that is such an important part of the whole volunteering experience and helps give our kids a real sense of place."

It goes without saying that Stevens and Perez are building community wherever they go.