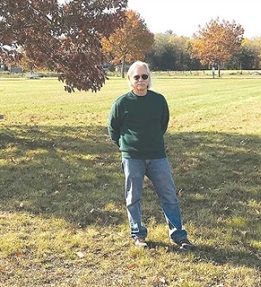 Meet MOFGA Volunteer Randy Dondero
December 2020
By Betsy Garrold

As has been demonstrated again and again over the years, MOFGA runs on volunteers. From staffing the annual Common Ground Country Fair to handling routine maintenance at the Common Ground Education Center in Unity, this large and complex organization relies heavily on the many volunteers who devote their free time. Often humble, MOFGA's volunteers quietly do the work and are surprised and pleased when their efforts are recognized.

One such volunteer is Randy Dondero. A jack of all trades, the list of activities that Dondero has participated in at MOFGA is long and varied. Among his many contributions is helping to set up the Country Store for the Fair, as well as the Railcar Speakers Tent – which he coordinates for the three days of the Fair. MOFGA's community engagement coordinator Andrew Graham says, "A few years ago I cajoled Randy into becoming the Railcar Speakers Tent coordinator for the Fair. He has embraced the role and become more involved in the Fair."

One of Dondero's most important contributions has been the initiation of MOFGA's Wednesday volunteer crew. His belief in MOFGA's philosophy made him want to not just show up for an event. Dondero said he wanted "to do more." One day three years ago, he spoke to Anna Libby, MOFGA's community education director, about year-round volunteer opportunities. This conversation led to the creation of an ongoing, weekly volunteer day. Dondero and a group of two to six other volunteers now meet almost every Wednesday to do the type of behind-the-scenes work that helps keep MOFGA going. The Wednesday volunteers take on, according to Dondero, "whatever Andrew says needs to be done." Dondero has helped with everything from maintenance tasks to data entry to kitchen work to gleaning squash.

Dondero's background is pretty eclectic too. After getting both a business management degree and a degree in photography out of state, he moved home to Maine. He worked as a core tech in the day surgery unit at Eastern Maine Medical Center: a job that required a variety of skills, from booking appointments to setting up surgical suites. He currently works as a handyman for a general contractor in Burnham.

He and his partner garden organically – something that Dondero learned about and embraced after he began volunteering at MOFGA. They also have a small animal rescue operation and foster a range of animals, from horses to exotic birds. Their menagerie recently grew to include a mean meat rabbit – which Dondero calls a "killer rabbit" after "Monty Python and the Holy Grail." He says that they are winding down this portion of their lives and will not be bringing any more animals to their home at this time.

Graham says this of Randy, "[He] has been a stalwart volunteer ever since I've been at MOFGA. He comes in every week and does whatever we ask him to do, though like anybody he has his preferences. However he's equally willing to work on office projects, buildings and grounds projects, or whatever else needs doing."

This goes to show that no matter how humble a volunteer is, there is always someone who notices and appreciates their efforts.