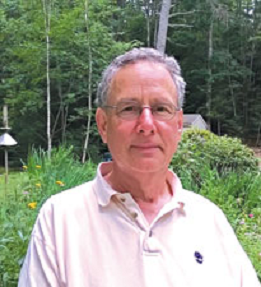 Meet MOFGA Volunteer Paul Schlein
June 2018
By Betsy Garrold

Paul Schlein says he's never been a joiner, but during his eight years as the public information officer for the Maine Board of Pesticides Control (BPC), he came to admire and respect the work that MOFGA does – attending and commenting at every BPC meeting as well as during rulemaking for bills concerning pesticides. So he joined MOFGA and its Public Policy Committee. Since then he has worked on public policy teach-ins at the Common Ground Country Fair along with other activities of that committee. Because of his government position, he was concerned about conflict of interest issues and went so far as to get a sign-off from the assistant attorney general who oversees the BPC before joining both MOFGA and the committee.

Schlein took the job with the BPC as an opportunity to be involved with making policy about pesticide use and environmental protection. He was tremendously impressed with how the state government works, with the philosophy of the board at the time to "think first, spray last" and with its statutory mission to "minimize reliance on pesticides." During his tenure he worked on many public policy initiatives, including the YardScaping/BayScaping Gardens at Back Cove in Portland – "Maine's first demonstration landscape, where you can learn to make your yard a sustainable garden that minimizes reliance on fertilizers, pesticides, and water," according to www.maine.gov. After eight years with the BPC, Schlein decided to take advantage of the opportunity to retire, to devote his time to his local community and nonprofit causes, such as MOFGA.

Jo Ann Myers, chair of MOFGA's Public Policy Committee, says, "Paul is one of the Public Policy Committee's most active members. Joining the committee after retiring as staff to the Board of Pesticides Control, he contributes important knowledge, professional experience and essential perspectives. MOFGA has worked with the BPC more than any other state government entity. Paul's knowledge of BPC processes and regulations is invaluable. His objectivity, respect for all viewpoints and sensible approaches to policy strategy add additional depth to the committee. Always resourceful, he finds lots of information of interest to the committee. He has been instrumental in providing assistance to Maine communities pushing for local pesticide control ordinances. Soon after joining the committee, he took on organizing the public policy teach-in at the Common Ground Country Fair. MOFGA and the Public Policy Committee are fortunate to have Paul as a MOFGA volunteer. He is smart and a pleasure to work with. If you have a chance, get to know him. His background and interests range all over and [he] is one of the most eclectic people I've ever met."

Schlein and his wife have attended nearly every Common Ground Country Fair since their 1986 move to Maine. In 2016 he organized the teach-in at the Fair on local pesticide ordinances. When the governor, yet again, tried to pass a bill gutting these local ordinances, Schlein said in his testimony before the legislative committee, "This bill is not at all about making regulations consistent. It's about environmental protection – protecting ourselves, our families, our pets and everything living around us from known hazards. And even if you still insist on focusing on regulations, this bill has it all backwards: It's the state regulations that need to be consistent with those of the municipalities."

Schlein may not be a joiner, but we are fortunate that he joined MOFGA and that he offers his energy and expertise as part of the vitally important Public Policy Committee – because if you're not at the table, you're on the menu.