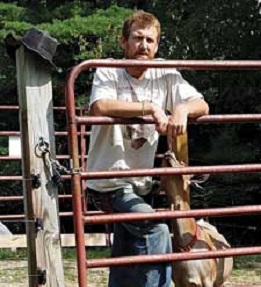 Meet MOFGA Volunteer Michial Russell
March 2017
By Betsy Garrold

Michial Russell is many things: Father, homesteader, permaculturist and coordinator of the Agricultural Demonstrations (or Ag Demo as it is popularly known) Area of the Common Ground Country Fair. This wearer of brightly colored shirts and of a constant smile brightens things wherever he goes.

In his "real" life Russell manages Pearson's Town Farm at Saint Joseph's College. There he practices permaculture and teaches not only students from St. Joe's but opens the farm to the public to learn how to marry agriculture of scale with permaculture. He is trying to demonstrate that permaculture can be added to an economically viable model. Russell has met with resistance in the academic world because of the prevailing mindset at some big agricultural universities that are funded to research large-scale, monoculture agricultural models.

He feels fortunate to be in Maine with its vibrant permaculture movement, and he attributes a lot of that vitality to the training programs that MOFGA sponsors. In an interview with Dr. Lisa Belisle on Love Maine Radio (http://themainemag.com/radio/radio-guests/michial-russell/), he noted that being an educator working in permaculture informs his world view about such diverse topics as climate change and food safety. He says permaculture teaches about the circle of life and conservation of resources – two things he feels are important for young people to learn if we are to have any hope of sustainability.