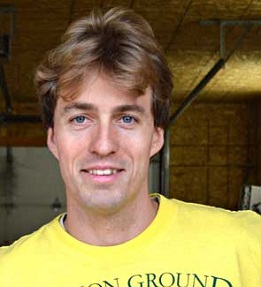 Meet MOFGA Volunteer Michael Bunker
September 2019
By Betsy Garrold

To say that running is Michael Bunker's life might be an overstatement, but it certainly has been a major focus since at least his college days at the University of Southern Maine (USM). That explains why, when Jim Bovey stopped coordinating the 5K Sunday morning race at the Common Ground Country Fair, Bunker really missed it. The year that the race was not run, Heather Spalding, MOFGA's deputy director, suggested that Bunker take on the coordinator job. He was soon organizing the race – "a great way to kick off Sunday morning at the Fair," he says.

Bunker's introduction to the Fair in 2010 was through his wife, Svea Tullberg, who has been coordinating the hand-wash stations for almost 10 years. He started volunteering to help with that important piece of the Fair while he was also working at Tom Opper's Liberty Graphics T-shirt booth, where he still occasionally helps during the rush of the Fair.

After running on the USM track team for four years (he holds the record for the 3,000-meter steeplechase), he received his degree in exercise physiology in 2006 and went on to run on a semipro team in North Carolina for four years. These teams serve as a place for B- and C-level competitors to hone their skills, hoping to qualify for the Olympics. It was a great experience but pays only in free gear. Bunker's team was sponsored by Reebok.

After that adventure he worked for his cousin at Evergreen Home Performance for six years. Feeling the yen to be more creative, he started his own business, Heritage Timber Wrights, building timber frame structures – "Definitely the most artistic way to build," he says. According to his website, "since [watching my father and grandfather build timber-frame cabins] I have been intrigued by the craftsmanship involved with producing quality structures, whether it be a Timber Frame house, barn, Log Cabin, or custom cabinets."

April Boucher, Fair director, says, "We are very thankful Michael volunteers his skills and time with MOFGA. His positive attitude, experience running races and dedication make him a valued community member and effective coordinator. We didn't have the 5K footrace for years till Michael picked it up and reinvigorated it. There wouldn't be a Common Ground Country Fair 5K footrace without his care and energy."

Bunker took over coordinating the footrace in 2012 and has enjoyed doing it ever since. With an average of 75 participants, it is a "good sized" local race. It's nothing like some of the bigger races he has participated in, such as the Beach to Beacon race in Cape Elizabeth – one of the biggest 10K races in the world – but it is respectable nonetheless. He encourages anybody with any interest in running to come out and support the race and the Fair. For information about the Common Ground 5K, please visit Fair's 5K web page.