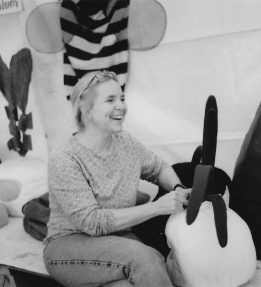 Meet MOFGA Volunteer Daaby Tingle
June 2021
By Betsy Garrold

For Daaby Tingle the Common Ground Country Fair, and especially the Garden Parade, is a family affair. Tingle first started helping her mother Beedy Parker with the parade in the 1990s when the Fair was still in Windsor. Tingle and her two children, Celeste and Pepin, have participated in the parade ever since, often leading the way of this joyous celebration during its twice-daily occurrence at the Fair. (Full disclosure: this writer drops everything twice a day at the Fair to stand and watch the spectacle.)

The parade celebrated its 30th year in 2020, and a celebratory video was included in the alternative online Fair last year due to COVID-19. There are many who hope it will be part of the 2021 Fair in some way, though precautionary planning regarding the pandemic is still underway. Here's hoping some clever strategy is figured out to keep this lovely tradition alive.

Among her many interests, Tingle loves making costumes. She spends most of the winter revising, rebuilding and repairing the Garden Parade costumes. Outfits range from sunflowers to slugs, peapods to bumble bees. It is something she has the energy to accomplish now that she is no longer un-schooling her children, who are currently in their late 20s. She also creates costumes for Celeste who sings with the Winter Harbor Music Festival as a soprano.

Her costume-making skills will be put to good use this spring as she repairs a Nesting Bird yurt – this will be a challenging roof repair that will call on all her hand-sewing skills and the need to build scaffolding from which to work. The yurt is located on land that she and her husband, Glen, homestead on.

Now that Tingle is feeling better, after years of coping with Chronic Inflammatory Response Syndrome (CIRS), she is planning a big garden this year and getting back to putting by a lot of her family's food by canning, drying and freezing as well as storing food in a root cellar. She is tending her small greenhouse and growing greens. Tingle also continues to be active in helping to run the Steuben Bulk Buying Club, where she has been a member for 28 years.

Tingle has done other volunteer work at the Fair, including helping with the Wednesday Spinners in 1992. But her heart has always been with the happy, costumed children who make up one of the best parts of the Fair. This passion has been passed from her mother to her and now on to her own children. Celeste is co-coordinator for the Garden Parade and Pepin co-coordinates the Environmental Concerns tent with his father and Lisa St. Hilaire. This enthusiastic woman and her family embody the ethos of the Fair: celebrate rural living!