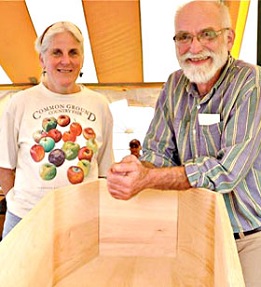 Meet MOFGA Volunteer Chuck Lakin
By Betsy Garrold

When MOFGA wants some fine woodworking done, Chuck Lakin is likely to be asked. Lakin supports MOFGA's mission but admits to being a poor gardener. "I'm not good with things that need daily attention," he says, adding, "It's no fun to do something you are not good at." So he does woodworking.

For 22 years Lakin was one of the reference librarians at Colby College. After retirement he pursued his love of woodworking full time. He had gotten hooked on woodworking 45 years ago when he was first out of the Navy and made a walnut frame to hold a lettered piece for a friend's wedding.

Playing with design and with wood drives his passion for this craft. When he first worked with walnut, its smell, look and feel all appealed to him and contributed to his sense of woodworking as play.

Lakin believes that objects can be both practical and graceful. Inspired by elements of Japanese design, he often incorporates curves into his projects. When MOFGA asked him to build frames to hold up recycling bags, he added a gentle curve to the bottom of the legs. But "the real innovation in the recycling bag stands," he says, "is that you lift the frame in order to remove the bag instead of trying to pull the bag up through the frame – much easier."

One of his first projects at MOFGA was a display rack for informational sheets. Again the curve came into play: A slight outward curve to the slots held papers upright so that they wouldn't flop over and were easy to see.

MOFGA has come to appreciate Lakin's sense of style. "When I built the hand rails [at MOFGA's main building] recently, I was asked to 'make it look nice,'" he says.

He also designed and constructed L-shaped frames to hold banners and keep them from blowing at the Fair. The fairgrounds are littered with benches, cabinets, shelves, easels and carts that have come out of his workshop. He helped build animal barn #5, starting from posts in the ground and ending with a roof put on by Vernon LeCount, then a MOFGA employee.

After he built and delivered seven coat racks, MOFGA called the next day and asked for seven more because they were so popular.

Some of Lakin's non-MOFGA projects have included display spaces for Waterville Creates and for the Maine International Film Festival and flower boxes for the city of Waterville.

Lakin's chief interest since his father's death has been building coffins and helping people rethink how our society handles death. His coffins can be used during one's lifetime for bookshelves, coffee tables, etc., and then can be converted to one's final resting place when the time comes. He is involved with the website www.lastthings.net, which helps "those who want to be more in control of what happens to their own body after death, or would like to explore ways to care for a loved one's body after death … those who wish for options other than the standard funeral practices of our day and long for simple burial … those who would rather have after-death care centered in family and community life."

MOFGA, he says, "gives something back to me by allowing me space in the Folk Life Tent every Fair to teach people about how coffins were built 150 years ago and talk about how a funeral was done 150 years ago – a home funeral. I get to talk to more than 500 people over the course of the three days. It's so energizing."

Anna Libby, MOFGA's volunteer coordinator, says of Lakin, "Chuck's artful woodworking brightens our whole office! I smile whenever I walk by the balustrade he made or the beautiful new tabletops he designed."