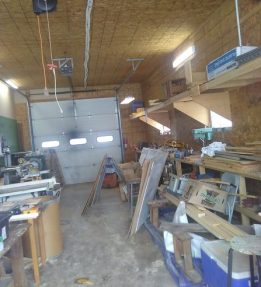 Meet MOFGA Volunteer Alvah Humphrey
April 2021
By Betsy Garrold

Many MOFGA volunteers are multitalented, multitaskers but Alvah Humphrey is certainly among the best. From making useable workshop space in the woodworking shop near the red barn at MOFGA's site in Unity to creating and maintaining a database for the annual Farm and Homestead Day, Humphrey brings his enthusiasm and organizational skills to every task he undertakes.

He first attended the Common Ground Country Fair about 15 years ago. It was enjoyable but being a frugal man, he wanted to attend the Fair as inexpensively as possible. A four-hour volunteer shift got him in the door. He quickly decided that having to take any time away from actually enjoying the Fair was not to his liking, so he started volunteering during the event's setup with Ellis Percy. One of his first tasks was to build the information kiosk by the Rose Gate. The project took four days and certainly earned him his free Fair ticket.

Humphrey sees the Fair as a great venue for education. He says, "If you know what you're looking for you can find the information at the Fair. It's educational and entertaining at the same time."

He also treasures the friendships he has made working with the other volunteers and while attending the Fair and Farm and Homestead Day.

His local Piscataquis County MOFGA chapter became involved in Farm and Homestead Day, and he began attending the planning meetings as their representative. He stayed on the planning committee for four or five years. He developed the database that keeps track of all the folks who volunteer to do workshops during the day. He has presented workshops himself on cheesemaking and really enjoys being part of the "rabble" that plans and runs this great event.

His most recent volunteer project is cleaning, organizing and upgrading the woodshop – where small carpentry jobs take place – to maximize usable workshop space. Humphrey says that he thinks this particular project will keep him busy through the summer. "I still need to assemble and hang shelf units for bolts, nuts, washers, nails, screws, etc.," says Humphrey. He is also working on the bunkhouse and a cement counter for the public shower area on the Common Ground campus.

Jason Tessier, MOFGA Buildings & Grounds Director, says of him, "Alvah is there to do as is needed. If we have specific tasks to be done, Alvah is quick to jump on them and get them 'out of the way,' as he would say. If there is a task being talked about and we are not quick enough to react, Alvah will often ask 'what can I do,' meaning 'tell me what needs to be done and get out of the way.' He always wears a smile, is quick-witted, and quick to laugh at himself, with us, or at us when the occasion permits. He lightens the mood and is a joy to be around."

For Humphrey, volunteering at MOFGA started as a way to fill his time while he was underemployed. He says he wanted to "do something constructive with my spare time." And this multitasker has certainly been able to do that.