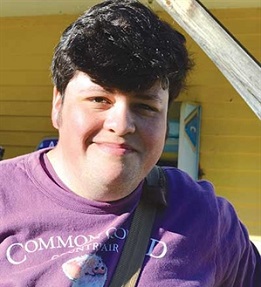 MOFGA Volunteer Aidan Richman
March 2019
By Betsy Garrold

When you talk with Aidan Richman, the words that keep coming up are "sustainability" and "ecology." Now in his gap year after graduating from Portland High School, he is spending his time meeting new people and listening to their stories. The ones he heard at the Common Ground Country Fair last fall from volunteers, staff and fairgoers make him even surer that he will set his sights on an education that has those two principles at its core.

Richman was staying with his uncle, Chris Grigsby, director of MOFGA Certification Services, for two weeks around Fair time, and he wanted to make that stay as rich an experience as possible. He started by helping set up for the Fair, and then Andrew Graham, MOFGA's community engagement coordinator, asked him to consider running the Harry S. Truman Manure Pitch-off during the Fair. Richman took on that task with enthusiasm.

Whether he is directing or acting in Shakespearian theater, playing one of several instruments (guitar, saxophone and drums) or dabbling in photography, Richman brings enthusiasm to everything he does – and with that joie de vivre and his best P.T. Barnum voice, he managed to wrangle up to 40 contestants for the four pitch-off tosses (one for accuracy and one for distance on each of two days of the Fair). His youth was no obstacle to organizing the chaos. Even as late as the last accuracy toss on Sunday afternoon, he was thinking fast on his feet and managed to award all the prizes even though some contestants had wandered off.

April Boucher, Fair director, was enthusiastic herself when talking about Richman's contributions. "He showed up a week before the Fair and helped with setup. He was unfailingly cheerful and helpful. He dug ditches, painted signs, moved infrastructure around, pretty much anything we asked him to do. When it came time to organize the pitch-off, he dove right in. His upbeat personality and the obvious fact that he was having a good time running the event led everyone who participated to have a great time as well. He was fantastic, and I hope he'll do it again this year."

Richman says he is grateful to MOFGA for this great and rare opportunity to organize a wonderful event. He feels that these kinds of occasions really make a difference for all of us as we work to make this a better community – a community that is working hard to find ways to be sustainable and take good care of ourselves, our society and our environment.

As he was doing the last of the tallying at the manure toss event on Sunday afternoon, Richman saw a bald eagle circling MOFGA's grounds. He says it occurred to him that this might be the spirit of old Harry Truman himself, come to bless the event and the crowd of wonderful, committed people who gather every year at the Common Ground Country Fair.