Pizza at Home and in the Pub – Committing to Local Grains
June 25, 2022 @ 12:30 pm

-

2:30 pm
This event is hosted by the Maine Grain Alliance and precedes Bread & Brews, a celebration of local grains, which begins at 2:30 pm, right as this workshop ends.
Whether you are a home pizza aficionado or looking to start a pizza program at your pub or brewery, this workshop will equip attendees with ways to use local grains and create delicious pizza. Presenters will speak to what makes freshly milled local grains so (favorably) different when used in pizza dough.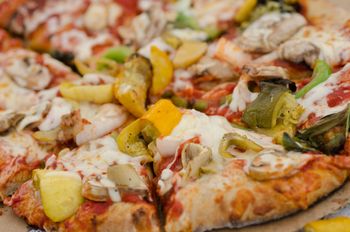 Topics covered will include:
– Getting a starter going from scratch, including maintenance, formulation, working up to a large batch from a starter, and fermentation. (Attendees will also be given a starter that has been active for 50 years to bring home.)
– Beyond pizza…Versatile uses for local dough on a brewery or pub tasting room menu.
– The craftsmanship of pizza, including dough stretching, topping, and technical baking considerations.
– Demonstrations of how to shape and make different breads with pizza dough.
– For pizza entrepreneurs: Managing margins and high volume pizza production considerations when using local grains.
We will be baking in the Maine Grain Alliance wood-fired oven, so elements of wood-fired oven baking will also be covered. We hope you'll join us!
Workshop Presenters:
Dusty Dowse, Director of MGA Baking Education, Lamastide Baking
Heather Kerner, Founder of the Good Crust
Benedict Cassie, Pizza Chef, Flight Deck Brewing Company