Safe Labor Movement Workshop with Cynthia Flores: Central Maine
May 30 @ 4:00 pm

-

6:00 pm

FREE
Labor-Movement
will be offering a free movement workshop in Unity, ME on May 30. These workshops are funded through a risk management grant awarded to Labor-Movement through Northeast ERME, via USDA/NIFA, OR funded through Maine Farm and Ranch Stress Assistance Network (FRSAN), through UMaine Cooperative Extension, Maine DACF awarded by USDA/National Institute of Food and Agriculture (NIFA).
These workshops are FREE to all farmers and farm workers in Maine. Registration is required. 
Movement Workshops are an opportunity to explore BETTER body mechanics and movement patterns in order to decrease injury potential, increase efficiency and extend career longevity. Time will be spent practicing four basic movement patterns: hinge, squat, push and pull, along with kneeling patterns, rotation and core stability. Each participant will leave with tips to improve their overall movement health and wellness. A Q&A session will follow. 
—-
Labor-Movement strives to be a resource, educator and coach to improve movement health and wellness for farmers, farm crew, and industrial athletes, to reduce work-related injuries, increase efficiencies and increase longevity in a day, a season or a career.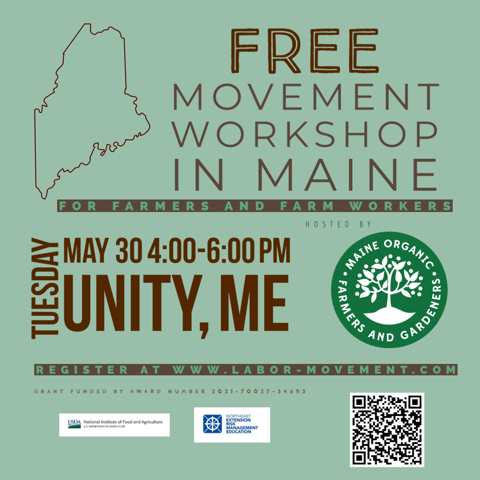 Related Events